Could Pot Make You a Better Parent?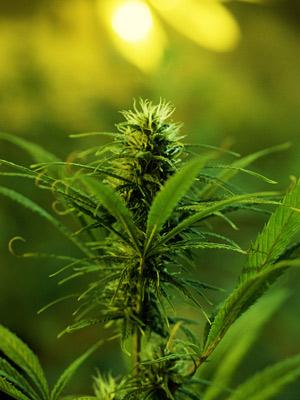 Might it be true that pot can help some people to be better parents? Before you respond, "What're you, high?" consider this case.
Mark Wolfe, an art dealer in San Francisco, shares his sober reflections on buzzed parenting in the colorful op-ed piece Pot for Parents from The New York Times. Wolfe isn't necessarily advocating or even claiming that anyone raising young children will do better when baked, but he does suggest that, for some people, marijuana can be "enormously salutary to the parent-toddler relationship."

For this particular dad, the psychoactive effects of marijuana enabled him to be more patient and more engaged with his three young daughters. He writes, with giddy good humor, about having fun helping his daughter draw the letter Q and of playing with puppets instead of turning on the tube. "Beyond food, shelter and clothing, what do small children need most from their parents?" Wolfe asks. "Sustained, loving, participatory attention." Adding a little herb to the recipe helped him get where he wanted to be as a father.
Of course, anyone who's been around — whether you're a regular toker, a midnight smoker or never touch the stuff — knows that each high person responds a little differently. Some get a little a nervous. Some will talk too much and some get quietly introspective. Some will eat all of their children's chocolate chip cookies. The question here is whether the individual is capable of responsible parenting when under a little influence.
Are there inherent risks? Is it acceptable to be high around one's children? "If a parent is a cannabis consumer or lawful medical cannabis patient, then their responsible use of cannabis will dictate any potential liability more so than the use of the herbal drug itself," Allen St. Pierre, the executive director of NORML, told The Daily Dose. "For example, a parent [who] consumes cannabis and watches cartoons or reads to their children as compared to using cannabis and driving children around in an automobile."
Wolfe purchased his marijuana legally at a state-sanctioned dispensary in California after a doctor recommended cannabis-based treatment to address his back pain and associated stress and anxiety. So he's not modeling bad behavior by breaking the law, and he takes his, er, medication only in private and in moderation. He is appreciating and enjoying his daughters while giving more, higher-quality time to the relationships. To judge someone for that would be a real buzzkill.

Photo: Linda Lewis/Getty Images
More on MSN Living:
17 Outfit Ideas Guys LOVE
The Top 20 Beauty Trends We Hope Never Come Back
15 Secrets of Happy Couples

inspire: live a better life
Where in the world do you want to go? Somewhere unique? Any of the places described here are sure to make your next world-travel adventure truly memorable.

It's easy to lead, but it takes courage and conviction to be a truly great leader. Here are 10 inspiring leaders and what we can learn from them.

Some say it's a small world. We beg to differ. Earth has so many wondrous places worth exploring, and most of us are lucky to see a handful of them. Here are 30 of the top trips of a lifetime.

You'll stave off credit card debt by the end of the year if you account for these often-forgotten expenses.

Mark Zuckerberg has an even bigger effect on your life than you thought.

Take this advice to finally tackle that nagging to-do list.

The iconic storyteller would have been 110-years-old

Take the time to appreciate women's contributions to society. Here are some of the women who inspire us by their example.

Cast of the iconic TV show reunites for Florence Henderson's birthday

We couldn't be more excited to watch the best athletes in the world compete at the Winter Olympics in Sochi. This year, about 44 percent of the competitors are women according to the International Olympic Committee—which is awesome but wasn't always the case. Let's look back at some of the amazing women who paved the way with incredible, memorable feats of girl power.

Still pulling yourself out of holiday credit card debt? Ready to pool some funds for that beach vacation you've been dreaming about at your desk? We're with you 100 percent.

"FOMO, the fear of missing out, is a form of social anxiety," says psychiatrist Gail Saltz. "This type of fear tends to cause compulsive behaviors, like checking out other social situations even as you are in the middle of one currently."