Could Pot Make You a Better Parent?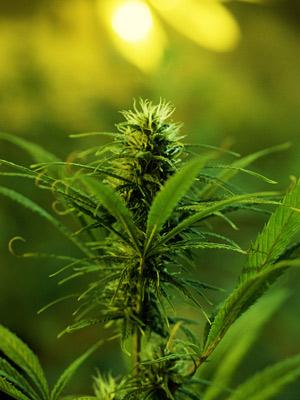 Might it be true that pot can help some people to be better parents? Before you respond, "What're you, high?" consider this case.
Mark Wolfe, an art dealer in San Francisco, shares his sober reflections on buzzed parenting in the colorful op-ed piece Pot for Parents from The New York Times. Wolfe isn't necessarily advocating or even claiming that anyone raising young children will do better when baked, but he does suggest that, for some people, marijuana can be "enormously salutary to the parent-toddler relationship."

For this particular dad, the psychoactive effects of marijuana enabled him to be more patient and more engaged with his three young daughters. He writes, with giddy good humor, about having fun helping his daughter draw the letter Q and of playing with puppets instead of turning on the tube. "Beyond food, shelter and clothing, what do small children need most from their parents?" Wolfe asks. "Sustained, loving, participatory attention." Adding a little herb to the recipe helped him get where he wanted to be as a father.
Of course, anyone who's been around — whether you're a regular toker, a midnight smoker or never touch the stuff — knows that each high person responds a little differently. Some get a little a nervous. Some will talk too much and some get quietly introspective. Some will eat all of their children's chocolate chip cookies. The question here is whether the individual is capable of responsible parenting when under a little influence.
Are there inherent risks? Is it acceptable to be high around one's children? "If a parent is a cannabis consumer or lawful medical cannabis patient, then their responsible use of cannabis will dictate any potential liability more so than the use of the herbal drug itself," Allen St. Pierre, the executive director of NORML, told The Daily Dose. "For example, a parent [who] consumes cannabis and watches cartoons or reads to their children as compared to using cannabis and driving children around in an automobile."
Wolfe purchased his marijuana legally at a state-sanctioned dispensary in California after a doctor recommended cannabis-based treatment to address his back pain and associated stress and anxiety. So he's not modeling bad behavior by breaking the law, and he takes his, er, medication only in private and in moderation. He is appreciating and enjoying his daughters while giving more, higher-quality time to the relationships. To judge someone for that would be a real buzzkill.

Photo: Linda Lewis/Getty Images
More on MSN Living:
17 Outfit Ideas Guys LOVE
The Top 20 Beauty Trends We Hope Never Come Back
15 Secrets of Happy Couples

inspire: live a better life
Editor's note: We will now be publishing Miss Manners articles twice weekly, but you will only see one question and answer per article. You can expect to see these articles appear on Tuesdays and Thursdays going forward.

President Harry S. Truman was behind efforts to establish the first Armed Forces Day in 1950, and decades later the nation continues to set aside the third Saturday in May to recognize and thank members of the U.S. military for their patriotic service. With these five homecoming images, we salute all service members at home and abroad.

There's much to be desired about working from home: the stress-free commute, flexible hours, and improved work-life balance.

Wishing for the fountain of youth? You may not need it. We've rounded up real-women secrets, tried-and-true beauty tips, and the latest research to help you fight aging.

Experts weigh in on when to bite your tongue at the office.

Oh, the places you'll go — to get some "me" time, that is. REDBOOK readers confess all on Facebook.

How much money you make isn't nearly as important as how you use it, according to Elizabeth Dunn and Michael Norton, authors of the new book Happy Money.

Plus, how do you ask people to not bring gifts to a shower?

Looking for a career upgrade? Follow these tips for a foot in the door.

These tanning and skin cancer myths aren't just wrong — they can do serious harm. Wise up and head into a healthier future. P.S. You'll look a lot younger too.

It's possible to rejigger your brain circuitry and feel more joy, even on Monday mornings. Here's how.

Inner peace just got easier. You don't need quiet, incense or hours to meditate, and you can scrap the chanting. Better: Ninety-five percent of you say you're calmer after a single 10-minute session. Whatever your excuse (see ours), get your om on and reap the rewards.