Universe is older, stranger than we knew
New findings from deep space change the date of the Big Bang.
Scientists have learned that the universe is older than anyone thought it was. And we already knew it was no spring chicken.
Eighty million years have been added to the estimated time since the Big Bang, which scientists now approximate as having occurred 13,730,000,000 years ago — give or take a few million years.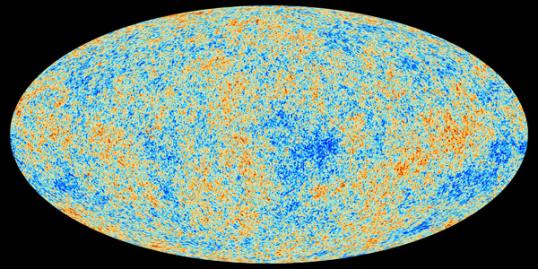 Astrophysicists from the University of Cambridge presented the new findings in Paris yesterday at a gathering of genius space nerds. Their conclusions were drawn from data provided by the Planck satellite, which measures radiation in deep space left over from just after the Big Bang.
More from MSN Living: 25 ways technology has changed our lives
As described in an excited post by ScienceNews, Planck is essentially a supersensitive thermometer that scans the sky for post-Bang radiation and measures the temperature of the radiation to millionths of a degree. Since the radiation cools with time, scientists are able to back date the radiation Planck finds.
Tiny fluctuations in temperature were mapped, with cooler temperatures in blue and warmer temps in red. The mapped data represent a huge advance in the accurate dating of our universe. George Efstathiou of Cambridge said the map "might look like a dirty rugby ball … but some cosmologists would have given up their children to get a copy of this map."
More from MSN Living: 40 essential technologies and gadgets
Additional knowledge gained by the Planck data suggests the universe is not only older than everyone thought, but a little stranger, too. The findings blow up earlier theories that the Big Bang scattered space matter evenly in all directions; instead, the temperature readings show more fluctuations across one side of the sky than the other. That is, the universe is lopsided.
The data support the theory of inflation, which says that the universe expanded faster than the speed of light for about 10 to 30 seconds after the Big Bang, but also indicate that the rate of inflation was slower than earlier best guesses.
Though the discovery that our universe is about 0.05 percent older than previously thought is newsworthy, the Planck data provide scientists with information they'll be working on for years. Possibilities abound about new physics that haven't even been considered before and potential proof that there are multiple universes — a multiverse — rather than the one universe we call home.
Some astrophysicists, however, already disagree on the early conclusions of the Cambridge researchers. As a user on ScienceNews commented, "One possible explanation for the newly verified dipole anisotropy in the CMB is that the structure of the cosmos has a fractal geometry and nature's hierarchy extends far beyond the observable universe."
But we don't know what that means.
More from Daily Dose:
Man on mission to meet all of his Facebook friends
'Ghost island' vanishes
What is Molly?
Subscribe to the Daily Dose
Love content like this? Friend us on Facebook, follow us on Twitter and find us on Pinterest
Photo: This image released by the European Space Agency and the Planck Collaboration shows the afterglow of the Big Bang, the cosmic microwave background, as detected by the ESA's Planck space probe. The radiation was imprinted on the sky when the universe was 370,000 years old. It shows tiny temperature fluctuations that correspond to regions of slightly different densities, representing the seeds of the future structure: the stars and galaxies of today. (ESA Planck Collaboration via NASA/AP)
inspire: live a better life
Editor's note: We will now be publishing Miss Manners articles twice weekly, but you will only see one question and answer per article. You can expect to see these articles appear on Tuesdays and Thursdays going forward.

President Harry S. Truman was behind efforts to establish the first Armed Forces Day in 1950, and decades later the nation continues to set aside the third Saturday in May to recognize and thank members of the U.S. military for their patriotic service. With these five homecoming images, we salute all service members at home and abroad.

There's much to be desired about working from home: the stress-free commute, flexible hours, and improved work-life balance.

Wishing for the fountain of youth? You may not need it. We've rounded up real-women secrets, tried-and-true beauty tips, and the latest research to help you fight aging.

Experts weigh in on when to bite your tongue at the office.

Oh, the places you'll go — to get some "me" time, that is. REDBOOK readers confess all on Facebook.

How much money you make isn't nearly as important as how you use it, according to Elizabeth Dunn and Michael Norton, authors of the new book Happy Money.

Plus, how do you ask people to not bring gifts to a shower?

Looking for a career upgrade? Follow these tips for a foot in the door.

These tanning and skin cancer myths aren't just wrong — they can do serious harm. Wise up and head into a healthier future. P.S. You'll look a lot younger too.

It's possible to rejigger your brain circuitry and feel more joy, even on Monday mornings. Here's how.

Inner peace just got easier. You don't need quiet, incense or hours to meditate, and you can scrap the chanting. Better: Ninety-five percent of you say you're calmer after a single 10-minute session. Whatever your excuse (see ours), get your om on and reap the rewards.