Anti-drug ads may have encouraged teen drug use
Communicating with teens proves to be a little harder than frying an egg in a pan.
This is your brain. This is drugs. This is your brain on drugs.
Any questions?
Despite the seared-in metaphor of an egg frying in a hot skillet, that famous anti-drug public service announcement from 1987 apparently did leave many questions lingering in youthful minds. What are drugs all about? If they're so evil, why are so many people drawn to them? And could they really be that bad, when friends who have experimented don't appear to have fried their brains?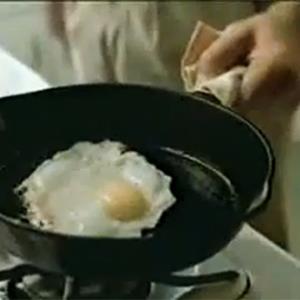 Anti-drug messaging has historically missed the mark and may even have been counterproductive, says writer Shaunacy Ferro of Popular Science. But agencies such as the Office of National Drug Control Policy are starting to get smarter about why, and recently have been producing more effective campaign for teens.
Ferro points to a 2008 study titled "The Curiosity-Arousing Function of Anti-Drug Ads," in which participants who had viewed public service announcements were more curious about using drugs than those who hadn't. The ironic impact of the ads, the study authors conclude, is that they raise provocative questions about drugs and choices that a teen may decide can best be answered through personal experience.
Carson Wagner, an Ohio University author of the 2008 study and of a 2011 follow-up, told National Public Radio, "We become curious to close that gap in information. And in this case, that gap in information is the experience of using drugs."
Bing: Funniest PSAs
Well-intended as they were, anti-drug agencies and the ad firms they hired to produce PSAs misfired time and again. Neither the frying pan, the "Drug money fuels terrorism" campaign, the "What's your anti-drug?" ads starring Justin Timberlake nor even the Teenage Mutant Ninja Turtles had a measurable positive impact. Instead, those ads have largely been written off as overly parental, out of touch or just hilarious.
The anti-drug crusaders are now accepting that teens are by nature curious and rebellious. They are thrill-seekers and will take risks. They'll fight for their independence and push against norms as they try to expand boundaries.
Though each of those qualities may be custom-fitted to drug experimentation, the recent "Above the Influence" campaign harnesses these characteristics for good.
The ads preserve teen independence and indulge a kid's need to go against the flow. Rather than demonizing drug dealers or inadvertently piquing a kid's curiosity about drugs, "Above the Influence" ads scarcely mention drugs at all. They arrive like a Facebook message from a true friend, encouraging the viewer to "stay true to who you are."
The PSAs are gaining some traction, albeit in modest numbers. The 2011 study from Ohio University concluded that 8 percent of teenage participants who were familiar with the "Above the Influence" videos had experimented with marijuana, whereas 12 percent of kids unfamiliar with the campaign had tried pot.
More from Daily Dose:
Promiscuous women blamed for earthquakes
Airline sued for asking men to change clothes
War vet arrested and disarmed while hiking
Love content like this? Friend us on Facebook, follow us on Twitter and find us on Pinterest.
Photo: This is your brain on drugs PSA, egg in frying pan / RetroPile via YouTube, http://aka.ms/drugs
inspire: live a better life
Summer and winter tend to hog all the glory when it comes to travel high seasons. Sure, you want to soak up all the time at the beach you can during the summer, and you just want to escape the cold during the last months of the year.

Who just wants to stand around and watch the red and gold leaves slowly fall from their tree branches to the ground as we move from summer to fall? Instead, take in the changing seasons while you're on the move.

In September, I'll turn 38. I'm at the age now where, when people ask how old I am, it takes me a minute to remember. I don't know if that's because I've already been 37 different ages and it's hard to keep straight which one I am now, or if it's because I'm in denial, or if it's because I am going senile. Maybe a combination of all of the above. Regardless, my 30s have flown by and soon they will be but a memory. So, in an effort to preserve the memory I have left (or at least keep a record of it), and to celebrate what has been an amazing decade so far, here are 30 things that have happened to me in my 30s (and will probably happen to you too):

Traveling doesn't have to be stressful. And what you can fit in your carry-on can make all the difference (and not just a fresh pair of socks), especially when you get that low battery signal.

Volunteering (and these other rituals) might be just as good as exercise when it comes to extending your life.

Use these tricks to set a better tone for the rest of the week.

Whether it involves a food fight, mermaids or a torch-lit procession, people the world over know how to have a good time. Here are some of the biggest, boldest, booziest celebrations around, along with some tips to get the full experience.

Research could mean more effective treatment for human disorders.

An entry a day might keep the doctor away (or at least the shrink).

One woman's shout-outs to daily moments of joy — and how to cultivate them.

Our best health and fitness tips including the one move that tones all, berry news, and more.