Secretary still most common job for women
U.S. Census says the top five jobs for women are the same today as they were in 1950s; secretary tops the list.
We're sorry, ladies. When it comes to top jobs for women, we haven't made much progress since the '50s.
Jobs as secretaries, bank tellers or clerical workers, sales clerks, private household workers and teachers reigned supreme in the '50s – and they still do, reports The Week.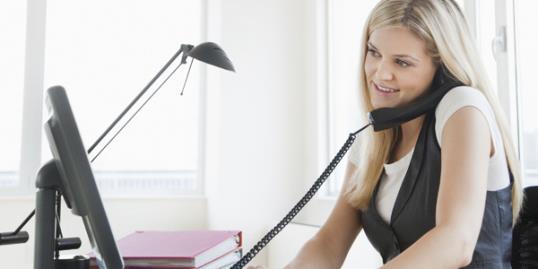 At that time, roughly 1.7 million women held positions as stenographers, typists or secretaries, cites the U.S. Census Bureau. It was a easy for women to have a full-time career and succeed without the commitment of a college degree. Simply attend a secretarial school, get the necessary training and women could start on a professional path.
More from MSN Living: Think outside the lunch box
Flash forward to 2010 and secretaries and administrative assistants position still hold the No. 1 position. Believe it or not, more than four million workers made up this category between 2006 and 2010.
This career isn't going anywhere either. The Bureau of Labor Statistics projects close to a half-million new administrative assistant positions by 2020 or 12 perfect growth.
More from MSN Living: 10 secret mom confessions
"Every time a major new technology showed up, there were always predictions that this would spell the end of secretaries," Ray Weikal, spokesman for the International Association of Administrative Professionals told CNN Money. "You saw that with the development of electric typewriters, the personal computer and the internet, but every time technology gets more efficient, the amount of business increases. You continue to need people who can use those tools."
In the category of administrative assistants, women outnumber men more than 20 to 1, but still earn less than their male counterparts. Full-time female secretaries and administrative assistants earned an average salary of $34,304 in 2010, while men earned $39,641.
Bing: Best-paying jobs for women
"The good news is over the past 40 years, there are very few jobs in which women have not broken through," Cindia Cameron, organizing director at 9to5, National Association of Working Women told CNN Money. "The glass ceiling is cracking in all different directions, but the bad news is, there is still a sticky floor. Most women still work in traditionally female jobs, like administrative support."
Why do you think secretary is still the top job for women?
More from Family Room:
Teen mom denied right to breast feed
Toddler death raises concern over car seat rules
Violent video games and child aggression
Love content like this? Friend us on Facebook, follow us on Twitter and find us on Pinterest.
Readers: Calling all mom bloggers – we're looking for fresh voices on MSN Living. Email us your samples and contact info!
Photo: Jamie Grill/Getty Images
inspire: live a better life
Miss Manners advises on how to respond when one gets unsolicited advice about weight issues.

Editor's note: We will now be publishing Miss Manners articles twice weekly, but you will only see one question and answer per article. You can expect to see these articles appear on Tuesdays and Thursdays going forward.

President Harry S. Truman was behind efforts to establish the first Armed Forces Day in 1950, and decades later the nation continues to set aside the third Saturday in May to recognize and thank members of the U.S. military for their patriotic service. With these five homecoming images, we salute all service members at home and abroad.

There's much to be desired about working from home: the stress-free commute, flexible hours, and improved work-life balance.

Wishing for the fountain of youth? You may not need it. We've rounded up real-women secrets, tried-and-true beauty tips, and the latest research to help you fight aging.

Experts weigh in on when to bite your tongue at the office.

Oh, the places you'll go — to get some "me" time, that is. REDBOOK readers confess all on Facebook.

How much money you make isn't nearly as important as how you use it, according to Elizabeth Dunn and Michael Norton, authors of the new book Happy Money.

Plus, how do you ask people to not bring gifts to a shower?

Looking for a career upgrade? Follow these tips for a foot in the door.

These tanning and skin cancer myths aren't just wrong — they can do serious harm. Wise up and head into a healthier future. P.S. You'll look a lot younger too.

It's possible to rejigger your brain circuitry and feel more joy, even on Monday mornings. Here's how.