Secretary still most common job for women
U.S. Census says the top five jobs for women are the same today as they were in 1950s; secretary tops the list.
We're sorry, ladies. When it comes to top jobs for women, we haven't made much progress since the '50s.
Jobs as secretaries, bank tellers or clerical workers, sales clerks, private household workers and teachers reigned supreme in the '50s – and they still do, reports The Week.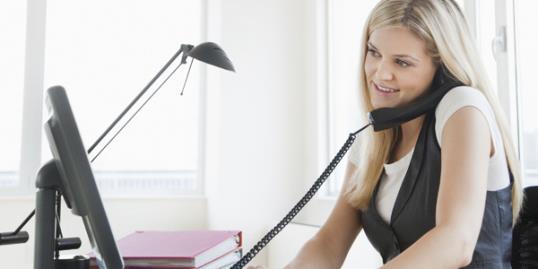 At that time, roughly 1.7 million women held positions as stenographers, typists or secretaries, cites the U.S. Census Bureau. It was a easy for women to have a full-time career and succeed without the commitment of a college degree. Simply attend a secretarial school, get the necessary training and women could start on a professional path.
More from MSN Living: Think outside the lunch box
Flash forward to 2010 and secretaries and administrative assistants position still hold the No. 1 position. Believe it or not, more than four million workers made up this category between 2006 and 2010.
This career isn't going anywhere either. The Bureau of Labor Statistics projects close to a half-million new administrative assistant positions by 2020 or 12 perfect growth.
More from MSN Living: 10 secret mom confessions
"Every time a major new technology showed up, there were always predictions that this would spell the end of secretaries," Ray Weikal, spokesman for the International Association of Administrative Professionals told CNN Money. "You saw that with the development of electric typewriters, the personal computer and the internet, but every time technology gets more efficient, the amount of business increases. You continue to need people who can use those tools."
In the category of administrative assistants, women outnumber men more than 20 to 1, but still earn less than their male counterparts. Full-time female secretaries and administrative assistants earned an average salary of $34,304 in 2010, while men earned $39,641.
Bing: Best-paying jobs for women
"The good news is over the past 40 years, there are very few jobs in which women have not broken through," Cindia Cameron, organizing director at 9to5, National Association of Working Women told CNN Money. "The glass ceiling is cracking in all different directions, but the bad news is, there is still a sticky floor. Most women still work in traditionally female jobs, like administrative support."
Why do you think secretary is still the top job for women?
More from Family Room:
Teen mom denied right to breast feed
Toddler death raises concern over car seat rules
Violent video games and child aggression
Love content like this? Friend us on Facebook, follow us on Twitter and find us on Pinterest.
Readers: Calling all mom bloggers – we're looking for fresh voices on MSN Living. Email us your samples and contact info!
Photo: Jamie Grill/Getty Images
inspire: live a better life
You may have a corner office, a big paycheck, or a political following, but these flubs will plummet your appeal--and fast track you to the front door.

Influence anyone with these sneaky tricks.

An investment in gratitude pays valuable dividends, especially when times are tough.

Scoring big in your career means being off-target more times than you hit the bull's-eye. Learn how to make all those misses lead to success.

Raise your hand if you've been here: It's Monday morning, and you've been up all night wiping your runny nose, coughing, and feeling achy all over.

5 proven tips to maximize your productivity.

These 'experts' underperform the markets year after year.

You love your friends—so why does it sting when one of them reaches a life-changing goal before you do? How to stop the comparathon.

It's the one resolution you must keep this year! Start by taking inventory of what matters to you and what makes you happy. Then, work on savoring those experiences! Here, four ways to create more delight each and every day from life consultant Michelle DeAngelis.

Print out all 27 mind and body pick-me-ups and keep them in a jar. In a meh mood emergency, dispense as needed.

If your New Year's resolution is to dust off your online dating profile and get some action on it, here's an important tip…

Three out of four of you say the most anxiety-inducing part of your job is your boss. Sound familiar?