Be Happy. But Don't Indulge. Do Nothing. But Don't Sit.
No rest for the Web-weary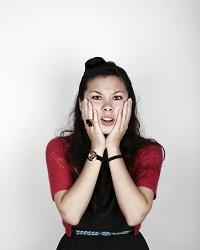 It's only Tuesday and already there's so much new advice online about being happy and healthy that it could make you a little sad and sickly.
What a head-spinning lot of hints, help and warnings are out there. There's something for everyone and, just as conveniently, something to prove everyone wrong. It may seem like a no-brainer, for instance, to get onboard with positive thinking; in fact, Harvard researchers determined recently that a sunny disposition can protect against cardiovascular disease. But CNN says smiley optimism is for suckers. Don't get so happy that you get hopeful, warns the news network, linking the "disastrous optimism" of Neville Chamberlain to the victories of Nazism. So is it better to avoid a heart attack or let Eastern Europe fall to fascism? It's entirely up to you.
The upside of conflicting advice is that if you're looking to validate a desire, whether it's to sleep late, eat more cookies, or avoid WWIII, a quick online search will back you up. Worst case, you wait it out till the next news cycle. The hard part is figuring out how to make your way through an ocean of information that's offered up in sips. We get just enough knowledge to freak ourselves out. Don't get busy but don't sit down, either. Enjoy luxuries and treats (eat dessert before breakfast!), but understand that indulging won't make you happy. We're web-inspired and web-weary all at once.
The summer season is yielding a good deal of online content about the benefits of slowing down our thinking and enjoying a break, and that seems like a wise course if nature will allow. Mark Hyman, MD, writes on HuffPo about Why Doing Nothing is the Key To Happiness. It looks to be an uncommonly sound and spiritual piece, with some wise words of guidance to benefit any open-minded reader. I really want to get through the whole article. But there's so much else to read.
inspire: live a better life
Summer and winter tend to hog all the glory when it comes to travel high seasons. Sure, you want to soak up all the time at the beach you can during the summer, and you just want to escape the cold during the last months of the year.

Who just wants to stand around and watch the red and gold leaves slowly fall from their tree branches to the ground as we move from summer to fall? Instead, take in the changing seasons while you're on the move.

In September, I'll turn 38. I'm at the age now where, when people ask how old I am, it takes me a minute to remember. I don't know if that's because I've already been 37 different ages and it's hard to keep straight which one I am now, or if it's because I'm in denial, or if it's because I am going senile. Maybe a combination of all of the above. Regardless, my 30s have flown by and soon they will be but a memory. So, in an effort to preserve the memory I have left (or at least keep a record of it), and to celebrate what has been an amazing decade so far, here are 30 things that have happened to me in my 30s (and will probably happen to you too):

Traveling doesn't have to be stressful. And what you can fit in your carry-on can make all the difference (and not just a fresh pair of socks), especially when you get that low battery signal.

Volunteering (and these other rituals) might be just as good as exercise when it comes to extending your life.

Use these tricks to set a better tone for the rest of the week.

Whether it involves a food fight, mermaids or a torch-lit procession, people the world over know how to have a good time. Here are some of the biggest, boldest, booziest celebrations around, along with some tips to get the full experience.

Research could mean more effective treatment for human disorders.

An entry a day might keep the doctor away (or at least the shrink).

One woman's shout-outs to daily moments of joy — and how to cultivate them.

Our best health and fitness tips including the one move that tones all, berry news, and more.