Be Happy. But Don't Indulge. Do Nothing. But Don't Sit.
No rest for the Web-weary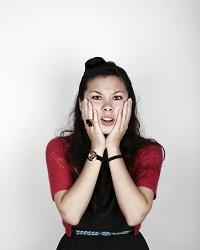 It's only Tuesday and already there's so much new advice online about being happy and healthy that it could make you a little sad and sickly.
What a head-spinning lot of hints, help and warnings are out there. There's something for everyone and, just as conveniently, something to prove everyone wrong. It may seem like a no-brainer, for instance, to get onboard with positive thinking; in fact, Harvard researchers determined recently that a sunny disposition can protect against cardiovascular disease. But CNN says smiley optimism is for suckers. Don't get so happy that you get hopeful, warns the news network, linking the "disastrous optimism" of Neville Chamberlain to the victories of Nazism. So is it better to avoid a heart attack or let Eastern Europe fall to fascism? It's entirely up to you.
The upside of conflicting advice is that if you're looking to validate a desire, whether it's to sleep late, eat more cookies, or avoid WWIII, a quick online search will back you up. Worst case, you wait it out till the next news cycle. The hard part is figuring out how to make your way through an ocean of information that's offered up in sips. We get just enough knowledge to freak ourselves out. Don't get busy but don't sit down, either. Enjoy luxuries and treats (eat dessert before breakfast!), but understand that indulging won't make you happy. We're web-inspired and web-weary all at once.
The summer season is yielding a good deal of online content about the benefits of slowing down our thinking and enjoying a break, and that seems like a wise course if nature will allow. Mark Hyman, MD, writes on HuffPo about Why Doing Nothing is the Key To Happiness. It looks to be an uncommonly sound and spiritual piece, with some wise words of guidance to benefit any open-minded reader. I really want to get through the whole article. But there's so much else to read.
inspire: live a better life
From international roaming fees to skipping travel insurance, these mistakes can put a damper on your next vacation.

Where in the world do you want to go? Somewhere unique? Any of the places described here are sure to make your next world-travel adventure truly memorable.

It's easy to lead, but it takes courage and conviction to be a truly great leader. Here are 10 inspiring leaders and what we can learn from them.

Some say it's a small world. We beg to differ. Earth has so many wondrous places worth exploring, and most of us are lucky to see a handful of them. Here are 30 of the top trips of a lifetime.

The semi-annual glitch in your daily routine is back this weekend.

You'll stave off credit card debt by the end of the year if you account for these often-forgotten expenses.

Mark Zuckerberg has an even bigger effect on your life than you thought.

Take this advice to finally tackle that nagging to-do list.

The iconic storyteller would have been 110-years-old

Take the time to appreciate women's contributions to society. Here are some of the women who inspire us by their example.

Cast of the iconic TV show reunites for Florence Henderson's birthday

We couldn't be more excited to watch the best athletes in the world compete at the Winter Olympics in Sochi. This year, about 44 percent of the competitors are women according to the International Olympic Committee—which is awesome but wasn't always the case. Let's look back at some of the amazing women who paved the way with incredible, memorable feats of girl power.