Be Happy. But Don't Indulge. Do Nothing. But Don't Sit.
No rest for the Web-weary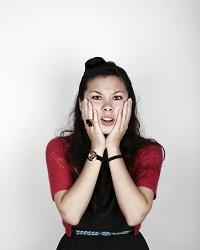 It's only Tuesday and already there's so much new advice online about being happy and healthy that it could make you a little sad and sickly.
What a head-spinning lot of hints, help and warnings are out there. There's something for everyone and, just as conveniently, something to prove everyone wrong. It may seem like a no-brainer, for instance, to get onboard with positive thinking; in fact, Harvard researchers determined recently that a sunny disposition can protect against cardiovascular disease. But CNN says smiley optimism is for suckers. Don't get so happy that you get hopeful, warns the news network, linking the "disastrous optimism" of Neville Chamberlain to the victories of Nazism. So is it better to avoid a heart attack or let Eastern Europe fall to fascism? It's entirely up to you.
The upside of conflicting advice is that if you're looking to validate a desire, whether it's to sleep late, eat more cookies, or avoid WWIII, a quick online search will back you up. Worst case, you wait it out till the next news cycle. The hard part is figuring out how to make your way through an ocean of information that's offered up in sips. We get just enough knowledge to freak ourselves out. Don't get busy but don't sit down, either. Enjoy luxuries and treats (eat dessert before breakfast!), but understand that indulging won't make you happy. We're web-inspired and web-weary all at once.
The summer season is yielding a good deal of online content about the benefits of slowing down our thinking and enjoying a break, and that seems like a wise course if nature will allow. Mark Hyman, MD, writes on HuffPo about Why Doing Nothing is the Key To Happiness. It looks to be an uncommonly sound and spiritual piece, with some wise words of guidance to benefit any open-minded reader. I really want to get through the whole article. But there's so much else to read.
inspire: live a better life
For those who would rather pay it forward, proceeds from this gift guide go to deserving charities — and these presents happen to be pretty fabulous as well. Plus, shop more gifts for stylish women.

Miss Manners considers when to celebrate milestones

Miss Manners provides guidance on meeting others

No, money doesn't grow on Christmas trees, but you can green up your holiday with readers' savviest money-saving tips.

A look back on all of the tiny tasks that 30 years of technology has saved you from.

What sets you apart from everyone else looking for a new job or bigger paycheck? Your profile!

With all those deals you snagged on Black Friday, Small Business Saturday, and Cyber Monday, today is your chance to give back to those in need with #GivingTuesday.

Miss Manners provides guidance on how to handle a request for party contributions

Miss Manners instructs on why tit-for-tat never works

Miss Manners offers thoughts on guests who disregard dinner party instructions

Make big bucks, from home, having fun? These women got creative and figured out a way to have it all. You can too.