Be Happy. But Don't Indulge. Do Nothing. But Don't Sit.
No rest for the Web-weary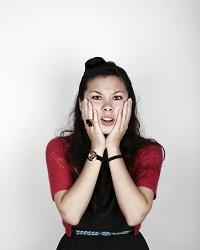 It's only Tuesday and already there's so much new advice online about being happy and healthy that it could make you a little sad and sickly.
What a head-spinning lot of hints, help and warnings are out there. There's something for everyone and, just as conveniently, something to prove everyone wrong. It may seem like a no-brainer, for instance, to get onboard with positive thinking; in fact, Harvard researchers determined recently that a sunny disposition can protect against cardiovascular disease. But CNN says smiley optimism is for suckers. Don't get so happy that you get hopeful, warns the news network, linking the "disastrous optimism" of Neville Chamberlain to the victories of Nazism. So is it better to avoid a heart attack or let Eastern Europe fall to fascism? It's entirely up to you.
The upside of conflicting advice is that if you're looking to validate a desire, whether it's to sleep late, eat more cookies, or avoid WWIII, a quick online search will back you up. Worst case, you wait it out till the next news cycle. The hard part is figuring out how to make your way through an ocean of information that's offered up in sips. We get just enough knowledge to freak ourselves out. Don't get busy but don't sit down, either. Enjoy luxuries and treats (eat dessert before breakfast!), but understand that indulging won't make you happy. We're web-inspired and web-weary all at once.
The summer season is yielding a good deal of online content about the benefits of slowing down our thinking and enjoying a break, and that seems like a wise course if nature will allow. Mark Hyman, MD, writes on HuffPo about Why Doing Nothing is the Key To Happiness. It looks to be an uncommonly sound and spiritual piece, with some wise words of guidance to benefit any open-minded reader. I really want to get through the whole article. But there's so much else to read.
inspire: live a better life
Study points to benefits of improved living conditions.

Don't leave home without these must-have items.

Handshakes spread 20 times more germs, study says.

Drowning in debt? Maybe there's a silver lining.

"But it's not real life, you know. It's a vacation."

Our list of must-dos before hitting the road.

Summer traditions can be great, but if you're on year six of packing the same people into the same car to go on the same vacation, it's time to switch things up. Surfing in Portugal, perhaps – or cycling through Northern Ireland. We've put together a list of 15 places well off the beaten path that you should go to when you're ready to try something new.

Grab a sleeping bag and head out to one of these amazing campsites.

A dozen adventures that are well worth the trip.

Paper downplays the significance of practice over raw talent.

Survey says American teens aren't great at complex or basic financial tasks.

Fear of Moving Away: How to conquer the latest cultural anxiety and embrace the unknown.