Dead bees: More than 30 million found in Canada
Bees in crisis as hives and numbers dwindle and scientists struggle to determine the exact cause.
Just weeks after tens of thousands of bumblebees, honeybees and lady bugs were found dead in an Oregon parking lot, more than 37 million bees have been found dead in Elmwood, Ontario, Canada, reports Collective Evolution.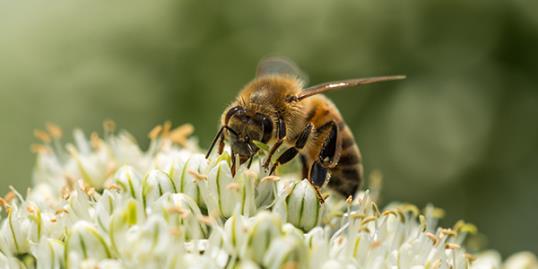 As scientists struggle to find the cause of the massive die-offs, a phenomenon they call "colony collapse disorder," Elmwood beekeeper Dave Schuit is pointing the finger at neonicotinoid pesticides. Schuit lost 600 hives.
Research suggests that even at nonlethal does, the world's most popular class of pesticides can confuse bees' navigation and make it hard for them to find home.
After a record-breaking loss of honeybees in the United Kingdom, the European Union has banned multiple pesticides, including neonicotinoid pesticides.
More from MSN: A shocking number of British kids have never seen a bee
Bees are critical to our food supply; one out of every three bites of food comes from a plant pollinated by honey bees and other pollinators.
More on MSN: 7 crazy things pesticides are doing to your body
"More than 85 percent of Earth's plant species — many of which compose some of the most nutritional parts of our diet — require pollinators to exist," Eric Mader, assistant pollinator conservation director at The Xerces Society, told Whole Foods. "Yet we continue to see alarming declines in bee numbers."
"In the United States alone, native bees contribute at least $3 billion a year to the farm economy," Mace Vaughan, pollinator program director at the Xerces Society, told the National Wildlife Federation.
The evidence linking pesticide use on our crops to bee deaths is compelling.
Tell us: What do you think of this controversial debate?
Read the complete story here.
Bing: What your grocery store looks like without bees
More from MSN Living blogs:
Nearly half of women apply makeup while driving 
10 inspiring Nelson Mandela quotes
Wallenda walks tightrope high over Ariz. gorge 
Subscribe to the Daily Dose | Friend us on Facebook, follow us on Twitter and find us on Pinterest.
Photo: Getty Images
inspire: live a better life
Happify shares their results of a recent study on how money affects our happiness.

A top exec reveals the company's secret code

Pro tips from the guy who's done it four times

Not all mistakes are as blatant as posting party pics when you're 'sick' at home.

Everyone struggles through weekday drudgery to reach their weekend fun. But what if you could reclaim every day of your life?

Zooming up the ladder is great, but questioning yourself 24/7 is no way to succeed. Manage your stressed self with these surefire tips.

Forget trying to control every little detail. Life is lots more fun (and less stressful) when you let go from the get-go.

So, what exactly is this thing we call "happiness" and how do we get it?

Mark Zuckerberg has an even bigger effect on your life than you thought.

Everyone makes mistakes, but some mistakes can be devastating. Here are 10 icons who fell from grace, and what they can do to redeem themselves.

Twitter turns eight years old today.

Try these anything-but-ordinary ideas for a healthier, more productive mid-day break.