Dead bees: More than 30 million found in Canada
Bees in crisis as hives and numbers dwindle and scientists struggle to determine the exact cause.
Just weeks after tens of thousands of bumblebees, honeybees and lady bugs were found dead in an Oregon parking lot, more than 37 million bees have been found dead in Elmwood, Ontario, Canada, reports Collective Evolution.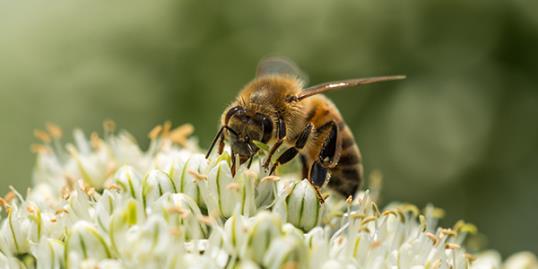 As scientists struggle to find the cause of the massive die-offs, a phenomenon they call "colony collapse disorder," Elmwood beekeeper Dave Schuit is pointing the finger at neonicotinoid pesticides. Schuit lost 600 hives.
Research suggests that even at nonlethal does, the world's most popular class of pesticides can confuse bees' navigation and make it hard for them to find home.
After a record-breaking loss of honeybees in the United Kingdom, the European Union has banned multiple pesticides, including neonicotinoid pesticides.
More from MSN: A shocking number of British kids have never seen a bee
Bees are critical to our food supply; one out of every three bites of food comes from a plant pollinated by honey bees and other pollinators.
More on MSN: 7 crazy things pesticides are doing to your body
"More than 85 percent of Earth's plant species — many of which compose some of the most nutritional parts of our diet — require pollinators to exist," Eric Mader, assistant pollinator conservation director at The Xerces Society, told Whole Foods. "Yet we continue to see alarming declines in bee numbers."
"In the United States alone, native bees contribute at least $3 billion a year to the farm economy," Mace Vaughan, pollinator program director at the Xerces Society, told the National Wildlife Federation.
The evidence linking pesticide use on our crops to bee deaths is compelling.
Tell us: What do you think of this controversial debate?
Read the complete story here.
Bing: What your grocery store looks like without bees
More from MSN Living blogs:
Nearly half of women apply makeup while driving 
10 inspiring Nelson Mandela quotes
Wallenda walks tightrope high over Ariz. gorge 
Subscribe to the Daily Dose | Friend us on Facebook, follow us on Twitter and find us on Pinterest.
Photo: Getty Images
inspire: live a better life
Study points to benefits of improved living conditions.

Don't leave home without these must-have items.

Handshakes spread 20 times more germs, study says.

Drowning in debt? Maybe there's a silver lining.

"But it's not real life, you know. It's a vacation."

Our list of must-dos before hitting the road.

Summer traditions can be great, but if you're on year six of packing the same people into the same car to go on the same vacation, it's time to switch things up. Surfing in Portugal, perhaps – or cycling through Northern Ireland. We've put together a list of 15 places well off the beaten path that you should go to when you're ready to try something new.

Grab a sleeping bag and head out to one of these amazing campsites.

A dozen adventures that are well worth the trip.

Paper downplays the significance of practice over raw talent.

Survey says American teens aren't great at complex or basic financial tasks.

Fear of Moving Away: How to conquer the latest cultural anxiety and embrace the unknown.