Is Your Car A Republican or Democrat?
What your vehicle tells other people about who you are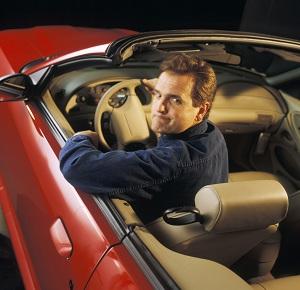 When General Motors announced they were discontinuing the Hummer brand in February of 2010, Daily Show host Jon Stewart commented that owners of the giant utility vehicle had a problem: now Hummer drivers would have to go door to door to tell people they're a jerk.
No matter how often we may turn out to be wrong, we do make assumptions about people based on the car they drive. And because we know others do the same, our auto-buying choices are made with some attention to the image we want to convey. According to an owner survey just released, the car you drive provides a clue to whether you vote along Republican or Democratic lines.
The survey culled 38,000 responses from people who had purchased new vehicles in 2011 and 2012. Among the findings:
• Republicans opted for bigger, pricier models, while Dems chose smaller, more affordable ones.
• Republicans accounted for 69% of convertible purchases, and Democrats only 17%.
• Among Republicans, the Ford Mustang convertible was the most popular car, followed by Audi A8, Mercedes GL-Class, Ford Expedition, and Ford F-150. Republicans also favored large SUVs by a wide margin (76%, compared to 5% of Dems).
• Among Democrats the top choice was the Honda Civic Hybrid, followed by the Volvo C30, Nissan Leaf, Acura TSX Sport Wagon, and Ford Fiesta.
• Large SUVs were favored by 76% of Republicans compared to 5% of Democrats

The consumer research group Strategic Vision conducted the survey to provide automakers with helpful marketing data ("If I were selling a convertible, I'd consider buying some air-time on Fox News," said president Alexander Edwards). From the consumer side, the survey provides a clue into which carefully crafted images we're buying into -- and who we are. A VP from Strategic Vision told The New York Times that the popularity of convertibles among Republicans indicates a mindset emphasizing freedom and reward. All the top choices by Democrats matched a separate survey on total auto value, indicating an emphasis on practicality.
Automakers are non-partisan when it comes to accepting car payments, but they do cultivate a customer image with extreme caution. Just look at the current crop of commercials. Subaru drivers are outdoorsy and probably have played hacky sack at some point in the past. Honda drivers are smart shoppers. Scion drivers cruise through neon cities, preferably at midnight with the music blasting. Lexus drivers are not always cleanly shaven but always handsome, particularly when glancing in the rear view.
Not everyone chooses a car as a status symbol, and dozens of factors influence any purchase as expensive as a new automobile. But our choices do reveal something about who we are and/or the image we're comfortable portraying. If you're the one wearing a red dress to a party, you probably didn't drive there in a station wagon. If you're the practical type, you're not expected to pull up in a checkered MINI Cooper.
Are you immune, or have you bought into a well-crafted media message? And if you're enjoying the springtime in your new Mustang convertible, can we count on you to vote Republican this fall?
inspire: live a better life
Miss Manners advises on how to respond when one gets unsolicited advice about weight issues.

Editor's note: We will now be publishing Miss Manners articles twice weekly, but you will only see one question and answer per article. You can expect to see these articles appear on Tuesdays and Thursdays going forward.

President Harry S. Truman was behind efforts to establish the first Armed Forces Day in 1950, and decades later the nation continues to set aside the third Saturday in May to recognize and thank members of the U.S. military for their patriotic service. With these five homecoming images, we salute all service members at home and abroad.

There's much to be desired about working from home: the stress-free commute, flexible hours, and improved work-life balance.

Wishing for the fountain of youth? You may not need it. We've rounded up real-women secrets, tried-and-true beauty tips, and the latest research to help you fight aging.

Experts weigh in on when to bite your tongue at the office.

Oh, the places you'll go — to get some "me" time, that is. REDBOOK readers confess all on Facebook.

How much money you make isn't nearly as important as how you use it, according to Elizabeth Dunn and Michael Norton, authors of the new book Happy Money.

Plus, how do you ask people to not bring gifts to a shower?

Looking for a career upgrade? Follow these tips for a foot in the door.

These tanning and skin cancer myths aren't just wrong — they can do serious harm. Wise up and head into a healthier future. P.S. You'll look a lot younger too.

It's possible to rejigger your brain circuitry and feel more joy, even on Monday mornings. Here's how.