MLK's hotel, as it was in 1968
Stand on the balcony where Martin Luther King, Jr. last stood.
Step outside the modern Rock and Soul Museum in Memphis and look across the street, and you'll see an incongruous sight. There stands a two-story, concrete-block, green-and-white motel from another time, with a huge white wreath hanging from its second-story balcony. A boxy '60s-era white Cadillac and a finned Chevy are parked beneath it.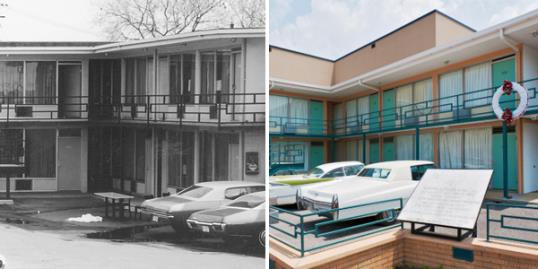 The wreath marks the spot where Dr. Martin Luther King, Jr. was assassinated at age 39 on April 4, 1968, as he stood on that balcony outside his room, No. 306.
For years, the Lorraine Motel was one of the few places that allowed African American travelers to stay and enjoy a good meal. It was a regular stop for songwriters and musicians like Ray Charles, Aretha Franklin, and Otis Redding when they were recording for Memphis' famed Stax Records company. In town to suppport striking sanitation workers in the spring of 1968, Dr. King spent the last days — and last moments — of his life at the Lorraine, strategizing with close friends like Jesse Jackson, Jr. and Ralph Abernathy.
The motel today houses the National Civil Rights Museum. Visitors have been invited to enter King's room, which has been precisely recreated with artifacts from the era, and this year for the first time visitors can also tour the balcony where King was gunned down when James Earl Ray fired from a dilapidated rooming house across the street. In a gesture of respect and taste, the local community years ago replaced the concrete square stained with Dr. King's blood.
The rooming house is also part of the museum today. It contains a new exhibit that allows visitors to see where Ray stayed, the bathroom window from which it is believed he fired, and evidence recovered at the scene that led to Ray's capture and arrest. A gate at the entrance is inscribed with a prophetic quote from King's "Mountaintop" speech, which he delivered the day before his assassination: "I may not get there with you, but we as a people will get to the Promised Land."
Bing: The latest on Martin Luther King Jr. Day.
The museum's many moving exhibits provide a detailed timeline of the civil rights struggle, concentrating on seminal events of the 1950s and 1960s. Included is a replica of the jail cell from which King wrote his famous "Letter from Birmingham Jail" and a Montgomery, Alabama, city bus where a figure of Rosa Parks is seated.  When visitors try to sit down, they are admonished with shouts of, "Hey! You can't sit there!" and "Go to the back of the bus!"
"We see visitors' faces as they register the pain, the injustice and rejoice in every victory earned along the journey," says a statement on the museum's site. "We share their tears as they realize why leaders like Dr. King gave everything for the world we live in today."
More from MSN:
Obama speech sets stage for looming policy fights
Obama kicks off second term at public inauguration
Your 2013 bargain calendar
25 things that will keep you young
10 secrets hidden on the $100 bill
New library to be book-less
Love content like this? Friend us on Facebook, follow us on Twitter and find us on Pinterest.
Photos: Courtesy of www.civilrightsmuseu​m.org; Stephen Saks/Getty Images

inspire: live a better life
Summer and winter tend to hog all the glory when it comes to travel high seasons. Sure, you want to soak up all the time at the beach you can during the summer, and you just want to escape the cold during the last months of the year.

Who just wants to stand around and watch the red and gold leaves slowly fall from their tree branches to the ground as we move from summer to fall? Instead, take in the changing seasons while you're on the move.

In September, I'll turn 38. I'm at the age now where, when people ask how old I am, it takes me a minute to remember. I don't know if that's because I've already been 37 different ages and it's hard to keep straight which one I am now, or if it's because I'm in denial, or if it's because I am going senile. Maybe a combination of all of the above. Regardless, my 30s have flown by and soon they will be but a memory. So, in an effort to preserve the memory I have left (or at least keep a record of it), and to celebrate what has been an amazing decade so far, here are 30 things that have happened to me in my 30s (and will probably happen to you too):

Traveling doesn't have to be stressful. And what you can fit in your carry-on can make all the difference (and not just a fresh pair of socks), especially when you get that low battery signal.

Volunteering (and these other rituals) might be just as good as exercise when it comes to extending your life.

Use these tricks to set a better tone for the rest of the week.

Whether it involves a food fight, mermaids or a torch-lit procession, people the world over know how to have a good time. Here are some of the biggest, boldest, booziest celebrations around, along with some tips to get the full experience.

Research could mean more effective treatment for human disorders.

An entry a day might keep the doctor away (or at least the shrink).

One woman's shout-outs to daily moments of joy — and how to cultivate them.

Our best health and fitness tips including the one move that tones all, berry news, and more.