MLK's hotel, as it was in 1968
Stand on the balcony where Martin Luther King, Jr. last stood.
Step outside the modern Rock and Soul Museum in Memphis and look across the street, and you'll see an incongruous sight. There stands a two-story, concrete-block, green-and-white motel from another time, with a huge white wreath hanging from its second-story balcony. A boxy '60s-era white Cadillac and a finned Chevy are parked beneath it.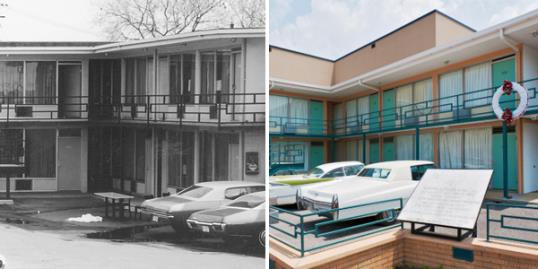 The wreath marks the spot where Dr. Martin Luther King, Jr. was assassinated at age 39 on April 4, 1968, as he stood on that balcony outside his room, No. 306.
For years, the Lorraine Motel was one of the few places that allowed African American travelers to stay and enjoy a good meal. It was a regular stop for songwriters and musicians like Ray Charles, Aretha Franklin, and Otis Redding when they were recording for Memphis' famed Stax Records company. In town to suppport striking sanitation workers in the spring of 1968, Dr. King spent the last days — and last moments — of his life at the Lorraine, strategizing with close friends like Jesse Jackson, Jr. and Ralph Abernathy.
The motel today houses the National Civil Rights Museum. Visitors have been invited to enter King's room, which has been precisely recreated with artifacts from the era, and this year for the first time visitors can also tour the balcony where King was gunned down when James Earl Ray fired from a dilapidated rooming house across the street. In a gesture of respect and taste, the local community years ago replaced the concrete square stained with Dr. King's blood.
The rooming house is also part of the museum today. It contains a new exhibit that allows visitors to see where Ray stayed, the bathroom window from which it is believed he fired, and evidence recovered at the scene that led to Ray's capture and arrest. A gate at the entrance is inscribed with a prophetic quote from King's "Mountaintop" speech, which he delivered the day before his assassination: "I may not get there with you, but we as a people will get to the Promised Land."
Bing: The latest on Martin Luther King Jr. Day.
The museum's many moving exhibits provide a detailed timeline of the civil rights struggle, concentrating on seminal events of the 1950s and 1960s. Included is a replica of the jail cell from which King wrote his famous "Letter from Birmingham Jail" and a Montgomery, Alabama, city bus where a figure of Rosa Parks is seated.  When visitors try to sit down, they are admonished with shouts of, "Hey! You can't sit there!" and "Go to the back of the bus!"
"We see visitors' faces as they register the pain, the injustice and rejoice in every victory earned along the journey," says a statement on the museum's site. "We share their tears as they realize why leaders like Dr. King gave everything for the world we live in today."
More from MSN:
Obama speech sets stage for looming policy fights
Obama kicks off second term at public inauguration
Your 2013 bargain calendar
25 things that will keep you young
10 secrets hidden on the $100 bill
New library to be book-less
Love content like this? Friend us on Facebook, follow us on Twitter and find us on Pinterest.
Photos: Courtesy of www.civilrightsmuseu​m.org; Stephen Saks/Getty Images

inspire: live a better life
How much do you really know about the Earth? In honor of Earth Day, April 22, we explore some interesting and fun facts about the fifth-largest planet of our solar system.

Happify shares their results of a recent study on how money affects our happiness.

A top exec reveals the company's secret code

Pro tips from the guy who's done it four times

Not all mistakes are as blatant as posting party pics when you're 'sick' at home.

Everyone struggles through weekday drudgery to reach their weekend fun. But what if you could reclaim every day of your life?

Zooming up the ladder is great, but questioning yourself 24/7 is no way to succeed. Manage your stressed self with these surefire tips.

Forget trying to control every little detail. Life is lots more fun (and less stressful) when you let go from the get-go.

So, what exactly is this thing we call "happiness" and how do we get it?

Mark Zuckerberg has an even bigger effect on your life than you thought.

Everyone makes mistakes, but some mistakes can be devastating. Here are 10 icons who fell from grace, and what they can do to redeem themselves.

Twitter turns eight years old today.