Topless women in public not breaking the law, says NYPD
Police memo says breast exposure is not considered public lewdness, indecent exposure or disorderly conduct.
Women of New York, it's OK to let the girls loose.
In February, New York City's 34,000 police officers received a rather unusual memo: For "simply exposing their breasts in public," women are guilty of no crime, reports The New York Times.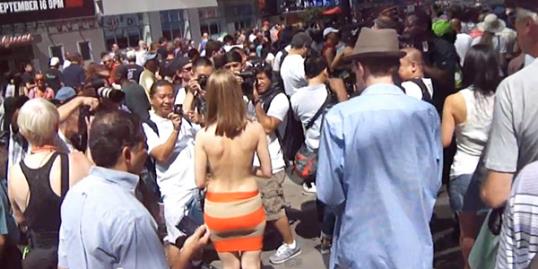 The police officers were ordered that, should they encounter a bare-bosomed woman walking in public, they should not arrest her. In fact, should a crowd form around a topless woman, officers are to "give a lawful order to disperse the entire crowd and take enforcement action" against those who do not comply, says an official memorandum included in a federal lawsuit filed this week by Holly Van Voast. Van Voast, a Bronx photographer and performing artist, is known for stripping naked in Times Square, Grand Central Station and outside a Hooters restaurant in Midtown.
More from MSN Living: Live happier on the money you have
The decision that it's perfectly legal for both a woman and a man to bare one's chest in public comes after more than two decades of proceedings and protests fighting for equal rights to be shirtless.
More from MSN Living: 5 fashion rules you should break
No one bats an eye at a bare-chested guy, so why is a topless woman in public so scandalous?
Read the complete story at The New York Times here.
Tell us: What do you think about this decision?
Bing: Outrageous performance artists
More from Daily Dose:
State with the foulest mouth is...
Barnett Newman painting auctioned for $43.8 million
Chong says legalized marijuana could save country
Love content like this? Friend us on Facebook, follow us on Twitter and find us on Pinterest.
Photo: Still of the 2012 Go Topless Day Rally in New York City (JoseKickaha1 via YouTube)
inspire: live a better life
Here's some tips to get to happiness going forward in your life.

People 60 to 82 did best on cognitive tasks before 10:30am.

Lucille Ball was born in 1911, and though we lost her long ago, her legacy as America's favorite redhead lives on through the timeless classic, "I Love Lucy." People of all generations still enjoy Lucy's antics as much as they did over 60 years ago when the show first premiered.

Summer is coming to an end, and in a few weeks, kids will be forced to trade in their beach bags for backpacks. But just because the season is fading away doesn't mean the memories from the past few months have to disappear with it.

Confidence and perceived competence are key, study finds.

Features lead to assumptions about character, study says.

Great gear for an afternoon spent shoreside.

Use these bucket-list ideas to enjoy the little time you have left.

Study points to benefits of improved living conditions.

Don't leave home without these must-have items.

Handshakes spread 20 times more germs, study says.

Drowning in debt? Maybe there's a silver lining.