Topless women in public not breaking the law, says NYPD
Police memo says breast exposure is not considered public lewdness, indecent exposure or disorderly conduct.
Women of New York, it's OK to let the girls loose.
In February, New York City's 34,000 police officers received a rather unusual memo: For "simply exposing their breasts in public," women are guilty of no crime, reports The New York Times.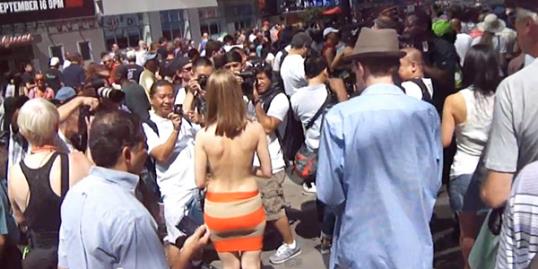 The police officers were ordered that, should they encounter a bare-bosomed woman walking in public, they should not arrest her. In fact, should a crowd form around a topless woman, officers are to "give a lawful order to disperse the entire crowd and take enforcement action" against those who do not comply, says an official memorandum included in a federal lawsuit filed this week by Holly Van Voast. Van Voast, a Bronx photographer and performing artist, is known for stripping naked in Times Square, Grand Central Station and outside a Hooters restaurant in Midtown.
More from MSN Living: Live happier on the money you have
The decision that it's perfectly legal for both a woman and a man to bare one's chest in public comes after more than two decades of proceedings and protests fighting for equal rights to be shirtless.
More from MSN Living: 5 fashion rules you should break
No one bats an eye at a bare-chested guy, so why is a topless woman in public so scandalous?
Read the complete story at The New York Times here.
Tell us: What do you think about this decision?
Bing: Outrageous performance artists
More from Daily Dose:
State with the foulest mouth is...
Barnett Newman painting auctioned for $43.8 million
Chong says legalized marijuana could save country
Love content like this? Friend us on Facebook, follow us on Twitter and find us on Pinterest.
Photo: Still of the 2012 Go Topless Day Rally in New York City (JoseKickaha1 via YouTube)
inspire: live a better life
No one looks forward to washing windows or storing the ski gear or the other chores associated with spring-cleaning. But this annual ritual does not have to be a drag, if you approach it in a slightly different way. "You've been cooped up with this cave-like mentality all winter; now it's time to break free and play," says R.D. Chin, a feng shui architect and consultant in New York City. "It's time to follow the cycle of nature, get rid of the clutter, and free up your mind." Here's our idea of what a truly effective spring-cleaning can look like.

American presidents garner most votes over celebrities in a poll ranking the 100 most significant citizens.

Heading to a world-class beach town is always a safe bet for a great vacation, but if you want something that tests your limits, consider a more extreme spot. Here are 10 places around the world that require a winter coat year-round and offer spectacular glaciers, ice features, and the best snow anywhere.

From the Grand Canyon to the Statue of Liberty, the U.S. boasts world-famous national parks, historical sites and landmarks. Beyond the well-known locations, there's a wealth of undiscovered destinations stretching from coast to coast worth visiting. From scenic sand dunes to wild mountains, here's 51 places within America that you've probably never heard of.

How much do you really know about the Earth? In honor of Earth Day, April 22, we explore some interesting and fun facts about the fifth-largest planet of our solar system.

Most of the stuff we worry about never happens.

You've written an email, and need to wrap it up. You could end with a simple "Sincerely," tack on your name, and then shoot it out the door, proving definitively that you suck at communication.

Here are nine of the most extreme trips on the planet -- and the outfitters that take adventurers over the edge and back again.

A true challenge is within your reach. All it takes is a few months to get in shape and a few days off work.

Think you got what it takes to be included in the pages of the Guinness Book of World Records? We consult one of the judges to help you on your quest.

Just a few years ago, the term "home automation" meant a bunch of blinking lights and a headache. But thanks to simpler interfaces and the rise of smartphones, new tech can transform your house into a safer, more comfortable, less wasteful place.

If you're like most people, flying around in a big metal tube in the sky isn't your idea of a fun time. From the terrible food to the cramped space, flying can be a miserable experience. Don't make the flight even more soul-sucking by breaking airplane etiquette. We've compiled a list of the worst-inflight offenders. by Rebecca Pattee