Topless women in public not breaking the law, says NYPD
Police memo says breast exposure is not considered public lewdness, indecent exposure or disorderly conduct.
Women of New York, it's OK to let the girls loose.
In February, New York City's 34,000 police officers received a rather unusual memo: For "simply exposing their breasts in public," women are guilty of no crime, reports The New York Times.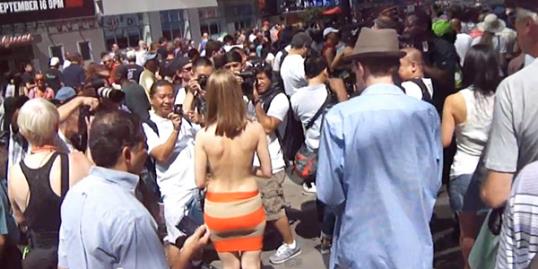 The police officers were ordered that, should they encounter a bare-bosomed woman walking in public, they should not arrest her. In fact, should a crowd form around a topless woman, officers are to "give a lawful order to disperse the entire crowd and take enforcement action" against those who do not comply, says an official memorandum included in a federal lawsuit filed this week by Holly Van Voast. Van Voast, a Bronx photographer and performing artist, is known for stripping naked in Times Square, Grand Central Station and outside a Hooters restaurant in Midtown.
More from MSN Living: Live happier on the money you have
The decision that it's perfectly legal for both a woman and a man to bare one's chest in public comes after more than two decades of proceedings and protests fighting for equal rights to be shirtless.
More from MSN Living: 5 fashion rules you should break
No one bats an eye at a bare-chested guy, so why is a topless woman in public so scandalous?
Read the complete story at The New York Times here.
Tell us: What do you think about this decision?
Bing: Outrageous performance artists
More from Daily Dose:
State with the foulest mouth is...
Barnett Newman painting auctioned for $43.8 million
Chong says legalized marijuana could save country
Love content like this? Friend us on Facebook, follow us on Twitter and find us on Pinterest.
Photo: Still of the 2012 Go Topless Day Rally in New York City (JoseKickaha1 via YouTube)
inspire: live a better life
Summer and winter tend to hog all the glory when it comes to travel high seasons. Sure, you want to soak up all the time at the beach you can during the summer, and you just want to escape the cold during the last months of the year.

Who just wants to stand around and watch the red and gold leaves slowly fall from their tree branches to the ground as we move from summer to fall? Instead, take in the changing seasons while you're on the move.

In September, I'll turn 38. I'm at the age now where, when people ask how old I am, it takes me a minute to remember. I don't know if that's because I've already been 37 different ages and it's hard to keep straight which one I am now, or if it's because I'm in denial, or if it's because I am going senile. Maybe a combination of all of the above. Regardless, my 30s have flown by and soon they will be but a memory. So, in an effort to preserve the memory I have left (or at least keep a record of it), and to celebrate what has been an amazing decade so far, here are 30 things that have happened to me in my 30s (and will probably happen to you too):

Traveling doesn't have to be stressful. And what you can fit in your carry-on can make all the difference (and not just a fresh pair of socks), especially when you get that low battery signal.

Volunteering (and these other rituals) might be just as good as exercise when it comes to extending your life.

Use these tricks to set a better tone for the rest of the week.

Whether it involves a food fight, mermaids or a torch-lit procession, people the world over know how to have a good time. Here are some of the biggest, boldest, booziest celebrations around, along with some tips to get the full experience.

Research could mean more effective treatment for human disorders.

An entry a day might keep the doctor away (or at least the shrink).

One woman's shout-outs to daily moments of joy — and how to cultivate them.

Our best health and fitness tips including the one move that tones all, berry news, and more.