Topless women in public not breaking the law, says NYPD
Police memo says breast exposure is not considered public lewdness, indecent exposure or disorderly conduct.
Women of New York, it's OK to let the girls loose.
In February, New York City's 34,000 police officers received a rather unusual memo: For "simply exposing their breasts in public," women are guilty of no crime, reports The New York Times.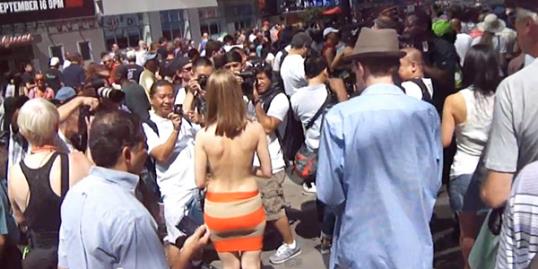 The police officers were ordered that, should they encounter a bare-bosomed woman walking in public, they should not arrest her. In fact, should a crowd form around a topless woman, officers are to "give a lawful order to disperse the entire crowd and take enforcement action" against those who do not comply, says an official memorandum included in a federal lawsuit filed this week by Holly Van Voast. Van Voast, a Bronx photographer and performing artist, is known for stripping naked in Times Square, Grand Central Station and outside a Hooters restaurant in Midtown.
More from MSN Living: Live happier on the money you have
The decision that it's perfectly legal for both a woman and a man to bare one's chest in public comes after more than two decades of proceedings and protests fighting for equal rights to be shirtless.
More from MSN Living: 5 fashion rules you should break
No one bats an eye at a bare-chested guy, so why is a topless woman in public so scandalous?
Read the complete story at The New York Times here.
Tell us: What do you think about this decision?
Bing: Outrageous performance artists
More from Daily Dose:
State with the foulest mouth is...
Barnett Newman painting auctioned for $43.8 million
Chong says legalized marijuana could save country
Love content like this? Friend us on Facebook, follow us on Twitter and find us on Pinterest.
Photo: Still of the 2012 Go Topless Day Rally in New York City (JoseKickaha1 via YouTube)
inspire: live a better life
You'll stave off credit card debt by the end of the year if you account for these often-forgotten expenses.

Mark Zuckerberg has an even bigger effect on your life than you thought.

Take this advice to finally tackle that nagging to-do list.

The iconic storyteller would have been 110-years-old

Take the time to appreciate women's contributions to society. Here are some of the women who inspire us by their example.

Cast of the iconic TV show reunites for Florence Henderson's birthday

We couldn't be more excited to watch the best athletes in the world compete at the Winter Olympics in Sochi. This year, about 44 percent of the competitors are women according to the International Olympic Committee—which is awesome but wasn't always the case. Let's look back at some of the amazing women who paved the way with incredible, memorable feats of girl power.

Still pulling yourself out of holiday credit card debt? Ready to pool some funds for that beach vacation you've been dreaming about at your desk? We're with you 100 percent.

"FOMO, the fear of missing out, is a form of social anxiety," says psychiatrist Gail Saltz. "This type of fear tends to cause compulsive behaviors, like checking out other social situations even as you are in the middle of one currently."

When The Shriver Report was released in early January, we shared some of the more interesting statistics about income equality, the wage gap, and other issues confronting women.

Clay Aiken to run for public office.

Here's how to boost your joy — and put more cash in your pocket.