'Cleaning fairy' breaks into house to tidy up
Ohio woman pleads guilty to breaking and vacuuming.
Today we bring you a story that should go down in the annals of crime right alongside "Man Fixes Spare Tire for Stranger" and "Mom Baked Me A Pie."
A 53-year-old woman pleaded guilty to attempted burglary after she entered a house, tidied up a bit and left.
According to the Associated Press, Susan Warren of Elyria, Ohio, was apparently bored and later told authorities she just "wanted something to do." She entered the home of another Ohio woman named Sherry Bush and got to work.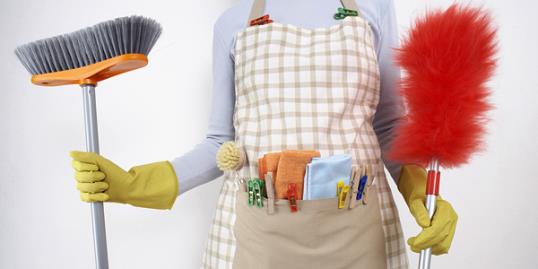 The Cleaning Fairy, as Warren has been dubbed, washed some coffee cups, took out the trash, vacuumed and dusted. On the table she left a bill for $75, handwritten on a napkin and included her name and number.
More on MSN Living: 50 things everyone should know about marriage
A quick online search reveals that Sue Warren Cleaning is listed on a small-business
Web page, though no details are available regarding her policy to call clients first or just huck a rock through a window. Sherry Bush, the devastated victim of the unsolicited cleaning, told NewsNet5 that she called the number on the napkin assuming the Warren had the wrong house, but the Cleaning Fairy replied, "I just stop and clean your house."
The channel reports a little more dirt on the story, too. Apparently, Bush's teenage daughter slept through the terrifying ordeal and was shocked to find the house mildly more in order when she awoke.
More on MSN Living: The top 10 traits women want in a man
Warren told authorities she "does this all the time." She chose the house at random and snapped on the cleaning gloves because she needed some extra cash. Nothing was taken from house, assuming you don't count dust bunnies.
A rogues' gallery of other dumb barely criminals from the past year includes:
• Edwin Tobergta, 32, of Ohio, arrested after engaging in sexual conduct with an inflatable pool raft. Previous charge: sexual conduct with an inflatable Halloween pumpkin.
• Lindsay Stevens of Tennessee, arrested after being seen cutting down a tree in his yard while buck naked.
• John Caruso, 26, of Florida, who had a clean record until he squirted liquid dish soap into his girlfriend's mouth for cursing.
• Joyce Coffey, 53, of New Hampshire, arrested three times within 26 hours for blasting the AC/DC song "Highway to Hell" (and a fourth time for flinging a frying pan at her nephew).
• James Gray, 68, of Florida, pulled over for his fifth DUI. Police caught him driving drunk on the wrong side of the road. On a lawnmower. In his defense, it was a really cool mower with a mounted sun umbrella.
Meanwhile, Sue, if you're still out there after you've completed your 20 hours of community service, please get in touch and I'll send along my address. The key is under the doormat.
Photo: Junos/Getty Images
Bing: Dumb criminals
More from MSN Living:
25 things she finds sexiest about you
8 words that give away a liar
The trends men love ... and the ones they hate
inspire: live a better life
Getting to happy may be easier than you think.

Drowning in debt? Maybe there's a silver lining.

"But it's not real life, you know. It's a vacation."

Nothing can stop a woman with a plan. Whether she's creating her own hair care line in a Brooklyn kitchen, like Carol's Daughter's Lisa Price, or leaving a modeling career behind to launch her own media empire, like Tyra Banks, it all starts with a dream.

Our list of must-dos before hitting the road.

Vacations are relaxing, yet sometimes stressful.