Why state-legal marijuana dispensaries still get shut down
Pot may be legal in Washington, but until federal law changes, marijuana users and distributors are out of luck.
Washington state may have legalized recreational pot use back in November, but until the federal government decriminalizes marijuana, users and distributers are at the mercy of the Drug Enforcement Administration.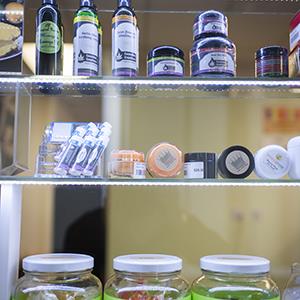 Back in December, President Barack Obama suggested the government has "bigger fish to fry," when asked about the possibility of the DEA' raiding pot dispensaries in states where marijuana is legal.
MSN Living: Vet recommends pot for pets in pain
So how big a fish is Bayside Gardens? The dispensary was one of several raided in Washington on Wednesday. Employee Casey Lee said the raid was "humiliating."
MSN Living: Why I give my 9-year-old pot
In both Washington and Colorado, recreational marijuana use is legal. Nineteen states and Washington, D.C. ,have legalized medical marijuana, and five states have pending legislation.
Of course, the DEA follows federal law and has been clear on its stance that the agency will uphold it, saying in a news release:
"The Drug Enforcement Administration's enforcement of the Controlled Substances Act remains unchanged."
Under federal law, marijuana is classified as a Schedule I drug. This means the government doesn't recognize any medicinal value in it and classifies it as highly addictive.
More on The Daily Dose:
Nazi-themed café sparks controversy in Indonesia
Tax-free weekends coming this summer
Follow Pope Francis on Twitter, stay out of purgatory
Subscribe to the Daily Dose | Friend us on Facebook, follow us on Twitter and find us on Pinterest.
Photo: Some of the marijuana products for sale at the Northwest Patient Resource Center. (John Chapple/Rex Features)
inspire: live a better life
Use these bucket-list ideas to enjoy the little time you have left.

Study points to benefits of improved living conditions.

Don't leave home without these must-have items.

Handshakes spread 20 times more germs, study says.

Drowning in debt? Maybe there's a silver lining.

"But it's not real life, you know. It's a vacation."

Our list of must-dos before hitting the road.

Summer traditions can be great, but if you're on year six of packing the same people into the same car to go on the same vacation, it's time to switch things up. Surfing in Portugal, perhaps – or cycling through Northern Ireland. We've put together a list of 15 places well off the beaten path that you should go to when you're ready to try something new.

Grab a sleeping bag and head out to one of these amazing campsites.

A dozen adventures that are well worth the trip.

Paper downplays the significance of practice over raw talent.

Survey says American teens aren't great at complex or basic financial tasks.