Why state-legal marijuana dispensaries still get shut down
Pot may be legal in Washington, but until federal law changes, marijuana users and distributors are out of luck.
Washington state may have legalized recreational pot use back in November, but until the federal government decriminalizes marijuana, users and distributers are at the mercy of the Drug Enforcement Administration.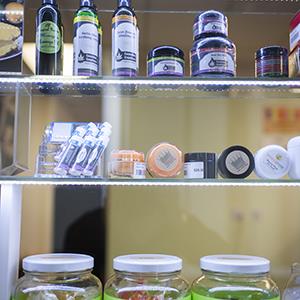 Back in December, President Barack Obama suggested the government has "bigger fish to fry," when asked about the possibility of the DEA' raiding pot dispensaries in states where marijuana is legal.
MSN Living: Vet recommends pot for pets in pain
So how big a fish is Bayside Gardens? The dispensary was one of several raided in Washington on Wednesday. Employee Casey Lee said the raid was "humiliating."
MSN Living: Why I give my 9-year-old pot
In both Washington and Colorado, recreational marijuana use is legal. Nineteen states and Washington, D.C. ,have legalized medical marijuana, and five states have pending legislation.
Of course, the DEA follows federal law and has been clear on its stance that the agency will uphold it, saying in a news release:
"The Drug Enforcement Administration's enforcement of the Controlled Substances Act remains unchanged."
Under federal law, marijuana is classified as a Schedule I drug. This means the government doesn't recognize any medicinal value in it and classifies it as highly addictive.
More on The Daily Dose:
Nazi-themed café sparks controversy in Indonesia
Tax-free weekends coming this summer
Follow Pope Francis on Twitter, stay out of purgatory
Subscribe to the Daily Dose | Friend us on Facebook, follow us on Twitter and find us on Pinterest.
Photo: Some of the marijuana products for sale at the Northwest Patient Resource Center. (John Chapple/Rex Features)
inspire: live a better life
Our best health and fitness tips including the one move that tones all, berry news, and more.

Who just wants to stand around and watch the red and gold leaves slowly fall from their tree branches to the ground as we move from summer to fall? Instead, take in the changing seasons while you're on the move.

Here's some tips to get to happiness going forward in your life.

People 60 to 82 did best on cognitive tasks before 10:30am.

Lucille Ball was born in 1911, and though we lost her long ago, her legacy as America's favorite redhead lives on through the timeless classic, "I Love Lucy." People of all generations still enjoy Lucy's antics as much as they did over 60 years ago when the show first premiered.

Summer is coming to an end, and in a few weeks, kids will be forced to trade in their beach bags for backpacks. But just because the season is fading away doesn't mean the memories from the past few months have to disappear with it.

Confidence and perceived competence are key, study finds.

Features lead to assumptions about character, study says.

Great gear for an afternoon spent shoreside.

Use these bucket-list ideas to enjoy the little time you have left.

Study points to benefits of improved living conditions.