Why state-legal marijuana dispensaries still get shut down
Pot may be legal in Washington, but until federal law changes, marijuana users and distributors are out of luck.
Washington state may have legalized recreational pot use back in November, but until the federal government decriminalizes marijuana, users and distributers are at the mercy of the Drug Enforcement Administration.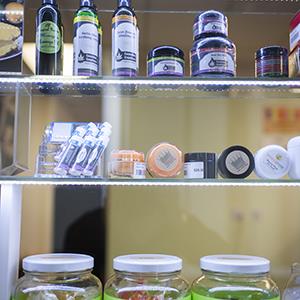 Back in December, President Barack Obama suggested the government has "bigger fish to fry," when asked about the possibility of the DEA' raiding pot dispensaries in states where marijuana is legal.
MSN Living: Vet recommends pot for pets in pain
So how big a fish is Bayside Gardens? The dispensary was one of several raided in Washington on Wednesday. Employee Casey Lee said the raid was "humiliating."
MSN Living: Why I give my 9-year-old pot
In both Washington and Colorado, recreational marijuana use is legal. Nineteen states and Washington, D.C. ,have legalized medical marijuana, and five states have pending legislation.
Of course, the DEA follows federal law and has been clear on its stance that the agency will uphold it, saying in a news release:
"The Drug Enforcement Administration's enforcement of the Controlled Substances Act remains unchanged."
Under federal law, marijuana is classified as a Schedule I drug. This means the government doesn't recognize any medicinal value in it and classifies it as highly addictive.
More on The Daily Dose:
Nazi-themed café sparks controversy in Indonesia
Tax-free weekends coming this summer
Follow Pope Francis on Twitter, stay out of purgatory
Subscribe to the Daily Dose | Friend us on Facebook, follow us on Twitter and find us on Pinterest.
Photo: Some of the marijuana products for sale at the Northwest Patient Resource Center. (John Chapple/Rex Features)
inspire: live a better life
Summer and winter tend to hog all the glory when it comes to travel high seasons. Sure, you want to soak up all the time at the beach you can during the summer, and you just want to escape the cold during the last months of the year.

Who just wants to stand around and watch the red and gold leaves slowly fall from their tree branches to the ground as we move from summer to fall? Instead, take in the changing seasons while you're on the move.

In September, I'll turn 38. I'm at the age now where, when people ask how old I am, it takes me a minute to remember. I don't know if that's because I've already been 37 different ages and it's hard to keep straight which one I am now, or if it's because I'm in denial, or if it's because I am going senile. Maybe a combination of all of the above. Regardless, my 30s have flown by and soon they will be but a memory. So, in an effort to preserve the memory I have left (or at least keep a record of it), and to celebrate what has been an amazing decade so far, here are 30 things that have happened to me in my 30s (and will probably happen to you too):

Traveling doesn't have to be stressful. And what you can fit in your carry-on can make all the difference (and not just a fresh pair of socks), especially when you get that low battery signal.

Volunteering (and these other rituals) might be just as good as exercise when it comes to extending your life.

Use these tricks to set a better tone for the rest of the week.

Whether it involves a food fight, mermaids or a torch-lit procession, people the world over know how to have a good time. Here are some of the biggest, boldest, booziest celebrations around, along with some tips to get the full experience.

Research could mean more effective treatment for human disorders.

An entry a day might keep the doctor away (or at least the shrink).

One woman's shout-outs to daily moments of joy — and how to cultivate them.

Our best health and fitness tips including the one move that tones all, berry news, and more.