Infographic: One in 5 Americans has no religion
The fastest growing 'religious' group in America is made up of people with no religion at all, according to a Pew survey.
Today, one in five in the American public doesn't identify with any religion, the highest share since Pew Research Center began this poll in 2007, reports GOOD. Still, the United States is more religious than some other countries.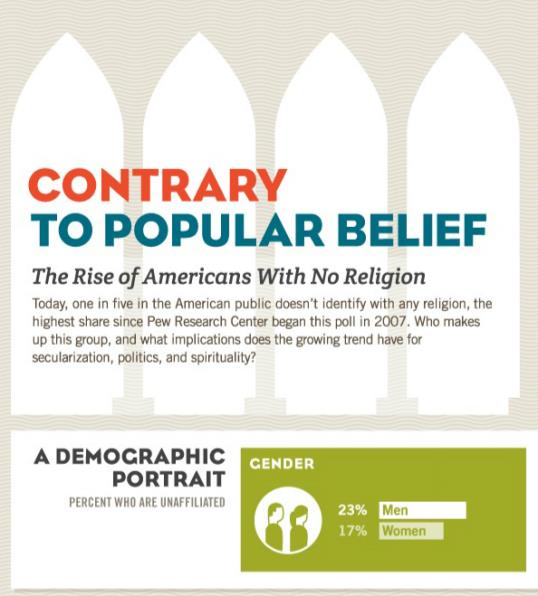 More from MSN Living: Spring cleaning: 13 things to replace right now
Take a look at how religious beliefs in the United States compare to other first world Western European nations.
Fifty-eight percent of Americans believe religion is important to them compared to less than 20 percent in France and Britain.

More than half of Americans believe it is necessary to believe in God to be moral and have good values, while 20 percent or less think so in France, Spain and Britain.

Among those who are religiously unaffiliated, most believe in nothing at all.

Since 2007, Protestants have lost 5 percent of affiliated Americans, Catholics have lost 1 percent and those with no religious affiliation have increased 4.3 percent.

Those who are religiously unaffiliated make up the highest percentage – 24 percent – of registered Democratic voters.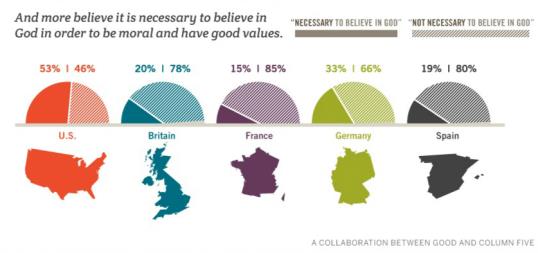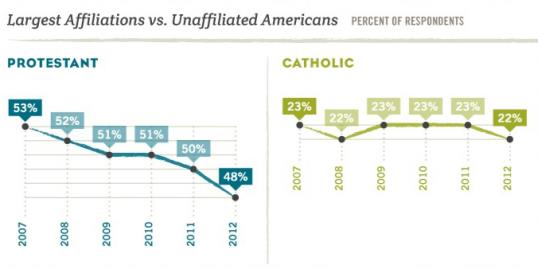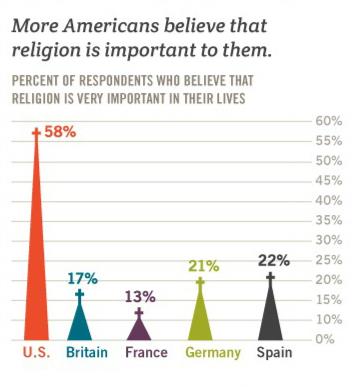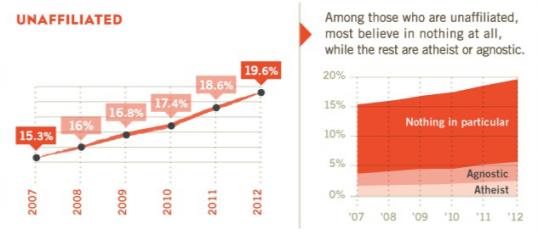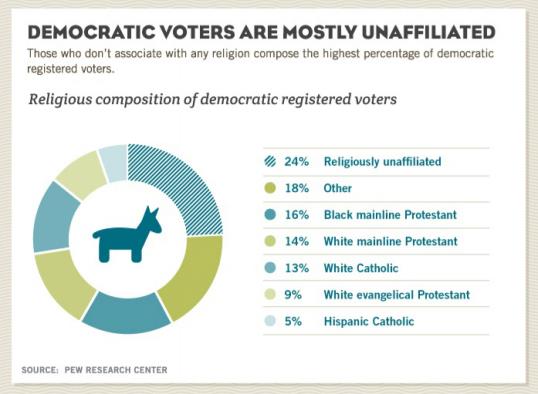 More from MSN Living: 40 time-saving tips to help you save an hour a day
What do you think about these statistics?
Bing: Bizarre religious rituals
More from Daily Dose:
Universe is older than we thought
'Smart guns' may help prevent violence
Love content like this? Friend us on Facebook, follow us on Twitter and find us on Pinterest
Images: Courtesy of GOOD ,www.good.is; original published at http://www.good.is/p​osts/infographic-the​-rise-of-americans-w​ith-no-religion/
inspire: live a better life
How much do you really know about the Earth? In honor of Earth Day, April 22, we explore some interesting and fun facts about the fifth-largest planet of our solar system.

Happify shares their results of a recent study on how money affects our happiness.

A top exec reveals the company's secret code

Pro tips from the guy who's done it four times

Not all mistakes are as blatant as posting party pics when you're 'sick' at home.

Everyone struggles through weekday drudgery to reach their weekend fun. But what if you could reclaim every day of your life?

Zooming up the ladder is great, but questioning yourself 24/7 is no way to succeed. Manage your stressed self with these surefire tips.

Forget trying to control every little detail. Life is lots more fun (and less stressful) when you let go from the get-go.

So, what exactly is this thing we call "happiness" and how do we get it?

Mark Zuckerberg has an even bigger effect on your life than you thought.

Everyone makes mistakes, but some mistakes can be devastating. Here are 10 icons who fell from grace, and what they can do to redeem themselves.

Twitter turns eight years old today.