Narcissism: More Stressful for Men Than Women
Think the world revolves around you? If you're a guy, your narcissism is really stressing you out.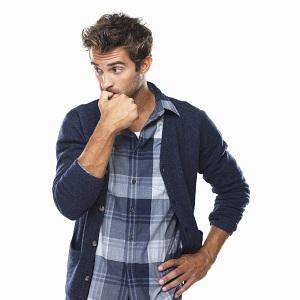 In a study published in the publication PLoS ONE, researchers gave 106 undergrads a Narcissistic Personality Inventory, in which they chose from either narcissistic responses or non-narcissistic ones. Researchers also tested the subjects' "passive drool," better known as saliva, to measure their level of cortisol — the stress hormone.
The researchers broke down the responses into unhealthy narcissism — which was characterized by "entitlement" and "exploitativeness" — and healthy narcissism, which they associated with qualities like leadership and self-sufficiency.
Turns out, the men who exhibited unhealthy narcissism in the Inventory had higher cortisol levels than non-narcissistic men. The women who chose unhealthy narcissistic responses also had higher levels of cortisol, but not nearly as much as the men.
Researchers then attempted to explain why men might me more stressed out by their own narcissism:
"Perhaps females can escape more severe physiological consequences of narcissism because there are different expectations for their roles in society."
They add that female gender roles encourage women to seek support, which could help lower their risk for chronic stress. But I guess that would mean women are less stressed overall, too.
The study's coauthor, Sara Konrath, adds that  " societal definitions of masculinity that overlap with narcissism — for example, the belief that men should be arrogant and dominant — men who endorse stereotypically male sex roles and who are also high in narcissism may feel especially stressed."
And that's not the only reason to check your ego at the door. The study also points out that high stress levels could lead to cardiovascular problems. So being an egomaniac might very well be hazardous to your health.
inspire: live a better life
You'll stave off credit card debt by the end of the year if you account for these often-forgotten expenses.

Mark Zuckerberg has an even bigger effect on your life than you thought.

Take this advice to finally tackle that nagging to-do list.

The iconic storyteller would have been 110-years-old

Take the time to appreciate women's contributions to society. Here are some of the women who inspire us by their example.

Cast of the iconic TV show reunites for Florence Henderson's birthday

We couldn't be more excited to watch the best athletes in the world compete at the Winter Olympics in Sochi. This year, about 44 percent of the competitors are women according to the International Olympic Committee—which is awesome but wasn't always the case. Let's look back at some of the amazing women who paved the way with incredible, memorable feats of girl power.

Still pulling yourself out of holiday credit card debt? Ready to pool some funds for that beach vacation you've been dreaming about at your desk? We're with you 100 percent.

"FOMO, the fear of missing out, is a form of social anxiety," says psychiatrist Gail Saltz. "This type of fear tends to cause compulsive behaviors, like checking out other social situations even as you are in the middle of one currently."

When The Shriver Report was released in early January, we shared some of the more interesting statistics about income equality, the wage gap, and other issues confronting women.

Clay Aiken to run for public office.

Here's how to boost your joy — and put more cash in your pocket.