Narcissism: More Stressful for Men Than Women
Think the world revolves around you? If you're a guy, your narcissism is really stressing you out.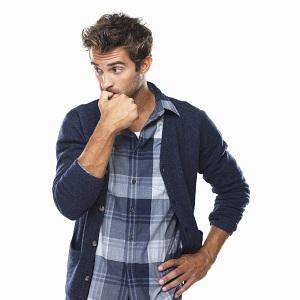 In a study published in the publication PLoS ONE, researchers gave 106 undergrads a Narcissistic Personality Inventory, in which they chose from either narcissistic responses or non-narcissistic ones. Researchers also tested the subjects' "passive drool," better known as saliva, to measure their level of cortisol — the stress hormone.
The researchers broke down the responses into unhealthy narcissism — which was characterized by "entitlement" and "exploitativeness" — and healthy narcissism, which they associated with qualities like leadership and self-sufficiency.
Turns out, the men who exhibited unhealthy narcissism in the Inventory had higher cortisol levels than non-narcissistic men. The women who chose unhealthy narcissistic responses also had higher levels of cortisol, but not nearly as much as the men.
Researchers then attempted to explain why men might me more stressed out by their own narcissism:
"Perhaps females can escape more severe physiological consequences of narcissism because there are different expectations for their roles in society."
They add that female gender roles encourage women to seek support, which could help lower their risk for chronic stress. But I guess that would mean women are less stressed overall, too.
The study's coauthor, Sara Konrath, adds that  " societal definitions of masculinity that overlap with narcissism — for example, the belief that men should be arrogant and dominant — men who endorse stereotypically male sex roles and who are also high in narcissism may feel especially stressed."
And that's not the only reason to check your ego at the door. The study also points out that high stress levels could lead to cardiovascular problems. So being an egomaniac might very well be hazardous to your health.
inspire: live a better life
Here's some tips to get to happiness going forward in your life.

People 60 to 82 did best on cognitive tasks before 10:30am.

Lucille Ball was born in 1911, and though we lost her long ago, her legacy as America's favorite redhead lives on through the timeless classic, "I Love Lucy." People of all generations still enjoy Lucy's antics as much as they did over 60 years ago when the show first premiered.

Summer is coming to an end, and in a few weeks, kids will be forced to trade in their beach bags for backpacks. But just because the season is fading away doesn't mean the memories from the past few months have to disappear with it.

Confidence and perceived competence are key, study finds.

Features lead to assumptions about character, study says.

Great gear for an afternoon spent shoreside.

Use these bucket-list ideas to enjoy the little time you have left.

Study points to benefits of improved living conditions.

Don't leave home without these must-have items.

Handshakes spread 20 times more germs, study says.

Drowning in debt? Maybe there's a silver lining.