Narcissism: More Stressful for Men Than Women
Think the world revolves around you? If you're a guy, your narcissism is really stressing you out.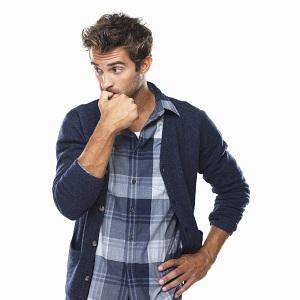 In a study published in the publication PLoS ONE, researchers gave 106 undergrads a Narcissistic Personality Inventory, in which they chose from either narcissistic responses or non-narcissistic ones. Researchers also tested the subjects' "passive drool," better known as saliva, to measure their level of cortisol — the stress hormone.
The researchers broke down the responses into unhealthy narcissism — which was characterized by "entitlement" and "exploitativeness" — and healthy narcissism, which they associated with qualities like leadership and self-sufficiency.
Turns out, the men who exhibited unhealthy narcissism in the Inventory had higher cortisol levels than non-narcissistic men. The women who chose unhealthy narcissistic responses also had higher levels of cortisol, but not nearly as much as the men.
Researchers then attempted to explain why men might me more stressed out by their own narcissism:
"Perhaps females can escape more severe physiological consequences of narcissism because there are different expectations for their roles in society."
They add that female gender roles encourage women to seek support, which could help lower their risk for chronic stress. But I guess that would mean women are less stressed overall, too.
The study's coauthor, Sara Konrath, adds that  " societal definitions of masculinity that overlap with narcissism — for example, the belief that men should be arrogant and dominant — men who endorse stereotypically male sex roles and who are also high in narcissism may feel especially stressed."
And that's not the only reason to check your ego at the door. The study also points out that high stress levels could lead to cardiovascular problems. So being an egomaniac might very well be hazardous to your health.
inspire: live a better life
How much do you really know about the Earth? In honor of Earth Day, April 22, we explore some interesting and fun facts about the fifth-largest planet of our solar system.

Happify shares their results of a recent study on how money affects our happiness.

A top exec reveals the company's secret code

Pro tips from the guy who's done it four times

Not all mistakes are as blatant as posting party pics when you're 'sick' at home.

Everyone struggles through weekday drudgery to reach their weekend fun. But what if you could reclaim every day of your life?

Zooming up the ladder is great, but questioning yourself 24/7 is no way to succeed. Manage your stressed self with these surefire tips.

Forget trying to control every little detail. Life is lots more fun (and less stressful) when you let go from the get-go.

So, what exactly is this thing we call "happiness" and how do we get it?

Mark Zuckerberg has an even bigger effect on your life than you thought.

Everyone makes mistakes, but some mistakes can be devastating. Here are 10 icons who fell from grace, and what they can do to redeem themselves.

Twitter turns eight years old today.