Narcissism: More Stressful for Men Than Women
Think the world revolves around you? If you're a guy, your narcissism is really stressing you out.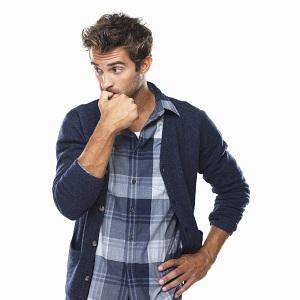 In a study published in the publication PLoS ONE, researchers gave 106 undergrads a Narcissistic Personality Inventory, in which they chose from either narcissistic responses or non-narcissistic ones. Researchers also tested the subjects' "passive drool," better known as saliva, to measure their level of cortisol — the stress hormone.
The researchers broke down the responses into unhealthy narcissism — which was characterized by "entitlement" and "exploitativeness" — and healthy narcissism, which they associated with qualities like leadership and self-sufficiency.
Turns out, the men who exhibited unhealthy narcissism in the Inventory had higher cortisol levels than non-narcissistic men. The women who chose unhealthy narcissistic responses also had higher levels of cortisol, but not nearly as much as the men.
Researchers then attempted to explain why men might me more stressed out by their own narcissism:
"Perhaps females can escape more severe physiological consequences of narcissism because there are different expectations for their roles in society."
They add that female gender roles encourage women to seek support, which could help lower their risk for chronic stress. But I guess that would mean women are less stressed overall, too.
The study's coauthor, Sara Konrath, adds that  " societal definitions of masculinity that overlap with narcissism — for example, the belief that men should be arrogant and dominant — men who endorse stereotypically male sex roles and who are also high in narcissism may feel especially stressed."
And that's not the only reason to check your ego at the door. The study also points out that high stress levels could lead to cardiovascular problems. So being an egomaniac might very well be hazardous to your health.
inspire: live a better life
With all those deals you snagged on Black Friday, Small Business Saturday, and Cyber Monday, today is your chance to give back to those in need with #GivingTuesday.

Miss Manners provides guidance on how to handle a request for party contributions

Miss Manners instructs on why tit-for-tat never works

Miss Manners offers thoughts on guests who disregard dinner party instructions

Make big bucks, from home, having fun? These women got creative and figured out a way to have it all. You can too.

Your boss. You might like her, you probably respect her, but do you know how to approach someone who seems so different from you? (Spoiler: She's actually not.)

Over the weekend, Oprah decluttered her Montecito mansion and three other properties in a Santa Barbara yard sale that brought in more than $600,000(!). (Proceeds will benefit her girls' leadership academy in South Africa, and not half of a Crate and Barrel chair, the traditional end goal of yard-sale proceeds.)

Exclusively for MSN, we bring you a six-part series from the new book: MISS MANNERS MINDS YOUR BUSINESS by Judith and Nicholas Ivor Martin.

Miss Manners weighs in on the financial burdens of remote weddings

How Miss Manners suggests dealing with out of town guest who want tour guide services

Exclusively for MSN, we bring you a six-part series from the new book: MISS MANNERS MINDS YOUR BUSINESS by Judith and Nicholas Ivor Martin.