Star-Power Politics
Celeb support in presidential elections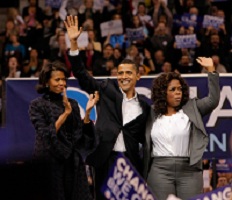 During the 2008 presidential primary, Oprah Winfrey single-handedly did for Obama what dozens of congressional supporters, wealthy endorsers, and campaign strategists could not. "The Oprah effect," studied by academics after the election, made for a huge increase in voter turnout and a windfall of financial contributions. Experts at Oxford estimated that Oprah bumped the election by a million votes.
Is Ted Nugent the Oprah of the Mitt Romney campaign? Let's hope not, for Mitt's sake. Nugent, a passionate and articulate jackass of the far right, doesn't quite seem worth the trouble he's been making lately, but Romney hasn't distanced himself from the guitar-slinging gun lover. Maybe Mitt is afraid the Nuge has his home address. But somebody on his campaign is doing the math, and for a stiff millionaire in a suit, a rock star in a ten-gallon snakeskin hat offers more credibility than liability.
Celebrity endorsements, whether solicited or not, are a goldmine for presidential candidates. Even when they run off the rails, as Nugent and others recently have, rock stars, actors, athletes, and talk-show hosts serve up the public's attention on a silver platter. They offer vicarious cool points and allow a candidate to ride on the coattails of the celeb's likability. There's even a semi-official ranking, called the Davie-Brown Index, that rates the appeal, influence, and trust of celebrities for marketing purposes. Candidates are trying desperately to market themselves to voters, and an effective endorsement helps to secure and sell the brand.
Just like an actress with a pretty face is appropriate for selling moisturizer, the character has to fit the script. Bruce Springsteen has been sought for his enduring blue-collar appeal, and Chuck Norris for his toughness (Mike Huckabee joked in a 2008 campaign ad, "Chuck Norris doesn't endorse, he tells America how it's going to be"). A nod from Oliver Stone in January helped cement Ron Paul's persona as an anti-establishment underdog. At a February fundraiser, rocker Dave Grohl's bankable authenticity supported Obama in his battle against the Republicans, who are even harder to fight than foo.
Potential voters, on the receiving end, get a prepackaged thought all wrapped up with a bow on top. We're instinctively influenced by people we like or respect even when our entire impression of who they are is based only on songs they've sung or movie characters they've portrayed. So when someone like Matt Damon throws the weight of his celebrity behind a candidate, or takes it away with a stinging statement, we take note. Jason Bourne thinks Obama should have accomplished more in his first term? The man has eleven passports and can ride a motorcycle down a staircase. Listen up.
It may sound cynical as hell, but voters don't seem to formulate views so much as adopt them. Truth is, we don't have the time to be part-time pundits, or to read the whole newspaper, or watch C-SPAN to keep an eye on politicians in the middle of the work day. As every campaigner knows, we're primed to absorb the viewpoint boiled down by someone we trust, whether it's Jon Stewart, a back-page editorial columnist, or a random, reliable celebrity. Like the Nuge.
"To announce that there must be no criticism of the president, or that we are to stand by the president right or wrong, is not only unpatriotic and servile, but is morally treasonable to the American public."
--------------------​------------------------------​-President Theodore Roosevelt
Are you sure you want to delete this comment?
inspire: live a better life
How much do you really know about the Earth? In honor of Earth Day, April 22, we explore some interesting and fun facts about the fifth-largest planet of our solar system.

Happify shares their results of a recent study on how money affects our happiness.

A top exec reveals the company's secret code

Pro tips from the guy who's done it four times

Not all mistakes are as blatant as posting party pics when you're 'sick' at home.

Everyone struggles through weekday drudgery to reach their weekend fun. But what if you could reclaim every day of your life?

Zooming up the ladder is great, but questioning yourself 24/7 is no way to succeed. Manage your stressed self with these surefire tips.

Forget trying to control every little detail. Life is lots more fun (and less stressful) when you let go from the get-go.

So, what exactly is this thing we call "happiness" and how do we get it?

Mark Zuckerberg has an even bigger effect on your life than you thought.

Everyone makes mistakes, but some mistakes can be devastating. Here are 10 icons who fell from grace, and what they can do to redeem themselves.

Twitter turns eight years old today.