Twindex Launches
Measuring the politics of Tweets.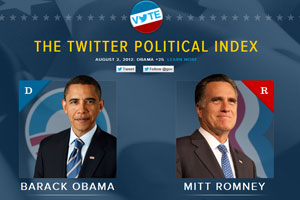 When Twitter first emerged from its shell in March of 2006, the next presidential election was just coming onto the national radar. Few people knew what microblogging meant, though the term already sounds antiquated, and the phrase "140 characters" was more likely to describe a Robert Altman film. 
Today there's more twitter chatter during any two-day period than in the entire two and half years prior to the 2008 election. Some 400 million tweets are sent daily, and it's changing how political campaigns are run.
Twindex, the Twitter Political Index, has been launched this week to provide insight into the political attitudes behind those millions of daily tweets. Twindex takes the political temperature of the twittersphere. "It's a daily a measure of Twitter users' attitudes toward candidates as expressed through their tweets," said Adam Sharp, Senior Manager for Government, News, and Social Innovation at Twitter.
The index is a joint effort among Twitter, Topsy, which specializes in social-media analytics, and a bipartisan pair of pollsters. Rather than asking the opinions of a random sample of voters as traditional polls do, the Twindex combs the massive flow of daily tweets, identifies those relating to Obama and/or Romney, and then analyzes the tweets for positive or negative attitude. The average voter mood on each candidate is indicated on a scale between 0 and 100, with 0 as absolutely negative and 100 as absolutely positive. Twitter says there's currently about a 10% margin of error, but the system will become increasingly accurate as Topsy's algorithm learns more of the language used on Twitter.
Whether the Twindex will mirror the entire electorate's sentiment fairly is hard to say. At press time, Obama had 10 million Twitter followers compared to Romney's 770,000, presumably reflecting the imbalance of a younger demographic's use of the platform. But politicians across the board are becoming more social-media savvy, which in time should put the right and left on even standing. Last January, only a third of all congress members had a Twitter account; today, more than 90% in the House and Senate use Twitter to access their constituents.
"The same is true today as was true 100 years ago: the best way to get someone's vote is to stick your hand out and say, 'Hi, I'm running for Congress. Can I have your vote?' But that approach doesn't scale to the population our country has reached today," Adam Sharp told SiriusXM, which launched its "Politics Powered by Twitter" radio show on the P.O.T.U.S. channel this week. "Twitter and other social platforms now empower members to, in a scalable way, actually get back to some of that one-on-one interaction that they've been missing."
Illustration: Courtesy of Twitter.com
Get the latest: https://election.twi​tter.com/
inspire: live a better life
Drowning in debt? Maybe there's a silver lining.

"But it's not real life, you know. It's a vacation."

Our list of must-dos before hitting the road.

Summer traditions can be great, but if you're on year six of packing the same people into the same car to go on the same vacation, it's time to switch things up. Surfing in Portugal, perhaps – or cycling through Northern Ireland. We've put together a list of 15 places well off the beaten path that you should go to when you're ready to try something new.

Grab a sleeping bag and head out to one of these amazing campsites.

A dozen adventures that are well worth the trip.

Paper downplays the significance of practice over raw talent.

Survey says American teens aren't great at complex or basic financial tasks.

Fear of Moving Away: How to conquer the latest cultural anxiety and embrace the unknown.

Adulthood has no eureka moment.

Just like your body, your brain needs a regular workout too.

Being a winner is a good feeling to have — especially in life. Winning doesn't solely relate to competitions or Charlie Sheen's coining of the term back in 2011. From achieving success to maintaining a work-life balance, find out what characteristics mean your life is going the way it should be. You may just even find an inspiration or two that you'll want to incorporate into your daily routine!