Doctor returns Vietnamese vet's arm
An American doctor has arrived in Vietnam carrying an unlikely piece of luggage: the bones of an arm he amputated in 1966.
HANOI, Vietnam (AP) — Dr. Sam Axelrad flew into the Vietnamese capital, Hanoi, on Saturday from Houston. He was traveling through central Vietnam with his sons and two grandchildren Monday to meet amputee Nguyen Quang Hung, a former North Vietnamese soldier.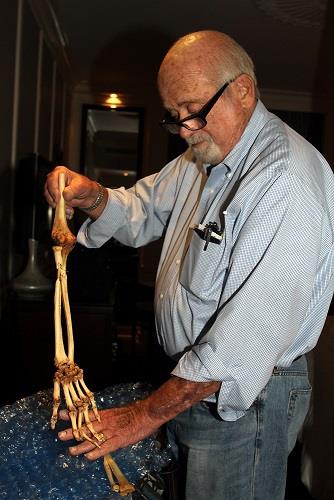 More from MSN: Thousands chip in to save WWII veteran from eviction
After Hung was shot in the arm by American troops, Axelrad, then a 27-year-old military doctor, amputated his infected right arm. His medic colleagues boiled off the flesh, reconstructed the arm bones and gave them to him, he says.
Axelrad, now a urologist, said he brought the skeletal keepsake back to the United States as a reminder of doing a good deed, but looks forward to returning it to Hung.
"It's just time for closure," Axelrad said Sunday at a hotel bar in Hanoi.
Hung was surprised, to say the least, to hear that he will be reunited with his lost limb.
"I can't believe that an American doctor took my infected arm, got rid of the flesh, dried it, took it home and kept it for more than 40 years," he said by telephone last week from his home. "I don't think it's the kind of keepsake that most people would want to own. But I look forward to seeing him again and getting my arm bones back."
After decades of silence, Axelrad learned that Hung was still alive after a Vietnamese journalist met Axelrad at a Hanoi hotel last July and wrote an article in a newspaper saying the American doctor wanted to return the bones.
Bing: The arm bone is connected to the _ bone?
Hung said his brother-in-law read the article and contacted the newspaper. The journalist, Tran Quynh Hoa, arranged the reunion, which was planned for Monday morning in Hung's hometown of An Khe, near the coastal city of Qui Nhon in central Vietnam.
Hung, 73, said he was shot during an ambush about 75 kilometers (46 miles) from An Khe in October 1966. After floating down a stream to escape a firefight and then sheltering in a rice warehouse for three days, he was evacuated by a U.S. helicopter to Axelrad's no-frills military hospital.
After the amputation, Hung spent eight months recovering and another six assisting American military doctors, he said. He spent the rest of the war offering private medical services in the village, and later served in local government for a decade before retiring on his rice farm.
More from MSN Living blogs:
Nearly half of women apply makeup while driving 
10 inspiring Nelson Mandela quotes
Wallenda walks tightrope high over Ariz. gorge 
Subscribe to the Daily Dose | Friend us on Facebook, follow us on Twitter and find us on Pinterest.
Dr. Sam Axelrad displays the bones of an arm he amputated in 1966 in the former South Vietnam. (AP photo/Mike Ives)
inspire: live a better life
Our best health and fitness tips including the one move that tones all, berry news, and more.

Who just wants to stand around and watch the red and gold leaves slowly fall from their tree branches to the ground as we move from summer to fall? Instead, take in the changing seasons while you're on the move.

Here's some tips to get to happiness going forward in your life.

People 60 to 82 did best on cognitive tasks before 10:30am.

Lucille Ball was born in 1911, and though we lost her long ago, her legacy as America's favorite redhead lives on through the timeless classic, "I Love Lucy." People of all generations still enjoy Lucy's antics as much as they did over 60 years ago when the show first premiered.

Summer is coming to an end, and in a few weeks, kids will be forced to trade in their beach bags for backpacks. But just because the season is fading away doesn't mean the memories from the past few months have to disappear with it.

Confidence and perceived competence are key, study finds.

Features lead to assumptions about character, study says.

Great gear for an afternoon spent shoreside.

Use these bucket-list ideas to enjoy the little time you have left.

Study points to benefits of improved living conditions.