Doctor returns Vietnamese vet's arm
An American doctor has arrived in Vietnam carrying an unlikely piece of luggage: the bones of an arm he amputated in 1966.
HANOI, Vietnam (AP) — Dr. Sam Axelrad flew into the Vietnamese capital, Hanoi, on Saturday from Houston. He was traveling through central Vietnam with his sons and two grandchildren Monday to meet amputee Nguyen Quang Hung, a former North Vietnamese soldier.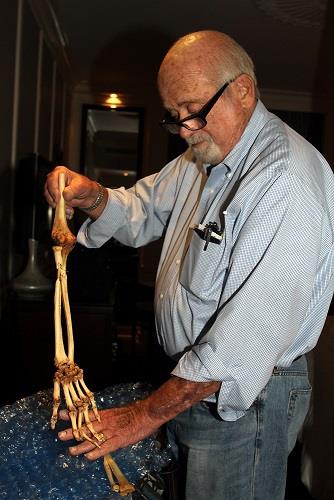 More from MSN: Thousands chip in to save WWII veteran from eviction
After Hung was shot in the arm by American troops, Axelrad, then a 27-year-old military doctor, amputated his infected right arm. His medic colleagues boiled off the flesh, reconstructed the arm bones and gave them to him, he says.
Axelrad, now a urologist, said he brought the skeletal keepsake back to the United States as a reminder of doing a good deed, but looks forward to returning it to Hung.
"It's just time for closure," Axelrad said Sunday at a hotel bar in Hanoi.
Hung was surprised, to say the least, to hear that he will be reunited with his lost limb.
"I can't believe that an American doctor took my infected arm, got rid of the flesh, dried it, took it home and kept it for more than 40 years," he said by telephone last week from his home. "I don't think it's the kind of keepsake that most people would want to own. But I look forward to seeing him again and getting my arm bones back."
After decades of silence, Axelrad learned that Hung was still alive after a Vietnamese journalist met Axelrad at a Hanoi hotel last July and wrote an article in a newspaper saying the American doctor wanted to return the bones.
Bing: The arm bone is connected to the _ bone?
Hung said his brother-in-law read the article and contacted the newspaper. The journalist, Tran Quynh Hoa, arranged the reunion, which was planned for Monday morning in Hung's hometown of An Khe, near the coastal city of Qui Nhon in central Vietnam.
Hung, 73, said he was shot during an ambush about 75 kilometers (46 miles) from An Khe in October 1966. After floating down a stream to escape a firefight and then sheltering in a rice warehouse for three days, he was evacuated by a U.S. helicopter to Axelrad's no-frills military hospital.
After the amputation, Hung spent eight months recovering and another six assisting American military doctors, he said. He spent the rest of the war offering private medical services in the village, and later served in local government for a decade before retiring on his rice farm.
More from MSN Living blogs:
Nearly half of women apply makeup while driving 
10 inspiring Nelson Mandela quotes
Wallenda walks tightrope high over Ariz. gorge 
Subscribe to the Daily Dose | Friend us on Facebook, follow us on Twitter and find us on Pinterest.
Dr. Sam Axelrad displays the bones of an arm he amputated in 1966 in the former South Vietnam. (AP photo/Mike Ives)
inspire: live a better life
How much do you really know about the Earth? In honor of Earth Day, April 22, we explore some interesting and fun facts about the fifth-largest planet of our solar system.

Happify shares their results of a recent study on how money affects our happiness.

A top exec reveals the company's secret code

Pro tips from the guy who's done it four times

Not all mistakes are as blatant as posting party pics when you're 'sick' at home.

Everyone struggles through weekday drudgery to reach their weekend fun. But what if you could reclaim every day of your life?

Zooming up the ladder is great, but questioning yourself 24/7 is no way to succeed. Manage your stressed self with these surefire tips.

Forget trying to control every little detail. Life is lots more fun (and less stressful) when you let go from the get-go.

So, what exactly is this thing we call "happiness" and how do we get it?

Mark Zuckerberg has an even bigger effect on your life than you thought.

Everyone makes mistakes, but some mistakes can be devastating. Here are 10 icons who fell from grace, and what they can do to redeem themselves.

Twitter turns eight years old today.