5 promises Obama might still keep
With four more years on the clock, another chance to make good.
Near the conclusion of his second inaugural address, President Obama described several ways in which "our journey is not complete." 
He was speaking broadly of America's journey but, here at the start of his second term, it was hard not to think of the stated goals that have and haven't been completed by this halfway point in Obama's presidential journey.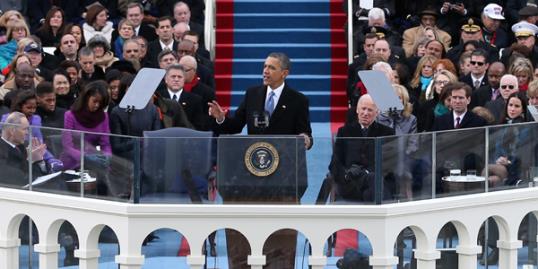 Some promises made on the campaign trail and in the president's first term have been kept, some broken, and some remain works in progress. With four years on the clock, here are five promises President Obama still has time to honor. "For now decisions are upon us," he said in his let's-get-it-done inaugural, "and we cannot afford delay."
More from the MSN Living: Your 2013 bargain calendar
Address climate change meaningfully. The administration has tightened energy standards in the auto industry and elsewhere, and sometimes taken a beating for investing in clean technologies. But the White House hasn't yet pushed a big environmental bill through Congress. The president's vow to address climate change was forcefully reaffirmed in yesterday's address.
Reform immigration.  Back in May 2008, Obama said he could "guarantee…that we will have in the first year an immigration bill that I strongly support and that I'm promoting." He has deported 1.5 million and in 2012 directed the Dept. of Homeland Security to approve temporary reprieves for qualifying illegal immigrants who came to the U.S. as children — but no unilateral reform of immigration laws yet.
Rescue the economy. A hard nut to crack, no doubt, but the economy was foremost in voters' minds when the president was elected in 2008 and remains top priority today. Obama is credited for the 2009 stimulus package that was central to preventing a recession, and new regulations have rained down hard on Wall St. in the interest of consumer protection. But slow-to-recover unemployment and housing rates still leave the middle and lower classes squeezed.
More from the MSN Living: 25 things that will keep you young
Overhaul healthcare. Obama has a leg up on this promise — passing the sweeping Affordable Care Act, aimed at controlling health costs and covering some 30 million uninsured people, is regarded as the crowning accomplishment of his first term. Still to come: a reduction in the cost of healthcare delivering on Obama's commitment to save up to $2,500 per year for the average family.
Reducing partisanship.  Obama had vowed to "turn the page on the ugly partisanship in Washington" but heavy Democratic losses in the 2010 midterm elections were a swift kick in the shins to that promise. How does one solve an issue that is at the root of its own problem? If we knew, we'd be president.
More from the Daily Dose:
Wait — TV can be good for you?
Amid controversy, Gun Appreciation Day set for Jan. 19
Trouble with Mars travel: Getting good sleep 
Love content like this? Friend us on Facebook, follow us on Twitter and find us on Pinterest
Subscribe to the Daily Dose
Photo: Justin Sullivan/Getty Images

Are you sure you want to delete this comment?
inspire: live a better life
From international roaming fees to skipping travel insurance, these mistakes can put a damper on your next vacation.

Where in the world do you want to go? Somewhere unique? Any of the places described here are sure to make your next world-travel adventure truly memorable.

It's easy to lead, but it takes courage and conviction to be a truly great leader. Here are 10 inspiring leaders and what we can learn from them.

Some say it's a small world. We beg to differ. Earth has so many wondrous places worth exploring, and most of us are lucky to see a handful of them. Here are 30 of the top trips of a lifetime.

The semi-annual glitch in your daily routine is back this weekend.

You'll stave off credit card debt by the end of the year if you account for these often-forgotten expenses.

Mark Zuckerberg has an even bigger effect on your life than you thought.

Take this advice to finally tackle that nagging to-do list.

The iconic storyteller would have been 110-years-old

Take the time to appreciate women's contributions to society. Here are some of the women who inspire us by their example.

Cast of the iconic TV show reunites for Florence Henderson's birthday

We couldn't be more excited to watch the best athletes in the world compete at the Winter Olympics in Sochi. This year, about 44 percent of the competitors are women according to the International Olympic Committee—which is awesome but wasn't always the case. Let's look back at some of the amazing women who paved the way with incredible, memorable feats of girl power.