#HireKevin campaign lands interview at Applebee's
25-year-old Philadelphia man uses social media in hopes of becoming the new company spokesman.
In perhaps the world's most straightforward solicitation for work, Kevin Matuszak of Philadelphia, Pa. posted "Hi, can I work for you?" on Applebee's Facebook page on November 26, reports Philly.com. The simple question was a response to a sponsored post for one of his hometown's specialties: the almighty pretzel.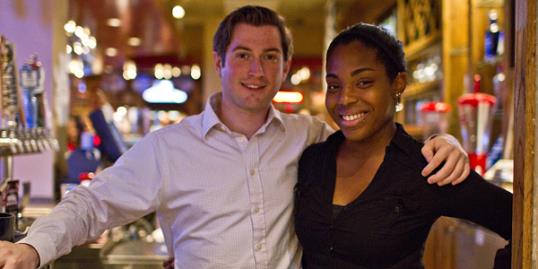 More on MSN Living: Break the rules for a better romance
The restaurant chain's social media team followed-up, telling Matuszak to check if his local restaurant was hiring. He cheekily posted, "I want to work for corporate in marketing."
Currently, the 25-year-old sells ads for 94WIP, a sports radio station, although he confesses serious interest in social media. "You have to be able to stay positive and get people to respond," he was quoted on social media interaction. (You can follow him on Twitter at @Tooozy.)
More on MSN Living: World's greatest body shapers
To make his dream career come true, Matusak made a video of himself, in which the people of Philly endorse him as the next spokesman of Applebee's, reports Philly.com. There are also a handful of #HireKevin support songs posted to YouTube. And in the ultimate act of social media show and tell, he's actively commenting on the restaurant chain's Facebook page, trying to drum up support with a dose of humor.
MSN Living caught up with Matuszak and asked him the top three reasons why Applebee's should hire him. Here's what he had to say:
#1. I'm witty, charming and energetic. My personality is the selling point for this job.
#2. Applebee's typically targets adults with no children in the age group of 25-49.  I am part of that key demographic and would appeal to that market
#3. I've already generated this much press for them. Just imagine what I could do if I were on board.
A few hours ago, Matuszak posted on some good news on Twitter: "Cool news, you guys. All of your help with the #HireKevin campaign has landed me an interview with @Applebees. Thanks!!"
If all goes well for Matuszak, he'll be Tweeting good in the neighborhood in no time.
Bing: The most creative job applications
Photo: Kevin Matuszak, who would like to be the spokesman for Applebee's with Applebee's employee Jacque Brown. (Colin Kerrigan/Philly.com/​MCT/LANDOV)
More from MSN Living:
Instant classic: Pinup suits
10 ways to feel good every day
What your engagement ring says about you
inspire: live a better life
Still pulling yourself out of holiday credit card debt? Ready to pool some funds for that beach vacation you've been dreaming about at your desk? We're with you 100 percent.

"FOMO, the fear of missing out, is a form of social anxiety," says psychiatrist Gail Saltz. "This type of fear tends to cause compulsive behaviors, like checking out other social situations even as you are in the middle of one currently."

When The Shriver Report was released in early January, we shared some of the more interesting statistics about income equality, the wage gap, and other issues confronting women.

Clay Aiken to run for public office.

Here's how to boost your joy — and put more cash in your pocket.

Our personal finance guru, Tanisha A. Sykes, shares how small investments can pay off big. Here's what you can do with the following:

You may have a corner office, a big paycheck, or a political following, but these flubs will plummet your appeal--and fast track you to the front door.

Influence anyone with these sneaky tricks.

An investment in gratitude pays valuable dividends, especially when times are tough.

Scoring big in your career means being off-target more times than you hit the bull's-eye. Learn how to make all those misses lead to success.

Raise your hand if you've been here: It's Monday morning, and you've been up all night wiping your runny nose, coughing, and feeling achy all over.

5 proven tips to maximize your productivity.