#HireKevin campaign lands interview at Applebee's
25-year-old Philadelphia man uses social media in hopes of becoming the new company spokesman.
In perhaps the world's most straightforward solicitation for work, Kevin Matuszak of Philadelphia, Pa. posted "Hi, can I work for you?" on Applebee's Facebook page on November 26, reports Philly.com. The simple question was a response to a sponsored post for one of his hometown's specialties: the almighty pretzel.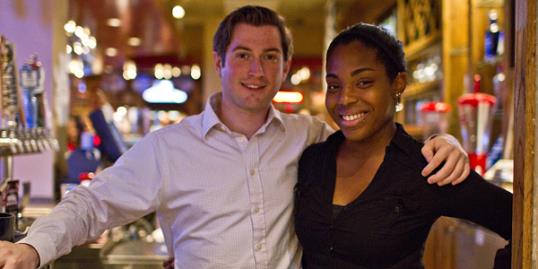 More on MSN Living: Break the rules for a better romance
The restaurant chain's social media team followed-up, telling Matuszak to check if his local restaurant was hiring. He cheekily posted, "I want to work for corporate in marketing."
Currently, the 25-year-old sells ads for 94WIP, a sports radio station, although he confesses serious interest in social media. "You have to be able to stay positive and get people to respond," he was quoted on social media interaction. (You can follow him on Twitter at @Tooozy.)
More on MSN Living: World's greatest body shapers
To make his dream career come true, Matusak made a video of himself, in which the people of Philly endorse him as the next spokesman of Applebee's, reports Philly.com. There are also a handful of #HireKevin support songs posted to YouTube. And in the ultimate act of social media show and tell, he's actively commenting on the restaurant chain's Facebook page, trying to drum up support with a dose of humor.
MSN Living caught up with Matuszak and asked him the top three reasons why Applebee's should hire him. Here's what he had to say:
#1. I'm witty, charming and energetic. My personality is the selling point for this job.
#2. Applebee's typically targets adults with no children in the age group of 25-49.  I am part of that key demographic and would appeal to that market
#3. I've already generated this much press for them. Just imagine what I could do if I were on board.
A few hours ago, Matuszak posted on some good news on Twitter: "Cool news, you guys. All of your help with the #HireKevin campaign has landed me an interview with @Applebees. Thanks!!"
If all goes well for Matuszak, he'll be Tweeting good in the neighborhood in no time.
Bing: The most creative job applications
Photo: Kevin Matuszak, who would like to be the spokesman for Applebee's with Applebee's employee Jacque Brown. (Colin Kerrigan/Philly.com/​MCT/LANDOV)
More from MSN Living:
Instant classic: Pinup suits
10 ways to feel good every day
What your engagement ring says about you
inspire: live a better life
Miss Manners advises on how to respond when one gets unsolicited advice about weight issues.

Editor's note: We will now be publishing Miss Manners articles twice weekly, but you will only see one question and answer per article. You can expect to see these articles appear on Tuesdays and Thursdays going forward.

President Harry S. Truman was behind efforts to establish the first Armed Forces Day in 1950, and decades later the nation continues to set aside the third Saturday in May to recognize and thank members of the U.S. military for their patriotic service. With these five homecoming images, we salute all service members at home and abroad.

There's much to be desired about working from home: the stress-free commute, flexible hours, and improved work-life balance.

Wishing for the fountain of youth? You may not need it. We've rounded up real-women secrets, tried-and-true beauty tips, and the latest research to help you fight aging.

Experts weigh in on when to bite your tongue at the office.

Oh, the places you'll go — to get some "me" time, that is. REDBOOK readers confess all on Facebook.

How much money you make isn't nearly as important as how you use it, according to Elizabeth Dunn and Michael Norton, authors of the new book Happy Money.

Plus, how do you ask people to not bring gifts to a shower?

Looking for a career upgrade? Follow these tips for a foot in the door.

These tanning and skin cancer myths aren't just wrong — they can do serious harm. Wise up and head into a healthier future. P.S. You'll look a lot younger too.

It's possible to rejigger your brain circuitry and feel more joy, even on Monday mornings. Here's how.