Wrong house demolished
Texas contractor razes house, but the wrong one.
FORT WORTH, Texas (AP) — A demolition company has mistakenly torn down a three-bedroom home in North Texas rather than the condemned building next door.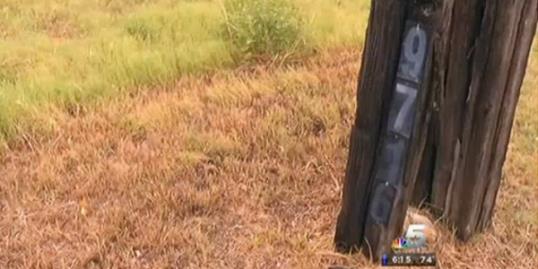 David Underwood and his wife placed their Fort Worth house on the market with the intention of moving into the retreat they purchased near the shores of Lake Worth. The lakeside land has been in the family for decades and Underwood bought it from an aunt earlier this year.
But when they stopped by to mow the lawn Saturday, they found the home was gone. A slab of foundation remains.
Fort Worth hired the demolition company to raze the condemned building, and was billed more than $6,000 for the work.
The condemned structure remains standing.
Underwood is seeking a settlement from the city. A city spokesman says officials are investigating.
Read more here.
More on The Daily Dose:
Nazi-themed café sparks controversy in Indonesia
Tax-free weekends coming this summer
Follow Pope Francis on Twitter, stay out of purgatory
Subscribe to the Daily Dose | Friend us on Facebook, follow us on Twitter and find us on Pinterest.
Photo: Video still from the area where a Fort Worth home was demolished by mistake (Courtesy of of NBCDFW.com)
inspire: live a better life
Some say it's a small world. We beg to differ. Earth has so many wondrous places worth exploring, and most of us are lucky to see a handful of them. Here are 30 of the top trips of a lifetime.

You'll stave off credit card debt by the end of the year if you account for these often-forgotten expenses.

Mark Zuckerberg has an even bigger effect on your life than you thought.

Take this advice to finally tackle that nagging to-do list.

The iconic storyteller would have been 110-years-old

Take the time to appreciate women's contributions to society. Here are some of the women who inspire us by their example.

Cast of the iconic TV show reunites for Florence Henderson's birthday

We couldn't be more excited to watch the best athletes in the world compete at the Winter Olympics in Sochi. This year, about 44 percent of the competitors are women according to the International Olympic Committee—which is awesome but wasn't always the case. Let's look back at some of the amazing women who paved the way with incredible, memorable feats of girl power.

Still pulling yourself out of holiday credit card debt? Ready to pool some funds for that beach vacation you've been dreaming about at your desk? We're with you 100 percent.

"FOMO, the fear of missing out, is a form of social anxiety," says psychiatrist Gail Saltz. "This type of fear tends to cause compulsive behaviors, like checking out other social situations even as you are in the middle of one currently."

When The Shriver Report was released in early January, we shared some of the more interesting statistics about income equality, the wage gap, and other issues confronting women.

Clay Aiken to run for public office.