Wrong house demolished
Texas contractor razes house, but the wrong one.
FORT WORTH, Texas (AP) — A demolition company has mistakenly torn down a three-bedroom home in North Texas rather than the condemned building next door.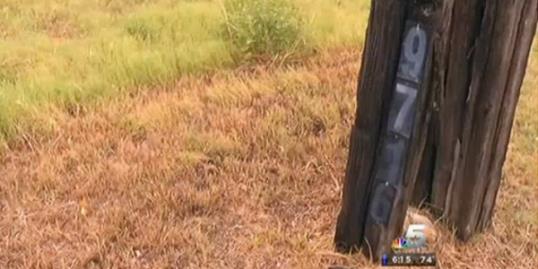 David Underwood and his wife placed their Fort Worth house on the market with the intention of moving into the retreat they purchased near the shores of Lake Worth. The lakeside land has been in the family for decades and Underwood bought it from an aunt earlier this year.
But when they stopped by to mow the lawn Saturday, they found the home was gone. A slab of foundation remains.
Fort Worth hired the demolition company to raze the condemned building, and was billed more than $6,000 for the work.
The condemned structure remains standing.
Underwood is seeking a settlement from the city. A city spokesman says officials are investigating.
Read more here.
More on The Daily Dose:
Nazi-themed café sparks controversy in Indonesia
Tax-free weekends coming this summer
Follow Pope Francis on Twitter, stay out of purgatory
Subscribe to the Daily Dose | Friend us on Facebook, follow us on Twitter and find us on Pinterest.
Photo: Video still from the area where a Fort Worth home was demolished by mistake (Courtesy of of NBCDFW.com)
inspire: live a better life
Summer traditions can be great, but if you're on year six of packing the same people into the same car to go on the same vacation, it's time to switch things up. Surfing in Portugal, perhaps – or cycling through Northern Ireland. We've put together a list of 15 places well off the beaten path that you should go to when you're ready to try something new.

Grab a sleeping bag and head out to one of these amazing campsites.

A dozen adventures that are well worth the trip.

Paper downplays the significance of practice over raw talent.

Survey says American teens aren't great at complex or basic financial tasks.

Fear of Moving Away: How to conquer the latest cultural anxiety and embrace the unknown.

Adulthood has no eureka moment.

Just like your body, your brain needs a regular workout too.

Being a winner is a good feeling to have — especially in life. Winning doesn't solely relate to competitions or Charlie Sheen's coining of the term back in 2011. From achieving success to maintaining a work-life balance, find out what characteristics mean your life is going the way it should be. You may just even find an inspiration or two that you'll want to incorporate into your daily routine!

Sometimes it seems like you need a vacation from your vacation.

That'll get you and your 2 kids a house, SUV, and more, per a 'USA Today' analysis.

While most of us associate the Fourth of July with fireworks and barbecue (and taking a long weekend off from work), it's also an important day to give thanks to the people who help keep us safe.