Wrong house demolished
Texas contractor razes house, but the wrong one.
FORT WORTH, Texas (AP) — A demolition company has mistakenly torn down a three-bedroom home in North Texas rather than the condemned building next door.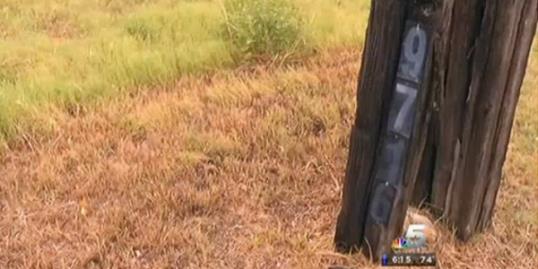 David Underwood and his wife placed their Fort Worth house on the market with the intention of moving into the retreat they purchased near the shores of Lake Worth. The lakeside land has been in the family for decades and Underwood bought it from an aunt earlier this year.
But when they stopped by to mow the lawn Saturday, they found the home was gone. A slab of foundation remains.
Fort Worth hired the demolition company to raze the condemned building, and was billed more than $6,000 for the work.
The condemned structure remains standing.
Underwood is seeking a settlement from the city. A city spokesman says officials are investigating.
Read more here.
More on The Daily Dose:
Nazi-themed café sparks controversy in Indonesia
Tax-free weekends coming this summer
Follow Pope Francis on Twitter, stay out of purgatory
Subscribe to the Daily Dose | Friend us on Facebook, follow us on Twitter and find us on Pinterest.
Photo: Video still from the area where a Fort Worth home was demolished by mistake (Courtesy of of NBCDFW.com)
inspire: live a better life
How much do you really know about the Earth? In honor of Earth Day, April 22, we explore some interesting and fun facts about the fifth-largest planet of our solar system.

Happify shares their results of a recent study on how money affects our happiness.

A top exec reveals the company's secret code

Pro tips from the guy who's done it four times

Not all mistakes are as blatant as posting party pics when you're 'sick' at home.

Everyone struggles through weekday drudgery to reach their weekend fun. But what if you could reclaim every day of your life?

Zooming up the ladder is great, but questioning yourself 24/7 is no way to succeed. Manage your stressed self with these surefire tips.

Forget trying to control every little detail. Life is lots more fun (and less stressful) when you let go from the get-go.

So, what exactly is this thing we call "happiness" and how do we get it?

Mark Zuckerberg has an even bigger effect on your life than you thought.

Everyone makes mistakes, but some mistakes can be devastating. Here are 10 icons who fell from grace, and what they can do to redeem themselves.

Twitter turns eight years old today.