Celebrating the solstice
Dec. 21 marks the winter solstice.
Regardless of the religion, ethnicity, or political party you're associated with, you very likely celebrate a December holiday that revolves around the winter solstice. And what is that exactly?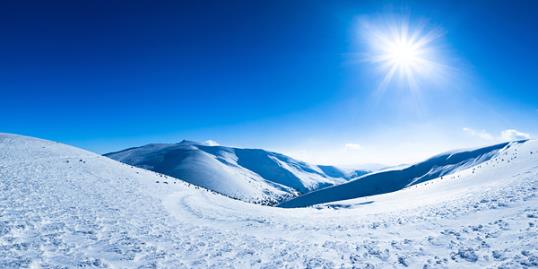 A solstice is when the sun appears at its highest, northernmost point relative to the equator (the summer solstice) or its lowest, southernmost point (the winter solstice). The easiest way to think of the winter solstice is that it's the date when the sun reaches its lowest annual altitude. From the winter solstice forward, the sun will get higher in the sky.
For those of us in the Northern Hemisphere, our winter solstice marks the beginning of winter. That's because we've hit the day that has the fewest hours of sunlight. Depending on the vagaries of our imperfect calendar, this falls somewhere between Dec. 20 and 22. For 2012, it's Dec. 21.
More from Living: 20 Pinterest crafting 'fails'
There's a bit of a disconnect in the winter solstice being the shortest day of the year. We expect that longer days with more sunshine will immediately beget warmer days after the solstice. Not true. The Northern hemisphere is still tilted away from the sun for the next few months, until the Equinox, when the Earth's axis is nearly perpendicular to the sun's rays. That happens in March, and it's when life gets warmer in these northern climes. The fact that we're used to days with more sunlight is exacerbated by daylight savings time, which makes days feel artificially longer.
Back to the celebrations. Even without religious or Hallmark holidays, there have been festivals marking the solstice since the dawn of recorded history. The ancient Romans had the nonstop partyfest of Saturnalia starting on Dec. 17.
More from Living: Ugly holiday sweaters
A thousand years ago, the people of what is now Russia celebrated Korochun to keep their ancestors warm during the solstice, the longest night of the year. Hannukah and Kwanzaa are celebrated in the weeks immediately before or after the solstice. The weeks of the Advent calendar lead right up to the solstice — nevermind that Jesus wasn't actually born on Dec. 25.
See the pattern here? Cultures all over the world appreciate the coming of winter, and not just because they're following dates on a calendar. The position of the sun and the diminishing light have always signaled this day, and this longest of nights.
Photo: YouraPechkin/Getty Images 
More from Daily Dose:
Gun ownership among women rising
A global view of gun violence in America
Newtown to media: 'Enough is enough'
inspire: live a better life
For those who would rather pay it forward, proceeds from this gift guide go to deserving charities — and these presents happen to be pretty fabulous as well. Plus, shop more gifts for stylish women.

Miss Manners considers when to celebrate milestones

Miss Manners provides guidance on meeting others

A look back on all of the tiny tasks that 30 years of technology has saved you from.

What sets you apart from everyone else looking for a new job or bigger paycheck? Your profile!

With all those deals you snagged on Black Friday, Small Business Saturday, and Cyber Monday, today is your chance to give back to those in need with #GivingTuesday.

Miss Manners provides guidance on how to handle a request for party contributions

Miss Manners instructs on why tit-for-tat never works

Miss Manners offers thoughts on guests who disregard dinner party instructions

Make big bucks, from home, having fun? These women got creative and figured out a way to have it all. You can too.

Your boss. You might like her, you probably respect her, but do you know how to approach someone who seems so different from you? (Spoiler: She's actually not.)