This Is Your Brain on Cosmo
Is the media crushing female ambition?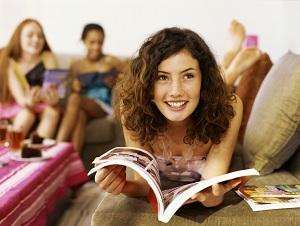 After just three 3 minutes of flipping through fashion magazines, about half of all teenaged girls wish they were as thin as a model. Girls are consuming media —TV, Internet, mags, music and movies — at an average rate of 10 hours and 45 minutes per day. What's the cumulative effect? Who will America's teenaged girls really grow up to be?
Here's another alarming stat from the short clip Cause and Effect: How the Media You Consume Can Change Your Life: Some 44% of 8-year-old girls want to be leaders — but their ambition to lead a country, company or cause peaks at that tender age. In grade school, boys and girls say in equal numbers that they want to be president someday. But within a few years, the girls seem to get the message that it's not going to happen, and the divide between male and female leadership ambition begins to widen.
What's the connection between an ad for Dolce & Gabbana and a young woman's commitment to a dream? The link is tenuous in the short video but it's the topic of the film Miss Representation, which the hip clip by Lovesocial is designed to promote. The documentary draws a line that connects demeaning images of women to the underrepresentation of women in positions of power and influence. Included is the defamation of women who have actually achieved such positions, like Condi Rice and Nancy Pelosi. It's hard not to wince at the moment in the film when Bill O'Reilly asks Marc Rudov, author of The Man's No-Nonsense Guide To Women, what is the downside of having a woman in the Oval Office, and Rudov replies, "You mean besides the PMS and the mood swings?"
The limitation imposed by negative media messaging is summed up just as succinctly, though far more powerfully, by Marie Wilson, founding president of The White House Project. She has seen the entire arc of contemporary media as it developed and wielded influence on a generation of girls, and concludes, "You can't be what you can't see."
inspire: live a better life
Editor's note: We will now be publishing Miss Manners articles twice weekly, but you will only see one question and answer per article. You can expect to see these articles appear on Tuesdays and Thursdays going forward.

President Harry S. Truman was behind efforts to establish the first Armed Forces Day in 1950, and decades later the nation continues to set aside the third Saturday in May to recognize and thank members of the U.S. military for their patriotic service. With these five homecoming images, we salute all service members at home and abroad.

There's much to be desired about working from home: the stress-free commute, flexible hours, and improved work-life balance.

Wishing for the fountain of youth? You may not need it. We've rounded up real-women secrets, tried-and-true beauty tips, and the latest research to help you fight aging.

Experts weigh in on when to bite your tongue at the office.

Oh, the places you'll go — to get some "me" time, that is. REDBOOK readers confess all on Facebook.

How much money you make isn't nearly as important as how you use it, according to Elizabeth Dunn and Michael Norton, authors of the new book Happy Money.

Plus, how do you ask people to not bring gifts to a shower?

Looking for a career upgrade? Follow these tips for a foot in the door.

These tanning and skin cancer myths aren't just wrong — they can do serious harm. Wise up and head into a healthier future. P.S. You'll look a lot younger too.

It's possible to rejigger your brain circuitry and feel more joy, even on Monday mornings. Here's how.

Inner peace just got easier. You don't need quiet, incense or hours to meditate, and you can scrap the chanting. Better: Ninety-five percent of you say you're calmer after a single 10-minute session. Whatever your excuse (see ours), get your om on and reap the rewards.