This Is Your Brain on Cosmo
Is the media crushing female ambition?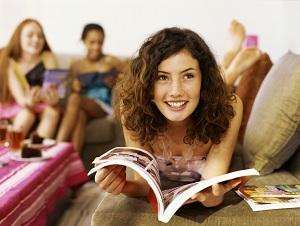 After just three 3 minutes of flipping through fashion magazines, about half of all teenaged girls wish they were as thin as a model. Girls are consuming media —TV, Internet, mags, music and movies — at an average rate of 10 hours and 45 minutes per day. What's the cumulative effect? Who will America's teenaged girls really grow up to be?
Here's another alarming stat from the short clip Cause and Effect: How the Media You Consume Can Change Your Life: Some 44% of 8-year-old girls want to be leaders — but their ambition to lead a country, company or cause peaks at that tender age. In grade school, boys and girls say in equal numbers that they want to be president someday. But within a few years, the girls seem to get the message that it's not going to happen, and the divide between male and female leadership ambition begins to widen.
What's the connection between an ad for Dolce & Gabbana and a young woman's commitment to a dream? The link is tenuous in the short video but it's the topic of the film Miss Representation, which the hip clip by Lovesocial is designed to promote. The documentary draws a line that connects demeaning images of women to the underrepresentation of women in positions of power and influence. Included is the defamation of women who have actually achieved such positions, like Condi Rice and Nancy Pelosi. It's hard not to wince at the moment in the film when Bill O'Reilly asks Marc Rudov, author of The Man's No-Nonsense Guide To Women, what is the downside of having a woman in the Oval Office, and Rudov replies, "You mean besides the PMS and the mood swings?"
The limitation imposed by negative media messaging is summed up just as succinctly, though far more powerfully, by Marie Wilson, founding president of The White House Project. She has seen the entire arc of contemporary media as it developed and wielded influence on a generation of girls, and concludes, "You can't be what you can't see."
inspire: live a better life
Use these bucket-list ideas to enjoy the little time you have left.

Study points to benefits of improved living conditions.

Don't leave home without these must-have items.

Handshakes spread 20 times more germs, study says.

Drowning in debt? Maybe there's a silver lining.

"But it's not real life, you know. It's a vacation."

Our list of must-dos before hitting the road.

Summer traditions can be great, but if you're on year six of packing the same people into the same car to go on the same vacation, it's time to switch things up. Surfing in Portugal, perhaps – or cycling through Northern Ireland. We've put together a list of 15 places well off the beaten path that you should go to when you're ready to try something new.

Grab a sleeping bag and head out to one of these amazing campsites.

A dozen adventures that are well worth the trip.

Paper downplays the significance of practice over raw talent.

Survey says American teens aren't great at complex or basic financial tasks.