This Is Your Brain on Cosmo
Is the media crushing female ambition?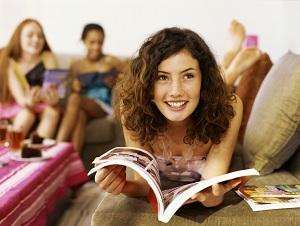 After just three 3 minutes of flipping through fashion magazines, about half of all teenaged girls wish they were as thin as a model. Girls are consuming media —TV, Internet, mags, music and movies — at an average rate of 10 hours and 45 minutes per day. What's the cumulative effect? Who will America's teenaged girls really grow up to be?
Here's another alarming stat from the short clip Cause and Effect: How the Media You Consume Can Change Your Life: Some 44% of 8-year-old girls want to be leaders — but their ambition to lead a country, company or cause peaks at that tender age. In grade school, boys and girls say in equal numbers that they want to be president someday. But within a few years, the girls seem to get the message that it's not going to happen, and the divide between male and female leadership ambition begins to widen.
What's the connection between an ad for Dolce & Gabbana and a young woman's commitment to a dream? The link is tenuous in the short video but it's the topic of the film Miss Representation, which the hip clip by Lovesocial is designed to promote. The documentary draws a line that connects demeaning images of women to the underrepresentation of women in positions of power and influence. Included is the defamation of women who have actually achieved such positions, like Condi Rice and Nancy Pelosi. It's hard not to wince at the moment in the film when Bill O'Reilly asks Marc Rudov, author of The Man's No-Nonsense Guide To Women, what is the downside of having a woman in the Oval Office, and Rudov replies, "You mean besides the PMS and the mood swings?"
The limitation imposed by negative media messaging is summed up just as succinctly, though far more powerfully, by Marie Wilson, founding president of The White House Project. She has seen the entire arc of contemporary media as it developed and wielded influence on a generation of girls, and concludes, "You can't be what you can't see."
inspire: live a better life
For those who would rather pay it forward, proceeds from this gift guide go to deserving charities — and these presents happen to be pretty fabulous as well. Plus, shop more gifts for stylish women.

Miss Manners considers when to celebrate milestones

Miss Manners provides guidance on meeting others

A look back on all of the tiny tasks that 30 years of technology has saved you from.

What sets you apart from everyone else looking for a new job or bigger paycheck? Your profile!

With all those deals you snagged on Black Friday, Small Business Saturday, and Cyber Monday, today is your chance to give back to those in need with #GivingTuesday.

Miss Manners provides guidance on how to handle a request for party contributions

Miss Manners instructs on why tit-for-tat never works

Miss Manners offers thoughts on guests who disregard dinner party instructions

Make big bucks, from home, having fun? These women got creative and figured out a way to have it all. You can too.

Your boss. You might like her, you probably respect her, but do you know how to approach someone who seems so different from you? (Spoiler: She's actually not.)