It's National Nude Day
Get naked on July 14 for National Nude Day.
Today, Sunday, July 14, is National Nude Day — a rare and bare opportunity to shed your inhibitions and your skivvies.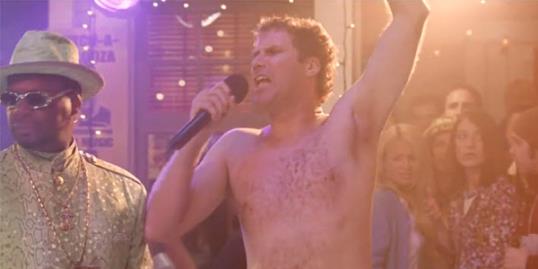 For a nation that loudly and proudly trumpets its freedom, we're kind of uptight about nudity compared with other countries. Even the press gets shy about covering the uncovered, leaving nudists or "naturists" without much exposure. We did have one headline here recently — "California city tries humor to keep butts out of park"— but that was something else entirely.
Bing: National Nude Day
Nonetheless, anyone who wants to be out of the house and in the nude can find discreet locations and activities where clothing is optional or forbidden, even without awaiting this unofficial national holiday from shirts and pants. The National Association for Nude Recreation ("espousing the benefits of wholesome nude family recreation" since 1931) can help you locate more than 260 nudist resorts and affiliates.
You can also try your favorite pasttime in the buff at events such as the World Naked Bike Ride, or make like Adam and Eve on World Naked Gardening Day.
All 50 states in the U.S. have restrictions against the right to bare all, though penalties differ widely and definitions of what comprises public nudity or indecent exposure vary. For a state-by-state breakdown of nudity laws and penalties, see this page from the Naturist Action Committee. There you will learn, for instance, that a misdeamenor in Arizona can earn you 30 days in the pokey, and that hiking nude in California's Angeles National Park is not illegal.
The NAC's page includes this quote: The more corrupt the state, the more numerous the laws (Tacitus, 55–117 AD).
A contingent of residents in the famously liberal city of San Francisco had long bucked against regulations, but lawmakers there formally outlawed public nudity with an official ban that took effect just this past February. The measure, first introduced by district supervisor Scott Wiener (we don't make this stuff up), calls for a $100 fine for first-time offenders.
Commenting to The Huffington Post about the ban, House Minority Leader Nancy Pelosi said, "Supervisor Wiener is a very progressive supervisor. But kids don't go the park for—yuck."
Nudists, naturally, have a different take. "Nudity, as we espouse it, is the enjoyment of the freedom of being without clothes," says the American Association for Nude Recreation. "As such, it should not be confused with behavior, which may or may not involve nudity. It is imperative that this be understood so that the perpetuated stereotypes disappear and that tolerance for family social nudism is commonly accepted by the generations to come."
More from The Daily Dose:
5 celebrities who quit Scientology like Leah Remini
Greenpeace activists scale London's Shard building to protest oil drilling
Hunger strike in California prisons — will it work?
Subscribe to the Daily Dose | Friend us on Facebook, follow us on Twitter and find us on Pinterest.
Still of the 'We're Going Streaking!' clip from DreamWorks Pictures' film 'Old School' starring Will Ferrell (movieclips via YouTube, http://youtu.be/20g3​QIUnOgY)

Are you sure you want to delete this comment?
inspire: live a better life
You'll stave off credit card debt by the end of the year if you account for these often-forgotten expenses.

Mark Zuckerberg has an even bigger effect on your life than you thought.

Take this advice to finally tackle that nagging to-do list.

The iconic storyteller would have been 110-years-old

Take the time to appreciate women's contributions to society. Here are some of the women who inspire us by their example.

Cast of the iconic TV show reunites for Florence Henderson's birthday

We couldn't be more excited to watch the best athletes in the world compete at the Winter Olympics in Sochi. This year, about 44 percent of the competitors are women according to the International Olympic Committee—which is awesome but wasn't always the case. Let's look back at some of the amazing women who paved the way with incredible, memorable feats of girl power.

Still pulling yourself out of holiday credit card debt? Ready to pool some funds for that beach vacation you've been dreaming about at your desk? We're with you 100 percent.

"FOMO, the fear of missing out, is a form of social anxiety," says psychiatrist Gail Saltz. "This type of fear tends to cause compulsive behaviors, like checking out other social situations even as you are in the middle of one currently."

When The Shriver Report was released in early January, we shared some of the more interesting statistics about income equality, the wage gap, and other issues confronting women.

Clay Aiken to run for public office.

Here's how to boost your joy — and put more cash in your pocket.