It's National Nude Day
Get naked on July 14 for National Nude Day.
Today, Sunday, July 14, is National Nude Day — a rare and bare opportunity to shed your inhibitions and your skivvies.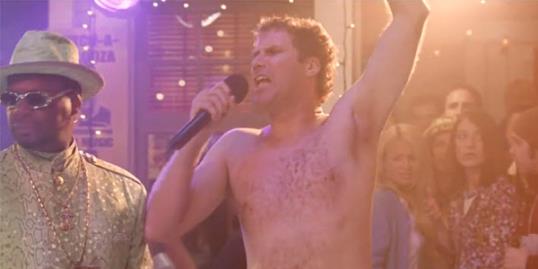 For a nation that loudly and proudly trumpets its freedom, we're kind of uptight about nudity compared with other countries. Even the press gets shy about covering the uncovered, leaving nudists or "naturists" without much exposure. We did have one headline here recently — "California city tries humor to keep butts out of park"— but that was something else entirely.
Bing: National Nude Day
Nonetheless, anyone who wants to be out of the house and in the nude can find discreet locations and activities where clothing is optional or forbidden, even without awaiting this unofficial national holiday from shirts and pants. The National Association for Nude Recreation ("espousing the benefits of wholesome nude family recreation" since 1931) can help you locate more than 260 nudist resorts and affiliates.
You can also try your favorite pasttime in the buff at events such as the World Naked Bike Ride, or make like Adam and Eve on World Naked Gardening Day.
All 50 states in the U.S. have restrictions against the right to bare all, though penalties differ widely and definitions of what comprises public nudity or indecent exposure vary. For a state-by-state breakdown of nudity laws and penalties, see this page from the Naturist Action Committee. There you will learn, for instance, that a misdeamenor in Arizona can earn you 30 days in the pokey, and that hiking nude in California's Angeles National Park is not illegal.
The NAC's page includes this quote: The more corrupt the state, the more numerous the laws (Tacitus, 55–117 AD).
A contingent of residents in the famously liberal city of San Francisco had long bucked against regulations, but lawmakers there formally outlawed public nudity with an official ban that took effect just this past February. The measure, first introduced by district supervisor Scott Wiener (we don't make this stuff up), calls for a $100 fine for first-time offenders.
Commenting to The Huffington Post about the ban, House Minority Leader Nancy Pelosi said, "Supervisor Wiener is a very progressive supervisor. But kids don't go the park for—yuck."
Nudists, naturally, have a different take. "Nudity, as we espouse it, is the enjoyment of the freedom of being without clothes," says the American Association for Nude Recreation. "As such, it should not be confused with behavior, which may or may not involve nudity. It is imperative that this be understood so that the perpetuated stereotypes disappear and that tolerance for family social nudism is commonly accepted by the generations to come."
More from The Daily Dose:
5 celebrities who quit Scientology like Leah Remini
Greenpeace activists scale London's Shard building to protest oil drilling
Hunger strike in California prisons — will it work?
Subscribe to the Daily Dose | Friend us on Facebook, follow us on Twitter and find us on Pinterest.
Still of the 'We're Going Streaking!' clip from DreamWorks Pictures' film 'Old School' starring Will Ferrell (movieclips via YouTube, http://youtu.be/20g3​QIUnOgY)

Are you sure you want to delete this comment?
inspire: live a better life
Drowning in debt? Maybe there's a silver lining.

"But it's not real life, you know. It's a vacation."

Our list of must-dos before hitting the road.

Summer traditions can be great, but if you're on year six of packing the same people into the same car to go on the same vacation, it's time to switch things up. Surfing in Portugal, perhaps – or cycling through Northern Ireland. We've put together a list of 15 places well off the beaten path that you should go to when you're ready to try something new.

Grab a sleeping bag and head out to one of these amazing campsites.

A dozen adventures that are well worth the trip.

Paper downplays the significance of practice over raw talent.

Survey says American teens aren't great at complex or basic financial tasks.

Fear of Moving Away: How to conquer the latest cultural anxiety and embrace the unknown.

Adulthood has no eureka moment.

Just like your body, your brain needs a regular workout too.

Being a winner is a good feeling to have — especially in life. Winning doesn't solely relate to competitions or Charlie Sheen's coining of the term back in 2011. From achieving success to maintaining a work-life balance, find out what characteristics mean your life is going the way it should be. You may just even find an inspiration or two that you'll want to incorporate into your daily routine!