A real 'Pinocchio effect' to reveal liars
The nose knows.
As a professional interrogator or pretty much anybody from the cast of Law & Order will tell you, there are no universal signs for spotting a liar. Every liar lies a little differently.
Despite the armchair psychology, crossing one's arms, avoiding direct eye contact, and other nonverbal cues aren't necessarily signs that a deception is in the works.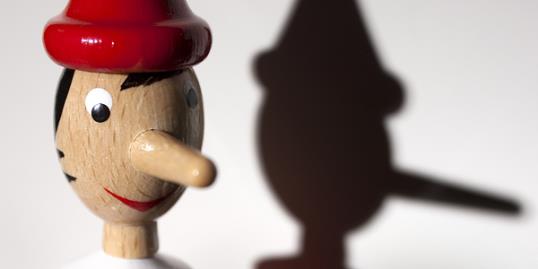 More on MSN Living: Best sweater for your body type
Even polygraphs and other tests that look for physical indications — spikes in heart rate, fluctuations in breathing, a twitching eye — are based on deviations from a person's usual patterns rather than on any standard that applies to all humanoids. That's why, when administering lie-detector tests, the administrator first establishes a baseline and then looks for a change. They read your normal numbers with questions like "Where do you live?" or "Do you have any pets?" and then it's straight on to "Did you throw your sleeping grandmother out that window?"
Researchers from the University of Granada in Spain may be on to a new method of lie detection, and it comes awfully close to the famous tale about the boy made of wood.
More on MSN Living: 10 habits that keep marriages strong
In Disney's re-telling of Carlo Collodi's The Adventures of Pinocchio, every time the wooden puppet tells a lie (spoiler alert!) his nose grows like a tree branch filmed in time-lapse. Why was that a good metaphor for lying, anyway? As another character in the story reveals, "a lie will keep growing and growing until it's as plain as the nose on your face."
The Granada study — which is part of a doctoral thesis, and not yet peer-reviewed — finds that instead of getting longer when we lie, a person's nose gets warmer. They've informally dubbed it "the Pinnochio effect" (though "the Rudolph effect" seems like a strong contender).
Using thermography to reveal temperatures across the topography of a subject's face, the pyschology researchers saw that temperatures rose around the nose and inner corner of the eye when subjects lied. Their hypothesis is that the response may be based on functions of the insula (or insular cortex), a region of the brain involved in regulating body temperature and also in self-awareness and conflicting emotions.
Neurologists have also identified the insula as a part of the brain that registers disbelief. So if your own nose is heating up right now, it could be that you think the whole theory just smells a little off. Or you could be lying to yourself.
Photo: Giorgio Majno/Getty Images
Bing: How to spot a liar.
More from MSN Living:
Worst cringe-worthy style & beauty fashions of 2012
The best beauty and style looks of the year
Marriage counselors: The trickiest issues we've ever solved
inspire: live a better life
Try these anything-but-ordinary ideas for a healthier, more productive mid-day break.

An effective team leader should have a strong and powerful set of skills. After all, taking charge isn't easy. Here are ten principles of power and leadership.

Hundreds of products hit our labs every year, from the inspired to the absurd (does anyone really need to be able to cook eggs on a stick?). These six measured up to our gold standard, offering ingenious solutions to everyday problems.

I was lucky enough to log into a webinar hosted by Ernst & Young Women Athletes Business Network, in which the panel included tennis legend Martina Navratilova and Olympic gold medalist and TV host Summer Sanders. (Not too shabby, yeah?)

And they're healthier for it, too.

Some say it's a small world. We beg to differ. Earth has so many wondrous places worth exploring, and most of us are lucky to see a handful of them. Here are 30 of the top trips of a lifetime.

Test your intellect with these unusual facts and find out how much you know about the luck of the Irish.

March 14 is Pi Day, a sacred celebration in which radius and circumference lovers rejoice over circular snacks and decimal-reciting contests.

Where in the world do you want to go? Somewhere unique? Any of the places described here are sure to make your next world-travel adventure truly memorable.

It's easy to lead, but it takes courage and conviction to be a truly great leader. Here are 10 inspiring leaders and what we can learn from them.

The semi-annual glitch in your daily routine is back this weekend.

You'll stave off credit card debt by the end of the year if you account for these often-forgotten expenses.