A real 'Pinocchio effect' to reveal liars
The nose knows.
As a professional interrogator or pretty much anybody from the cast of Law & Order will tell you, there are no universal signs for spotting a liar. Every liar lies a little differently.
Despite the armchair psychology, crossing one's arms, avoiding direct eye contact, and other nonverbal cues aren't necessarily signs that a deception is in the works.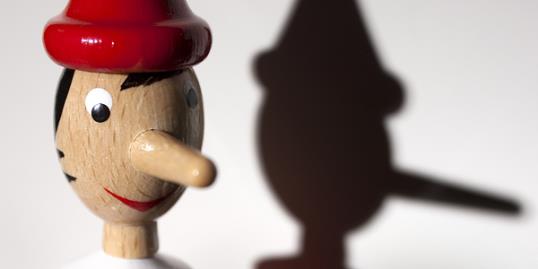 More on MSN Living: Best sweater for your body type
Even polygraphs and other tests that look for physical indications — spikes in heart rate, fluctuations in breathing, a twitching eye — are based on deviations from a person's usual patterns rather than on any standard that applies to all humanoids. That's why, when administering lie-detector tests, the administrator first establishes a baseline and then looks for a change. They read your normal numbers with questions like "Where do you live?" or "Do you have any pets?" and then it's straight on to "Did you throw your sleeping grandmother out that window?"
Researchers from the University of Granada in Spain may be on to a new method of lie detection, and it comes awfully close to the famous tale about the boy made of wood.
More on MSN Living: 10 habits that keep marriages strong
In Disney's re-telling of Carlo Collodi's The Adventures of Pinocchio, every time the wooden puppet tells a lie (spoiler alert!) his nose grows like a tree branch filmed in time-lapse. Why was that a good metaphor for lying, anyway? As another character in the story reveals, "a lie will keep growing and growing until it's as plain as the nose on your face."
The Granada study — which is part of a doctoral thesis, and not yet peer-reviewed — finds that instead of getting longer when we lie, a person's nose gets warmer. They've informally dubbed it "the Pinnochio effect" (though "the Rudolph effect" seems like a strong contender).
Using thermography to reveal temperatures across the topography of a subject's face, the pyschology researchers saw that temperatures rose around the nose and inner corner of the eye when subjects lied. Their hypothesis is that the response may be based on functions of the insula (or insular cortex), a region of the brain involved in regulating body temperature and also in self-awareness and conflicting emotions.
Neurologists have also identified the insula as a part of the brain that registers disbelief. So if your own nose is heating up right now, it could be that you think the whole theory just smells a little off. Or you could be lying to yourself.
Photo: Giorgio Majno/Getty Images
Bing: How to spot a liar.
More from MSN Living:
Worst cringe-worthy style & beauty fashions of 2012
The best beauty and style looks of the year
Marriage counselors: The trickiest issues we've ever solved
inspire: live a better life
Here's how to boost your joy — and put more cash in your pocket.

Our personal finance guru, Tanisha A. Sykes, shares how small investments can pay off big. Here's what you can do with the following:

You may have a corner office, a big paycheck, or a political following, but these flubs will plummet your appeal--and fast track you to the front door.

Influence anyone with these sneaky tricks.

An investment in gratitude pays valuable dividends, especially when times are tough.

Scoring big in your career means being off-target more times than you hit the bull's-eye. Learn how to make all those misses lead to success.

Raise your hand if you've been here: It's Monday morning, and you've been up all night wiping your runny nose, coughing, and feeling achy all over.

5 proven tips to maximize your productivity.

These 'experts' underperform the markets year after year.

You love your friends—so why does it sting when one of them reaches a life-changing goal before you do? How to stop the comparathon.

It's the one resolution you must keep this year! Start by taking inventory of what matters to you and what makes you happy. Then, work on savoring those experiences! Here, four ways to create more delight each and every day from life consultant Michelle DeAngelis.

Print out all 27 mind and body pick-me-ups and keep them in a jar. In a meh mood emergency, dispense as needed.