Do drinking buddies make the best job candidates?
An academic study finds hiring managers don't always pick the most qualified applicants.
Conventional management wisdom states it's not okay for your boss to be your friend. It's a common workplace conflict that bosses want to be liked, trusted and respected, but not all qualified employees are created equal.
A new study by Professor Lauren Rivera at Northwestern University's Kellogg School of Management offers an interesting perspective on the employment process: Hiring managers don't always choose the most skilled applicants, they pick people they want to spend time with.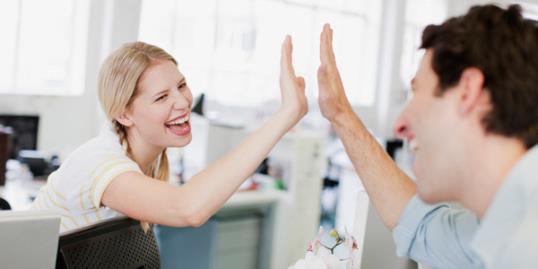 More on MSN Living: Best sweater for your body type
Drawing from 120 interviews, Rivera examined employers as well as hiring managers in elite investment banks, law firms and management consulting firms over the space of two years, reports Forbes. In the study, Rivera argues that hiring is more than just a process of skills sorting; it is also a process of cultural matching between candidates, evaluators, and firms.
More on MSN Living: 10 habits that keep marriages strong
"Interviewers often privileged their personal feelings of comfort, validation and excitement over identifying candidates with superior cognitive or technical skills," River was quoted in Forbes. "In many respects, they hired in a manner more closely resembling the choice of friends or romantic partners."
Edward F. Vigil, Managing Director of The Adrogan Group in Albuquerque, N.M. recruits CFOs for private equity firms, as well as Commercial and Industrial (C&I) lenders for community banks. When it comes to executive search process, he says chemistry does come into play.
"When I look at the resumes I receive and do my initial interview, I used to often think that I had the ideal candidate that fit all the 'requirements' my client wanted," says Vigil. "Since I always submit multiple candidates, I used to be surprised that the man or woman that most closely matched the requirements, often was not chosen."
Again, it comes down to good chemistry. "The hiring choice is often made early on in the interview process," says Vigil. "Follow up interviews are mainly used to 'justify' making that decision."
The paper underscores the subjective aspects of hiring, like who your interviewer will be and whether they'll be a good personality match. As a result, Rivera's paper points out just how important it can be to include non-work interests under the heading "other" or "interests" on your résumé.
Competitive beer pong skills probably won't get you hired, but a mutual extracurricular interest just might.
Photo: Paul Bradbury/Getty Images
Bing: How to build positive workplace relationships  
 More from MSN Living:
Worst cringe-worthy style and beauty fashions of 2012
The best beauty and style looks of the year
Marriage counselors: The trickiest issues we've ever solved
inspire: live a better life
Don't leave home without these must-have items.

Handshakes spread 20 times more germs, study says.

Drowning in debt? Maybe there's a silver lining.

"But it's not real life, you know. It's a vacation."

Our list of must-dos before hitting the road.

Summer traditions can be great, but if you're on year six of packing the same people into the same car to go on the same vacation, it's time to switch things up. Surfing in Portugal, perhaps – or cycling through Northern Ireland. We've put together a list of 15 places well off the beaten path that you should go to when you're ready to try something new.

Grab a sleeping bag and head out to one of these amazing campsites.

A dozen adventures that are well worth the trip.

Paper downplays the significance of practice over raw talent.

Survey says American teens aren't great at complex or basic financial tasks.

Fear of Moving Away: How to conquer the latest cultural anxiety and embrace the unknown.

Adulthood has no eureka moment.