Do drinking buddies make the best job candidates?
An academic study finds hiring managers don't always pick the most qualified applicants.
Conventional management wisdom states it's not okay for your boss to be your friend. It's a common workplace conflict that bosses want to be liked, trusted and respected, but not all qualified employees are created equal.
A new study by Professor Lauren Rivera at Northwestern University's Kellogg School of Management offers an interesting perspective on the employment process: Hiring managers don't always choose the most skilled applicants, they pick people they want to spend time with.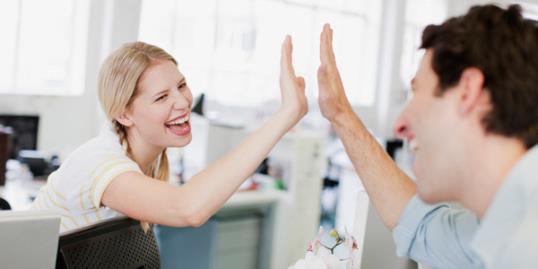 More on MSN Living: Best sweater for your body type
Drawing from 120 interviews, Rivera examined employers as well as hiring managers in elite investment banks, law firms and management consulting firms over the space of two years, reports Forbes. In the study, Rivera argues that hiring is more than just a process of skills sorting; it is also a process of cultural matching between candidates, evaluators, and firms.
More on MSN Living: 10 habits that keep marriages strong
"Interviewers often privileged their personal feelings of comfort, validation and excitement over identifying candidates with superior cognitive or technical skills," River was quoted in Forbes. "In many respects, they hired in a manner more closely resembling the choice of friends or romantic partners."
Edward F. Vigil, Managing Director of The Adrogan Group in Albuquerque, N.M. recruits CFOs for private equity firms, as well as Commercial and Industrial (C&I) lenders for community banks. When it comes to executive search process, he says chemistry does come into play.
"When I look at the resumes I receive and do my initial interview, I used to often think that I had the ideal candidate that fit all the 'requirements' my client wanted," says Vigil. "Since I always submit multiple candidates, I used to be surprised that the man or woman that most closely matched the requirements, often was not chosen."
Again, it comes down to good chemistry. "The hiring choice is often made early on in the interview process," says Vigil. "Follow up interviews are mainly used to 'justify' making that decision."
The paper underscores the subjective aspects of hiring, like who your interviewer will be and whether they'll be a good personality match. As a result, Rivera's paper points out just how important it can be to include non-work interests under the heading "other" or "interests" on your résumé.
Competitive beer pong skills probably won't get you hired, but a mutual extracurricular interest just might.
Photo: Paul Bradbury/Getty Images
Bing: How to build positive workplace relationships  
 More from MSN Living:
Worst cringe-worthy style and beauty fashions of 2012
The best beauty and style looks of the year
Marriage counselors: The trickiest issues we've ever solved
inspire: live a better life
Miss Manners advises on how to respond when one gets unsolicited advice about weight issues.

Editor's note: We will now be publishing Miss Manners articles twice weekly, but you will only see one question and answer per article. You can expect to see these articles appear on Tuesdays and Thursdays going forward.

President Harry S. Truman was behind efforts to establish the first Armed Forces Day in 1950, and decades later the nation continues to set aside the third Saturday in May to recognize and thank members of the U.S. military for their patriotic service. With these five homecoming images, we salute all service members at home and abroad.

There's much to be desired about working from home: the stress-free commute, flexible hours, and improved work-life balance.

Wishing for the fountain of youth? You may not need it. We've rounded up real-women secrets, tried-and-true beauty tips, and the latest research to help you fight aging.

Experts weigh in on when to bite your tongue at the office.

Oh, the places you'll go — to get some "me" time, that is. REDBOOK readers confess all on Facebook.

How much money you make isn't nearly as important as how you use it, according to Elizabeth Dunn and Michael Norton, authors of the new book Happy Money.

Plus, how do you ask people to not bring gifts to a shower?

Looking for a career upgrade? Follow these tips for a foot in the door.

These tanning and skin cancer myths aren't just wrong — they can do serious harm. Wise up and head into a healthier future. P.S. You'll look a lot younger too.

It's possible to rejigger your brain circuitry and feel more joy, even on Monday mornings. Here's how.