Do drinking buddies make the best job candidates?
An academic study finds hiring managers don't always pick the most qualified applicants.
Conventional management wisdom states it's not okay for your boss to be your friend. It's a common workplace conflict that bosses want to be liked, trusted and respected, but not all qualified employees are created equal.
A new study by Professor Lauren Rivera at Northwestern University's Kellogg School of Management offers an interesting perspective on the employment process: Hiring managers don't always choose the most skilled applicants, they pick people they want to spend time with.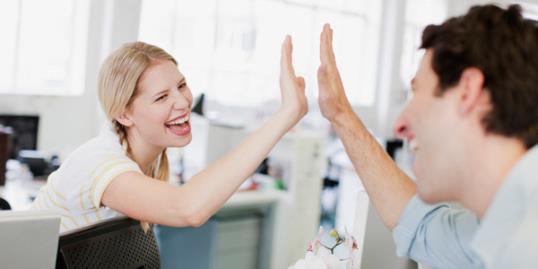 More on MSN Living: Best sweater for your body type
Drawing from 120 interviews, Rivera examined employers as well as hiring managers in elite investment banks, law firms and management consulting firms over the space of two years, reports Forbes. In the study, Rivera argues that hiring is more than just a process of skills sorting; it is also a process of cultural matching between candidates, evaluators, and firms.
More on MSN Living: 10 habits that keep marriages strong
"Interviewers often privileged their personal feelings of comfort, validation and excitement over identifying candidates with superior cognitive or technical skills," River was quoted in Forbes. "In many respects, they hired in a manner more closely resembling the choice of friends or romantic partners."
Edward F. Vigil, Managing Director of The Adrogan Group in Albuquerque, N.M. recruits CFOs for private equity firms, as well as Commercial and Industrial (C&I) lenders for community banks. When it comes to executive search process, he says chemistry does come into play.
"When I look at the resumes I receive and do my initial interview, I used to often think that I had the ideal candidate that fit all the 'requirements' my client wanted," says Vigil. "Since I always submit multiple candidates, I used to be surprised that the man or woman that most closely matched the requirements, often was not chosen."
Again, it comes down to good chemistry. "The hiring choice is often made early on in the interview process," says Vigil. "Follow up interviews are mainly used to 'justify' making that decision."
The paper underscores the subjective aspects of hiring, like who your interviewer will be and whether they'll be a good personality match. As a result, Rivera's paper points out just how important it can be to include non-work interests under the heading "other" or "interests" on your résumé.
Competitive beer pong skills probably won't get you hired, but a mutual extracurricular interest just might.
Photo: Paul Bradbury/Getty Images
Bing: How to build positive workplace relationships  
 More from MSN Living:
Worst cringe-worthy style and beauty fashions of 2012
The best beauty and style looks of the year
Marriage counselors: The trickiest issues we've ever solved
inspire: live a better life
No one looks forward to washing windows or storing the ski gear or the other chores associated with spring-cleaning. But this annual ritual does not have to be a drag, if you approach it in a slightly different way. "You've been cooped up with this cave-like mentality all winter; now it's time to break free and play," says R.D. Chin, a feng shui architect and consultant in New York City. "It's time to follow the cycle of nature, get rid of the clutter, and free up your mind." Here's our idea of what a truly effective spring-cleaning can look like.

American presidents garner most votes over celebrities in a poll ranking the 100 most significant citizens.

Heading to a world-class beach town is always a safe bet for a great vacation, but if you want something that tests your limits, consider a more extreme spot. Here are 10 places around the world that require a winter coat year-round and offer spectacular glaciers, ice features, and the best snow anywhere.

From the Grand Canyon to the Statue of Liberty, the U.S. boasts world-famous national parks, historical sites and landmarks. Beyond the well-known locations, there's a wealth of undiscovered destinations stretching from coast to coast worth visiting. From scenic sand dunes to wild mountains, here's 51 places within America that you've probably never heard of.

How much do you really know about the Earth? In honor of Earth Day, April 22, we explore some interesting and fun facts about the fifth-largest planet of our solar system.

Most of the stuff we worry about never happens.

You've written an email, and need to wrap it up. You could end with a simple "Sincerely," tack on your name, and then shoot it out the door, proving definitively that you suck at communication.

Here are nine of the most extreme trips on the planet -- and the outfitters that take adventurers over the edge and back again.

A true challenge is within your reach. All it takes is a few months to get in shape and a few days off work.

Think you got what it takes to be included in the pages of the Guinness Book of World Records? We consult one of the judges to help you on your quest.

Just a few years ago, the term "home automation" meant a bunch of blinking lights and a headache. But thanks to simpler interfaces and the rise of smartphones, new tech can transform your house into a safer, more comfortable, less wasteful place.

If you're like most people, flying around in a big metal tube in the sky isn't your idea of a fun time. From the terrible food to the cramped space, flying can be a miserable experience. Don't make the flight even more soul-sucking by breaking airplane etiquette. We've compiled a list of the worst-inflight offenders. by Rebecca Pattee