45 years after Mister Rogers
Children's television programming, then and now.
Mister Rogers smiled, walked in the front door and sang his welcome: 
     It's a beautiful day in this neighborhood
     A beautiful day for a neighbor
     Would you be mine? Could you be mine?
The first time Fred Rogers came through his TV studio singing that song to a U.S. audience was 45 years ago today, on Feb. 19, 1968. He hung his coat and jacket, put on a comfy cardigan, and changed from shoes into sneakers, a practice stemming from his background as a puppeteer who needed to make his way quietly through backstage sets.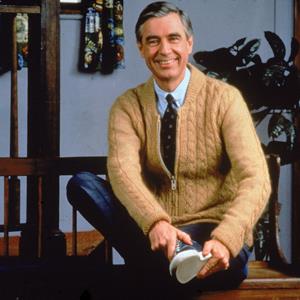 These simple gestures would become the hallmarks of the show that Fred McFeely Rogers, a sweet-spirited Presbyterian minister, debuted amidst the bombast of America's cultural revolution as "Misterogers' Neighborhood." In an explosive year of American history that saw the assassinations of Martin Luther King and Robert F. Kennedy, the Tet Offensive on Saigon and the riotous Democratic Convention in Chicago, Rogers began a run of 31 seasons teaching lessons of patience and friendship to preschoolers.
More from MSN TV: Here's a look at our favorite new faces of 2012-13
Television programming for children was already in place, but never before had anyone so sensitively used the medium to talk with children — and it really did feel like a two-way exchange — about troubling new situations and coping with emotions like anger and jealousy.
The lightning-fast edits and wink-wink–nudge-nudg​e of much children's programming today could make a parent wonder whether there's anything nearly as valuable on television. But in truth, there is, and today's programmers of educational content benefit from years of research on developmental psychology. The best are those programs that, in the tradition of "Mister Rogers' Neighborhood," respect both the innocence and the capability of a child's mind.
More from MSN TV: Joseph Gordon-Levitt Stops by 'Sesame Street' for vocabulary lesson
Sierra Filucci, senior editor for TV and DVD at Common Sense Media, told the Daily Dose, "Great shows for kids speak to children on their level without speaking down to them. These are shows that understand that kids have a range of emotions and interests and love to laugh. Fred Rogers was a master of meeting kids with respect and honoring their love of imagination and play."
More from MSN TV: Television's top dogs
"'Daniel Tiger's Neighborhood' is very much in the same vein as 'Mister Rogers' Neighborhood' and is produced using Rogers' philosophies," says Filucci, referencing a program based on a Fred Rogers character (today's Daniel Tiger is the son of Daniel Striped Tiger, the tiger kitten on the clock tower in Rogers' Neighborhood of Make Believe). Noting selections from Common Sense's Best Preschool TV shows, she continues, "'Doc McStuffins,' 'Clifford the Big Red Dog,' and 'Calliou' are a few others that do a great job helping kids figure out their feelings and how to manage them."
There will only ever be one Fred Rogers — the gentle giant of children's television passed away in 2003. But he taught lessons of immeasurable value that any child, and any producer of preschool programming, would be wise to learn.
More from The Daily Dose:
Are Americans happy?
NASA finds nearby black hole
Homeless man lives with dead people for 15 years
Love content like this? Friend us on Facebook, follow us on Twitter and find us on Pinterest
Photo: Mister Rogers / Fotos International/Getty Images

inspire: live a better life
Here's some tips to get to happiness going forward in your life.

People 60 to 82 did best on cognitive tasks before 10:30am.

Lucille Ball was born in 1911, and though we lost her long ago, her legacy as America's favorite redhead lives on through the timeless classic, "I Love Lucy." People of all generations still enjoy Lucy's antics as much as they did over 60 years ago when the show first premiered.

Summer is coming to an end, and in a few weeks, kids will be forced to trade in their beach bags for backpacks. But just because the season is fading away doesn't mean the memories from the past few months have to disappear with it.

Confidence and perceived competence are key, study finds.

Features lead to assumptions about character, study says.

Great gear for an afternoon spent shoreside.

Read on for surefire strategies to boost your bliss.

Use these bucket-list ideas to enjoy the little time you have left.

Study points to benefits of improved living conditions.

Don't leave home without these must-have items.

Handshakes spread 20 times more germs, study says.