World record: 22 minutes without air
An underwater feat to leave you breathless
In the normal course of breathing for 22 minutes, provided you're not exerting yourself, you involuntarily take about 450 breaths.
Stig Severinsen took one.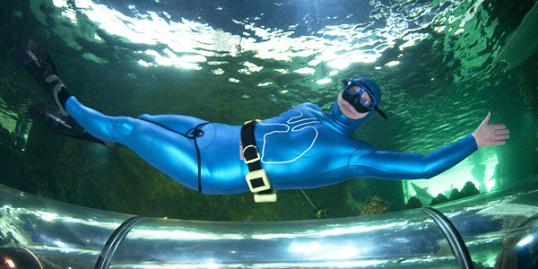 The 39-year-old Danish free diver set a Guinness World Record earlier this year by remaining face-down in a pool for 22 minutes straight, breaking his own record of 20 minutes and 10 seconds in the process.
This was the new record for oxygenated static apnea, wherein a diver first gulps pure oxygen from a tank to feed the body's cells and flush out carbon dioxide, then remains as still as possible to preserve precious energy. The record for holding without oxygenating is 8:58, held by free diver Tom Sietas.
More on MSN Living: 50 things everyone should know about marriage
For Stig, holding his breath is more than just a sporting challenge. While the rest of us consider oxygen deprivation something of an inconvenience, he sees breath control as a means to boosting the immune system and reducing stress and pain. He even considers it a path to fulfillment, as expressed in his 2010 book Breatheology: The Art of Conscious Breathing.
David Blaine would concur. In a charismatic TED Talk from October 2009, the extreme magician explained the grueling training behind his attempt to break the prior oxygenated static apnea record of 16:32 — on the Oprah show, where all the most wonderful things happen.
More on MSN Living: The top 10 traits women want in a man
Blaine was suspended in a sphere of water in front of the cameras. At eight minutes, less than halfway through, he wasn't sure he'd make it. At 11 minutes, he had throbbing sensations in his legs and lips, followed by a numb arm that made him fear a heart attack. Blaine says at 16 minutes he wasn't even sure he was alive anymore. But, hearing the crowd roar as he passed the 16:32 mark, he held out to set the record (at that time) at 17:04.
For both Severinsen and Blaine, breath control has a spiritual component capable of instilling a singularly pure sense of joy. In a surprisingly emotional close to the TED segment, Blaine expresses that as a magician he tries to show things to people that seem impossible.
"It's practice, it's training, it's experimenting, while pushing through the pain to be the best that I can be," he says.
Severinsen as well says that the practice of breath control can make you thankful for all things you have in your life. Like, say, air.
File photo of free diver Stig Severinsen (Morten Bjoern Larsen/POLFOTO/AP)
Bing: Most outrageous world records
More from MSN Living:
25 things she finds sexiest about you
8 words that give away a liar
The trends men love ... and the ones they hate
inspire: live a better life
A look back on all of the tiny tasks that 30 years of technology has saved you from.

What sets you apart from everyone else looking for a new job or bigger paycheck? Your profile!

With all those deals you snagged on Black Friday, Small Business Saturday, and Cyber Monday, today is your chance to give back to those in need with #GivingTuesday.

Miss Manners provides guidance on how to handle a request for party contributions

Miss Manners instructs on why tit-for-tat never works

Miss Manners offers thoughts on guests who disregard dinner party instructions

Make big bucks, from home, having fun? These women got creative and figured out a way to have it all. You can too.

Your boss. You might like her, you probably respect her, but do you know how to approach someone who seems so different from you? (Spoiler: She's actually not.)

Over the weekend, Oprah decluttered her Montecito mansion and three other properties in a Santa Barbara yard sale that brought in more than $600,000(!). (Proceeds will benefit her girls' leadership academy in South Africa, and not half of a Crate and Barrel chair, the traditional end goal of yard-sale proceeds.)

Exclusively for MSN, we bring you a six-part series from the new book: MISS MANNERS MINDS YOUR BUSINESS by Judith and Nicholas Ivor Martin.

Miss Manners weighs in on the financial burdens of remote weddings