World record: 22 minutes without air
An underwater feat to leave you breathless
In the normal course of breathing for 22 minutes, provided you're not exerting yourself, you involuntarily take about 450 breaths.
Stig Severinsen took one.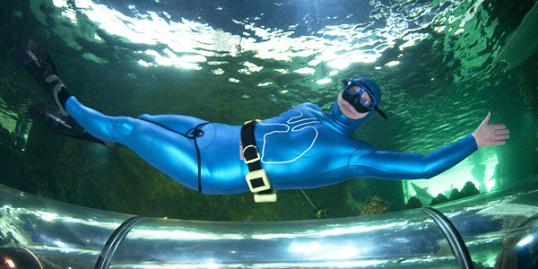 The 39-year-old Danish free diver set a Guinness World Record earlier this year by remaining face-down in a pool for 22 minutes straight, breaking his own record of 20 minutes and 10 seconds in the process.
This was the new record for oxygenated static apnea, wherein a diver first gulps pure oxygen from a tank to feed the body's cells and flush out carbon dioxide, then remains as still as possible to preserve precious energy. The record for holding without oxygenating is 8:58, held by free diver Tom Sietas.
More on MSN Living: 50 things everyone should know about marriage
For Stig, holding his breath is more than just a sporting challenge. While the rest of us consider oxygen deprivation something of an inconvenience, he sees breath control as a means to boosting the immune system and reducing stress and pain. He even considers it a path to fulfillment, as expressed in his 2010 book Breatheology: The Art of Conscious Breathing.
David Blaine would concur. In a charismatic TED Talk from October 2009, the extreme magician explained the grueling training behind his attempt to break the prior oxygenated static apnea record of 16:32 — on the Oprah show, where all the most wonderful things happen.
More on MSN Living: The top 10 traits women want in a man
Blaine was suspended in a sphere of water in front of the cameras. At eight minutes, less than halfway through, he wasn't sure he'd make it. At 11 minutes, he had throbbing sensations in his legs and lips, followed by a numb arm that made him fear a heart attack. Blaine says at 16 minutes he wasn't even sure he was alive anymore. But, hearing the crowd roar as he passed the 16:32 mark, he held out to set the record (at that time) at 17:04.
For both Severinsen and Blaine, breath control has a spiritual component capable of instilling a singularly pure sense of joy. In a surprisingly emotional close to the TED segment, Blaine expresses that as a magician he tries to show things to people that seem impossible.
"It's practice, it's training, it's experimenting, while pushing through the pain to be the best that I can be," he says.
Severinsen as well says that the practice of breath control can make you thankful for all things you have in your life. Like, say, air.
File photo of free diver Stig Severinsen (Morten Bjoern Larsen/POLFOTO/AP)
Bing: Most outrageous world records
More from MSN Living:
25 things she finds sexiest about you
8 words that give away a liar
The trends men love ... and the ones they hate
inspire: live a better life
Grab a sleeping bag and head out to one of these amazing campsites.

A dozen adventures that are well worth the trip.

Paper downplays the significance of practice over raw talent.

Survey says American teens aren't great at complex or basic financial tasks.

Fear of Moving Away: How to conquer the latest cultural anxiety and embrace the unknown.

Adulthood has no eureka moment.

Just like your body, your brain needs a regular workout too.

Being a winner is a good feeling to have — especially in life. Winning doesn't solely relate to competitions or Charlie Sheen's coining of the term back in 2011. From achieving success to maintaining a work-life balance, find out what characteristics mean your life is going the way it should be. You may just even find an inspiration or two that you'll want to incorporate into your daily routine!

Sometimes it seems like you need a vacation from your vacation.

That'll get you and your 2 kids a house, SUV, and more, per a 'USA Today' analysis.

While most of us associate the Fourth of July with fireworks and barbecue (and taking a long weekend off from work), it's also an important day to give thanks to the people who help keep us safe.

For a truly out-of-the-box vacation, skip traditional hotels and opt for unique lodging.