An 'OMG' Text from 100 Years Ago
Century-old text-speak? r u cr8z?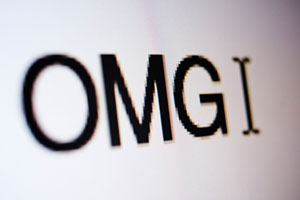 U R not going to believe this, but a new order
of knighthood is on the tapis.
  OMG, right? 
If that reads to you like a text between two gamers playing Final Fantasy, you're not entirely off the mark. It's more like an exchange between an admiral in the Royal Navy and Winston Churchill, who were playing war games one hundred years ago. So we added the emoticon, BFD. But the British admiral did use "OMG" a century before his latter-day countrymen would be texting it in response to Kate Middleton's latest choice of hat.
Could the first instance of modern text-speak really have been communicated so very long before the age of 4G, Wi-Fi, and iPhones? Here's the actual excerpt from the letter sent to Churchill in 1917:
"I hear that a new order of Knighthood is on the tapis
 — O.M.G   (Oh! My God!) — Shower it on the Admiralty!!".
Lord John Arbuthnot Fisher, a celebrated admiral and snappy dresser, was clearly ahead of his time. His own middle name looks like an accidental cramming of letters that Autotext didn't know what to do with. And the exclamation points, sheesh — there were fewer used when Glee 3D came out. Shower it on the admiralty, indeed.
It will take etymologists a little longer to confirm whether OMG had been used prior to Fisher's letter, though apparently it was uncommon enough that he had to spell it out for Winston. But the history of using abbreviations and truncated language to communicate with maximized efficiency goes way back. We used it just half a century ago in telegrams and cables, too, since telecommunications companies of the time charged by the number of words (they've been gouging us forever). Telegraph style drops pronouns and articles. Stop. Death of language is nigh. Stop. Please. Stop.
New York Times blogger John McWhorter explains that after 200 centuries of oral communication, beginning with grunts in the cave, written language first evolved only about 5,500 years ago as a means of documenting and sharing the spoken word. Now text emerges as a hyper-efficient means of representing not just the written word but, in McWhorter's words, "fingered speech." It's written conversation, an entirely novel form of communication. While highfalutin lovers of the language arts see SMS as just one step ahead of thumping sticks on rocks, it actually represents the progress of a highly advanced society. Don't sweat it, Shakespeare. You can keep the pen.
Photo: Tetra Images/Alamy



inspire: live a better life
A look back on all of the tiny tasks that 30 years of technology has saved you from.

What sets you apart from everyone else looking for a new job or bigger paycheck? Your profile!

With all those deals you snagged on Black Friday, Small Business Saturday, and Cyber Monday, today is your chance to give back to those in need with #GivingTuesday.

Miss Manners provides guidance on how to handle a request for party contributions

Miss Manners instructs on why tit-for-tat never works

Miss Manners offers thoughts on guests who disregard dinner party instructions

Make big bucks, from home, having fun? These women got creative and figured out a way to have it all. You can too.

Your boss. You might like her, you probably respect her, but do you know how to approach someone who seems so different from you? (Spoiler: She's actually not.)

Over the weekend, Oprah decluttered her Montecito mansion and three other properties in a Santa Barbara yard sale that brought in more than $600,000(!). (Proceeds will benefit her girls' leadership academy in South Africa, and not half of a Crate and Barrel chair, the traditional end goal of yard-sale proceeds.)

Exclusively for MSN, we bring you a six-part series from the new book: MISS MANNERS MINDS YOUR BUSINESS by Judith and Nicholas Ivor Martin.

Miss Manners weighs in on the financial burdens of remote weddings