How often are unruly airline passengers kicked off flights?
Through June of this year, 41 travelers had been formally cited by the FAA for unruliness. Too many or too few?
At a bare minimum, 129 unruly passengers were kicked off airline flights last year, according to the Federal Aviation Administration. Passenger violations for unruliness don't necessarily involve security risks. They are characterized by bad behavior — anything from kicking a seat to arguing with a flight attendant — that ticks off a crew member enough to have the passenger booted.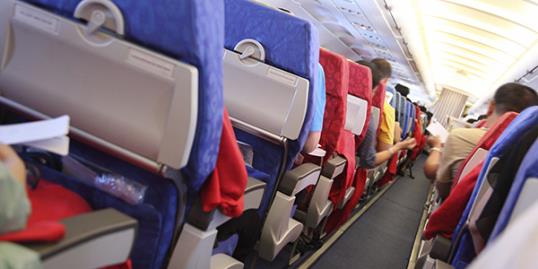 An accurate count of how many passengers are kicked off annually is difficult to calculate, The
New York Times
noted this week, because the FAA tracks only incidents that are formally reported by the airlines.
As of June 30 of this year, 41 travelers had been formally cited by the FAA for unruliness. 
After an airline boots a passenger, the FAA can hit the traveler where it hurts. In 2000, a bill enabled the agency to levy a fine of up to $25,000 per violation in unruly-passenger cases. 
The International Airline Transport Association has published guidelines for airlines to use in the prevention and management of unruly passengers. It specifies this short list of behaviors — that is, behaviors without specific links to security violations — that can get you kicked off a flight and handed over to police at the gangway:
•  Assaults, threats, intimidation or interference with a crew member in performance of his or her duties aboard an aircraft being operated. 
•  Disruptive behavior due to alcohol consumption. 
•  Alcohol-related disturbance created by passenger. 
•  Consumption of alcoholic beverages not served by a crew member. 
•  Alcohol service to passengers who appear to be intoxicated. 
•  Failure to follow instructions given by a crew member regarding compliance with passenger safety regulations, such as: 
  - Smoking in the lavatory. 
  - Tampering with, disabling or destroying smoke detectors installed in any aircraft 
lavatory. 
  - Failing to keep seat belt fastened while the "Fasten Seat Belt" sign is lighted. 
  - Operating an electronic device when prohibited. 
However, the list of potential violations is actually much longer. Airlines can institute their own behavior codes and may see fit to boot a passenger for a broad range of additional causes, such as engaging in a physical altercation, failing to comply with electronic device requirements, or, say, getting naked.
Some infractions may seem unfair; just ask film director Kevin Smith, who was reportedly
kicked off a Southwest flight
for being overweight. Then there's the
dirtball
who was forced off a flight — and into custody — for watching child porn on a Delta flight. The man later pled guilty to possession of child pornography.
In the post-9/11 world, airlines have the right and even the responsibility to demand compliance with a strict set of rules. In return, they could try not treating coach passengers like a horde of animals in need of taming. If only a faction of the traveling public didn't give them so much material to work with.
inspire: live a better life
Summer and winter tend to hog all the glory when it comes to travel high seasons. Sure, you want to soak up all the time at the beach you can during the summer, and you just want to escape the cold during the last months of the year.

Who just wants to stand around and watch the red and gold leaves slowly fall from their tree branches to the ground as we move from summer to fall? Instead, take in the changing seasons while you're on the move.

In September, I'll turn 38. I'm at the age now where, when people ask how old I am, it takes me a minute to remember. I don't know if that's because I've already been 37 different ages and it's hard to keep straight which one I am now, or if it's because I'm in denial, or if it's because I am going senile. Maybe a combination of all of the above. Regardless, my 30s have flown by and soon they will be but a memory. So, in an effort to preserve the memory I have left (or at least keep a record of it), and to celebrate what has been an amazing decade so far, here are 30 things that have happened to me in my 30s (and will probably happen to you too):

Traveling doesn't have to be stressful. And what you can fit in your carry-on can make all the difference (and not just a fresh pair of socks), especially when you get that low battery signal.

Volunteering (and these other rituals) might be just as good as exercise when it comes to extending your life.

Use these tricks to set a better tone for the rest of the week.

Whether it involves a food fight, mermaids or a torch-lit procession, people the world over know how to have a good time. Here are some of the biggest, boldest, booziest celebrations around, along with some tips to get the full experience.

Research could mean more effective treatment for human disorders.

An entry a day might keep the doctor away (or at least the shrink).

One woman's shout-outs to daily moments of joy — and how to cultivate them.

Our best health and fitness tips including the one move that tones all, berry news, and more.