Plastic trash to fuel global flight
Flying 10,500 miles "On Wings of Waste."
Pilot Jeremy Rowsell plans to fly his small Cessna aircraft halfway around the world. With stops to refuel in troubled territories and thousands of ocean miles to cross, he's now in specialized training that will teach him how to survive a kidnapping or a nosedive into the ocean. But the risks are not what makes this particular flight plan newsworthy.
Rowsell will be flying an airplane fueled by plastic trash.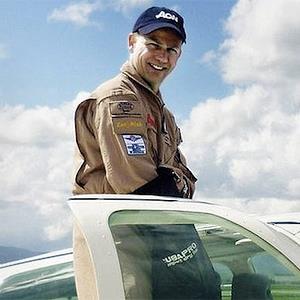 The fuel for Rowsell's plane will be provided by Cynar, one of a handful of companies around the globe converting discarded plastic into liquid fuel. In a process called "pyrolysis," a synthetic diesel is created by heating "end of life" plastics (ELP), or plastic waste that can't be reused or recycled.
Plastic products are currently being produced at a rate of about 300 million tons per year, and a good 85 percent of it ends up in landfills or dumped into the oceans. But most plastic is petroleum based, and new technologies enable "ecopreneurs" like Cynar to make the conversion to diesel without polluting the air. The end product is a highly efficient fuel with minimal carbon emissions. Pyrolysis yields minimal waste, too: The 5 percent of char resulting from the heating process can be used in the manufacturing of building materials like concrete and tile.
More from Living: 7 easy ways to better sleep
The project, dubbed "On Wings of Waste," is less a test of the fuel — its viability has already been proven — than it is a message in the air. Rowsell is hopeful his flight will help the industry producing ELP fuel to overcome stubborn obstacles such as lack of capital support and the inaccurate perception that plastic-derived gas is inferior to fossil fuels and biofuels.
More from Living: 2013 Good Housekeeping VIP (Very Innovative Products) Awards
Cynar can currently convert about 20 tons of ELP plastic into 5,000 gallons of fuel per day. For Rowsell's 10,500-mile trip from Sydney to London, he'll need about a thousand gallons of synthetic fuel, or the equivalent of five tons of plastic. 
That's a lot of water bottles, detergent containers and plastic packaging. Better to see it burning cleanly across the sky than choking our landfills and oceans. 
More from The Daily Dose:
What will get you banned from Facebook?
Homeless man lives with dead people for 15 years
All about 3D printing
Love content like this? Friend us on Facebook, follow us on Twitter and find us on Pinterest
Bing: Find flights
Photo: Jeremy Rowsell / Courtesy @altitude.com.au
inspire: live a better life
When you think of Las Vegas, noisy casinos, clubs, smoking, crowds and loud music all come to mind. In the past few years, an increasing number of non-casino hotels have opened, catering to business travelers or leisure travelers seeking a peaceful retreat. According to the NY Times, tourists are coming to Las Vegas, but the amount they're spending on gambling is down. From the Mandarin Oriental to the Vdara Hotel & Space, many of these luxury hotels are smaller than their non-casino counterparts, which offers a more personalized experience. Visitors to these quiet, high-end hotels tend to spend their time in Las Vegas going to shops, eating at upscale restaurants, shopping and relaxing by the pool. Most of the quiet hotels are located on or near the strip, giving visitors easy access to activities but also an escape from the strip's sensory overload. I've rounded up a list of the top 5 non-casino hotels.

Happify shares their results of a recent study on how money affects our happiness.

A top exec reveals the company's secret code

Pro tips from the guy who's done it four times

Not all mistakes are as blatant as posting party pics when you're 'sick' at home.

Everyone struggles through weekday drudgery to reach their weekend fun. But what if you could reclaim every day of your life?

Ranked from the least to the most involved, here are the services, strategies, and products that can throw the data trackers off your trail.

Here are the 10 worst cities to have a morning commute, and a few tips for getting around the gridlock.

Zooming up the ladder is great, but questioning yourself 24/7 is no way to succeed. Manage your stressed self with these surefire tips.

Forget trying to control every little detail. Life is lots more fun (and less stressful) when you let go from the get-go.

Some compulsions come from urban legends -- that never shutting down your computer, for example, means never forcing it to make the processor-straining effort to turn itself back on. Others are fully unconscious, such as papering your PC desktop with saved files and wondering why it's suddenly stuttering or crashing, or charging your phone whenever you're near an outlet, and later complaining about your plummeting battery capacity. Here are some of the most common maladaptive tech habits, and the easiest ways to break them.

So, what exactly is this thing we call "happiness" and how do we get it?