Plastic trash to fuel global flight
Flying 10,500 miles "On Wings of Waste."
Pilot Jeremy Rowsell plans to fly his small Cessna aircraft halfway around the world. With stops to refuel in troubled territories and thousands of ocean miles to cross, he's now in specialized training that will teach him how to survive a kidnapping or a nosedive into the ocean. But the risks are not what makes this particular flight plan newsworthy.
Rowsell will be flying an airplane fueled by plastic trash.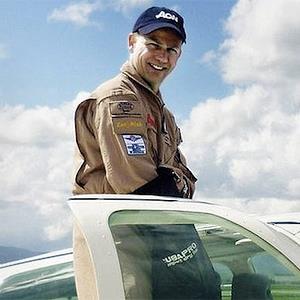 The fuel for Rowsell's plane will be provided by Cynar, one of a handful of companies around the globe converting discarded plastic into liquid fuel. In a process called "pyrolysis," a synthetic diesel is created by heating "end of life" plastics (ELP), or plastic waste that can't be reused or recycled.
Plastic products are currently being produced at a rate of about 300 million tons per year, and a good 85 percent of it ends up in landfills or dumped into the oceans. But most plastic is petroleum based, and new technologies enable "ecopreneurs" like Cynar to make the conversion to diesel without polluting the air. The end product is a highly efficient fuel with minimal carbon emissions. Pyrolysis yields minimal waste, too: The 5 percent of char resulting from the heating process can be used in the manufacturing of building materials like concrete and tile.
More from Living: 7 easy ways to better sleep
The project, dubbed "On Wings of Waste," is less a test of the fuel — its viability has already been proven — than it is a message in the air. Rowsell is hopeful his flight will help the industry producing ELP fuel to overcome stubborn obstacles such as lack of capital support and the inaccurate perception that plastic-derived gas is inferior to fossil fuels and biofuels.
More from Living: 2013 Good Housekeeping VIP (Very Innovative Products) Awards
Cynar can currently convert about 20 tons of ELP plastic into 5,000 gallons of fuel per day. For Rowsell's 10,500-mile trip from Sydney to London, he'll need about a thousand gallons of synthetic fuel, or the equivalent of five tons of plastic. 
That's a lot of water bottles, detergent containers and plastic packaging. Better to see it burning cleanly across the sky than choking our landfills and oceans. 
More from The Daily Dose:
What will get you banned from Facebook?
Homeless man lives with dead people for 15 years
All about 3D printing
Love content like this? Friend us on Facebook, follow us on Twitter and find us on Pinterest
Bing: Find flights
Photo: Jeremy Rowsell / Courtesy @altitude.com.au
inspire: live a better life
Summer and winter tend to hog all the glory when it comes to travel high seasons. Sure, you want to soak up all the time at the beach you can during the summer, and you just want to escape the cold during the last months of the year.

Who just wants to stand around and watch the red and gold leaves slowly fall from their tree branches to the ground as we move from summer to fall? Instead, take in the changing seasons while you're on the move.

In September, I'll turn 38. I'm at the age now where, when people ask how old I am, it takes me a minute to remember. I don't know if that's because I've already been 37 different ages and it's hard to keep straight which one I am now, or if it's because I'm in denial, or if it's because I am going senile. Maybe a combination of all of the above. Regardless, my 30s have flown by and soon they will be but a memory. So, in an effort to preserve the memory I have left (or at least keep a record of it), and to celebrate what has been an amazing decade so far, here are 30 things that have happened to me in my 30s (and will probably happen to you too):

Traveling doesn't have to be stressful. And what you can fit in your carry-on can make all the difference (and not just a fresh pair of socks), especially when you get that low battery signal.

Volunteering (and these other rituals) might be just as good as exercise when it comes to extending your life.

Use these tricks to set a better tone for the rest of the week.

Whether it involves a food fight, mermaids or a torch-lit procession, people the world over know how to have a good time. Here are some of the biggest, boldest, booziest celebrations around, along with some tips to get the full experience.

Research could mean more effective treatment for human disorders.

An entry a day might keep the doctor away (or at least the shrink).

One woman's shout-outs to daily moments of joy — and how to cultivate them.

Our best health and fitness tips including the one move that tones all, berry news, and more.