Plastic trash to fuel global flight
Flying 10,500 miles "On Wings of Waste."
Pilot Jeremy Rowsell plans to fly his small Cessna aircraft halfway around the world. With stops to refuel in troubled territories and thousands of ocean miles to cross, he's now in specialized training that will teach him how to survive a kidnapping or a nosedive into the ocean. But the risks are not what makes this particular flight plan newsworthy.
Rowsell will be flying an airplane fueled by plastic trash.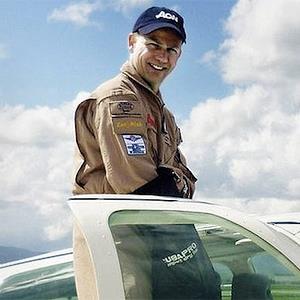 The fuel for Rowsell's plane will be provided by Cynar, one of a handful of companies around the globe converting discarded plastic into liquid fuel. In a process called "pyrolysis," a synthetic diesel is created by heating "end of life" plastics (ELP), or plastic waste that can't be reused or recycled.
Plastic products are currently being produced at a rate of about 300 million tons per year, and a good 85 percent of it ends up in landfills or dumped into the oceans. But most plastic is petroleum based, and new technologies enable "ecopreneurs" like Cynar to make the conversion to diesel without polluting the air. The end product is a highly efficient fuel with minimal carbon emissions. Pyrolysis yields minimal waste, too: The 5 percent of char resulting from the heating process can be used in the manufacturing of building materials like concrete and tile.
More from Living: 7 easy ways to better sleep
The project, dubbed "On Wings of Waste," is less a test of the fuel — its viability has already been proven — than it is a message in the air. Rowsell is hopeful his flight will help the industry producing ELP fuel to overcome stubborn obstacles such as lack of capital support and the inaccurate perception that plastic-derived gas is inferior to fossil fuels and biofuels.
More from Living: 2013 Good Housekeeping VIP (Very Innovative Products) Awards
Cynar can currently convert about 20 tons of ELP plastic into 5,000 gallons of fuel per day. For Rowsell's 10,500-mile trip from Sydney to London, he'll need about a thousand gallons of synthetic fuel, or the equivalent of five tons of plastic. 
That's a lot of water bottles, detergent containers and plastic packaging. Better to see it burning cleanly across the sky than choking our landfills and oceans. 
More from The Daily Dose:
What will get you banned from Facebook?
Homeless man lives with dead people for 15 years
All about 3D printing
Love content like this? Friend us on Facebook, follow us on Twitter and find us on Pinterest
Bing: Find flights
Photo: Jeremy Rowsell / Courtesy @altitude.com.au
inspire: live a better life
Miss Manners advises on how to respond when one gets unsolicited advice about weight issues.

Editor's note: We will now be publishing Miss Manners articles twice weekly, but you will only see one question and answer per article. You can expect to see these articles appear on Tuesdays and Thursdays going forward.

President Harry S. Truman was behind efforts to establish the first Armed Forces Day in 1950, and decades later the nation continues to set aside the third Saturday in May to recognize and thank members of the U.S. military for their patriotic service. With these five homecoming images, we salute all service members at home and abroad.

There's much to be desired about working from home: the stress-free commute, flexible hours, and improved work-life balance.

Wishing for the fountain of youth? You may not need it. We've rounded up real-women secrets, tried-and-true beauty tips, and the latest research to help you fight aging.

Experts weigh in on when to bite your tongue at the office.

Oh, the places you'll go — to get some "me" time, that is. REDBOOK readers confess all on Facebook.

How much money you make isn't nearly as important as how you use it, according to Elizabeth Dunn and Michael Norton, authors of the new book Happy Money.

Plus, how do you ask people to not bring gifts to a shower?

Looking for a career upgrade? Follow these tips for a foot in the door.

These tanning and skin cancer myths aren't just wrong — they can do serious harm. Wise up and head into a healthier future. P.S. You'll look a lot younger too.

It's possible to rejigger your brain circuitry and feel more joy, even on Monday mornings. Here's how.