Man vows to find Amazon.com package thief
This man's ice cube trays have been stolen, and he has four simple words for the thief: "I will find you."
We hate to make light of theft, but this man's reaction to his stolen Amazon.com package is priceless.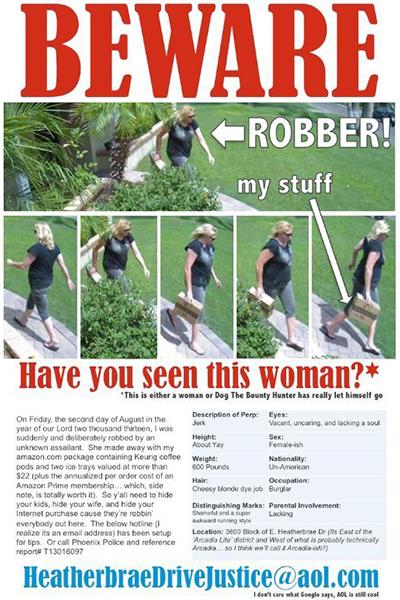 MSN Living:  Witnesses tackle man who runs from bank with cash
Tim Lake of Phoenix, Ariz., discovered that his Amazon.com package was stolen from his front porch, and now he's pulling out all the stops in search of the thief. He's posted signs around his neighborhood and even spoken to his local TV news station about the crime.
Gallery: 8 Hilarious Movies to Give to Your Friends 
A blond woman is captured on video snatching the package from Lake's house.
"You always see victims on TV, but you never think you're going to be one," Lake told Phoenix's CBS 5.
He even breaks into tears during the interview, especially when he recounts the package items:
"Ice trays that make, like, perfectly square ice cubes. For like, cocktails. Or even (breaks into tears) — now that I think about it — iced coffee. I could've made iced coffee with those things."
Lake has some simple words for the thief, which may or may not be inspired by Liam Neeson in the movie "Taken":
"I don't know who you are. I don't know what you want. But I will look for you. I will find you, and I will convict you."
More from Daily Dose:
RI home lived in while family was on vacation
Subscribe to the Daily Dose | Friend us on Facebook, follow us on Twitter and find us on Pinterest.
Photo: The poster Tim Lake created to find the woman who stole an Amazon.com delivery from his doorstep. (KPHO, http://aka.ms/stolen​-package)
inspire: live a better life
From international roaming fees to skipping travel insurance, these mistakes can put a damper on your next vacation.

Where in the world do you want to go? Somewhere unique? Any of the places described here are sure to make your next world-travel adventure truly memorable.

It's easy to lead, but it takes courage and conviction to be a truly great leader. Here are 10 inspiring leaders and what we can learn from them.

Some say it's a small world. We beg to differ. Earth has so many wondrous places worth exploring, and most of us are lucky to see a handful of them. Here are 30 of the top trips of a lifetime.

The semi-annual glitch in your daily routine is back this weekend.

You'll stave off credit card debt by the end of the year if you account for these often-forgotten expenses.

Mark Zuckerberg has an even bigger effect on your life than you thought.

Take this advice to finally tackle that nagging to-do list.

The iconic storyteller would have been 110-years-old

Take the time to appreciate women's contributions to society. Here are some of the women who inspire us by their example.

Cast of the iconic TV show reunites for Florence Henderson's birthday

We couldn't be more excited to watch the best athletes in the world compete at the Winter Olympics in Sochi. This year, about 44 percent of the competitors are women according to the International Olympic Committee—which is awesome but wasn't always the case. Let's look back at some of the amazing women who paved the way with incredible, memorable feats of girl power.