Man vows to find Amazon.com package thief
This man's ice cube trays have been stolen, and he has four simple words for the thief: "I will find you."
We hate to make light of theft, but this man's reaction to his stolen Amazon.com package is priceless.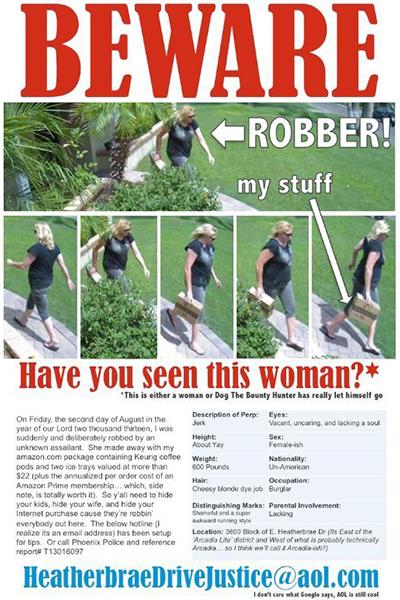 MSN Living:  Witnesses tackle man who runs from bank with cash
Tim Lake of Phoenix, Ariz., discovered that his Amazon.com package was stolen from his front porch, and now he's pulling out all the stops in search of the thief. He's posted signs around his neighborhood and even spoken to his local TV news station about the crime.
Gallery: 8 Hilarious Movies to Give to Your Friends 
A blond woman is captured on video snatching the package from Lake's house.
"You always see victims on TV, but you never think you're going to be one," Lake told Phoenix's CBS 5.
He even breaks into tears during the interview, especially when he recounts the package items:
"Ice trays that make, like, perfectly square ice cubes. For like, cocktails. Or even (breaks into tears) — now that I think about it — iced coffee. I could've made iced coffee with those things."
Lake has some simple words for the thief, which may or may not be inspired by Liam Neeson in the movie "Taken":
"I don't know who you are. I don't know what you want. But I will look for you. I will find you, and I will convict you."
More from Daily Dose:
RI home lived in while family was on vacation
Subscribe to the Daily Dose | Friend us on Facebook, follow us on Twitter and find us on Pinterest.
Photo: The poster Tim Lake created to find the woman who stole an Amazon.com delivery from his doorstep. (KPHO, http://aka.ms/stolen​-package)
inspire: live a better life
Our best health and fitness tips including the one move that tones all, berry news, and more.

Who just wants to stand around and watch the red and gold leaves slowly fall from their tree branches to the ground as we move from summer to fall? Instead, take in the changing seasons while you're on the move.

Here's some tips to get to happiness going forward in your life.

People 60 to 82 did best on cognitive tasks before 10:30am.

Lucille Ball was born in 1911, and though we lost her long ago, her legacy as America's favorite redhead lives on through the timeless classic, "I Love Lucy." People of all generations still enjoy Lucy's antics as much as they did over 60 years ago when the show first premiered.

Summer is coming to an end, and in a few weeks, kids will be forced to trade in their beach bags for backpacks. But just because the season is fading away doesn't mean the memories from the past few months have to disappear with it.

Confidence and perceived competence are key, study finds.

Features lead to assumptions about character, study says.

Great gear for an afternoon spent shoreside.

Use these bucket-list ideas to enjoy the little time you have left.

Study points to benefits of improved living conditions.