Man vows to find Amazon.com package thief
This man's ice cube trays have been stolen, and he has four simple words for the thief: "I will find you."
We hate to make light of theft, but this man's reaction to his stolen Amazon.com package is priceless.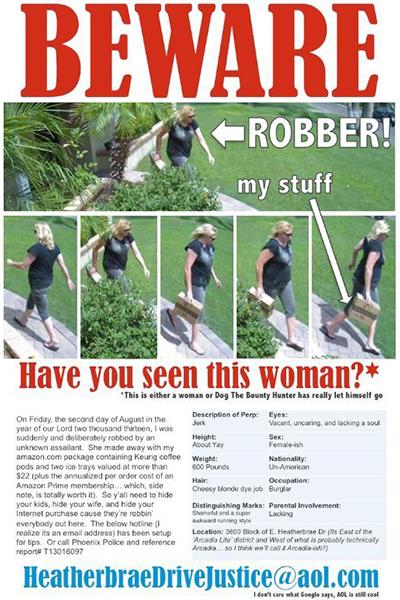 MSN Living:  Witnesses tackle man who runs from bank with cash
Tim Lake of Phoenix, Ariz., discovered that his Amazon.com package was stolen from his front porch, and now he's pulling out all the stops in search of the thief. He's posted signs around his neighborhood and even spoken to his local TV news station about the crime.
Gallery: 8 Hilarious Movies to Give to Your Friends 
A blond woman is captured on video snatching the package from Lake's house.
"You always see victims on TV, but you never think you're going to be one," Lake told Phoenix's CBS 5.
He even breaks into tears during the interview, especially when he recounts the package items:
"Ice trays that make, like, perfectly square ice cubes. For like, cocktails. Or even (breaks into tears) — now that I think about it — iced coffee. I could've made iced coffee with those things."
Lake has some simple words for the thief, which may or may not be inspired by Liam Neeson in the movie "Taken":
"I don't know who you are. I don't know what you want. But I will look for you. I will find you, and I will convict you."
More from Daily Dose:
RI home lived in while family was on vacation
Subscribe to the Daily Dose | Friend us on Facebook, follow us on Twitter and find us on Pinterest.
Photo: The poster Tim Lake created to find the woman who stole an Amazon.com delivery from his doorstep. (KPHO, http://aka.ms/stolen​-package)
inspire: live a better life
How much do you really know about the Earth? In honor of Earth Day, April 22, we explore some interesting and fun facts about the fifth-largest planet of our solar system.

Happify shares their results of a recent study on how money affects our happiness.

A top exec reveals the company's secret code

Pro tips from the guy who's done it four times

Not all mistakes are as blatant as posting party pics when you're 'sick' at home.

Everyone struggles through weekday drudgery to reach their weekend fun. But what if you could reclaim every day of your life?

Zooming up the ladder is great, but questioning yourself 24/7 is no way to succeed. Manage your stressed self with these surefire tips.

Forget trying to control every little detail. Life is lots more fun (and less stressful) when you let go from the get-go.

So, what exactly is this thing we call "happiness" and how do we get it?

Mark Zuckerberg has an even bigger effect on your life than you thought.

Everyone makes mistakes, but some mistakes can be devastating. Here are 10 icons who fell from grace, and what they can do to redeem themselves.

Twitter turns eight years old today.