Street scanner to detect concealed guns
The NYPD is testing a device for virtual pat-downs.
Yesterday, the commissioner of the NYPD announced the department is now testing a device that can detect concealed handguns on a public street.
Commissioner Ray Kelly explained at a breakfast gathering that the device reads the radiation people naturally emit and generates an image of a body glowing green. A concealed weapon, or any object obstructing the flow of radiation, will be highlighted in the image.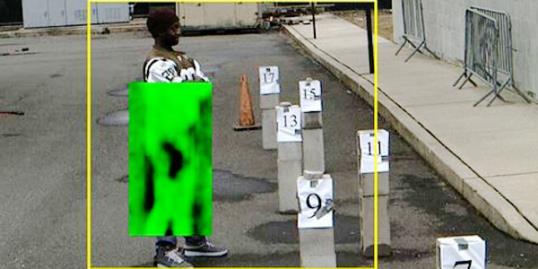 Given the 221 years since the Second Amendment was adopted, the gun debate has accelerated at a remarkable pace over the past six weeks. First came the demand to revisit laws, matched by a caution against overzealousness. Next came the proposed legislation and the fevered backlash against it.Here in phase three, a nation newly sensitized to gun issues is elevating secondary debates to the polarized top tier. Should a newspaper have identified the names and addresses of local permit holders? Was the NRA's attack ad referencing the Obama daughters fair game? Did anti-gun advocates misrepresent a congressman's position by selectively editing his TV ad?
More from the MSN Living: Your 2013 bargain calendar
The device the N.Y.P.D. is testing is big and bulky, shaped something like a television camera, but portable enough to be loaded into a police truck and stationed anywhere. Kelly cited a benefit in the police's being able to detect guns carried by criminals without resorting to pat-downs and stop-and-search procedures, but noted that the NYPD was still considering how best to deploy the technology, and would d be consulting with their legal team.
More from the MSN Living: 25 things that will keep you young
Despite the timing, the scanning device wasn't rolled out in response to the gun debate. Kelly said a year ago that his department was looking at the technology (and in the interim has been hoping to extend the device's workable range to about 80 feet). While New Yorkers at that time might have unilaterally cheered a measure to keep cops and citizens safer from illegally held arms, fervent debates over personal liberties, the Fourth Amendment (search and seizure), privacy, and gun owner rights seem inevitable to follow.
Bing: Get the latest on the gun debate.
More from Daily Dose:
Facebook can't get you fired
5 promises Obama might still keep
Infographic: A look at guns in America
Love content like this? Friend us on Facebook, follow us on Twitter and find us on Pinterest.
Photo: N.Y.P.D.
inspire: live a better life
March 14 is Pi Day, a sacred celebration in which radius and circumference lovers rejoice over circular snacks and decimal-reciting contests.

Test your intellect with these unusual facts and find out how much you know about the luck of the Irish.

From international roaming fees to skipping travel insurance, these mistakes can put a damper on your next vacation.

Where in the world do you want to go? Somewhere unique? Any of the places described here are sure to make your next world-travel adventure truly memorable.

It's easy to lead, but it takes courage and conviction to be a truly great leader. Here are 10 inspiring leaders and what we can learn from them.

Some say it's a small world. We beg to differ. Earth has so many wondrous places worth exploring, and most of us are lucky to see a handful of them. Here are 30 of the top trips of a lifetime.

The semi-annual glitch in your daily routine is back this weekend.

You'll stave off credit card debt by the end of the year if you account for these often-forgotten expenses.

Mark Zuckerberg has an even bigger effect on your life than you thought.

Take this advice to finally tackle that nagging to-do list.

The iconic storyteller would have been 110-years-old

Take the time to appreciate women's contributions to society. Here are some of the women who inspire us by their example.