Street scanner to detect concealed guns
The NYPD is testing a device for virtual pat-downs.
Yesterday, the commissioner of the NYPD announced the department is now testing a device that can detect concealed handguns on a public street.
Commissioner Ray Kelly explained at a breakfast gathering that the device reads the radiation people naturally emit and generates an image of a body glowing green. A concealed weapon, or any object obstructing the flow of radiation, will be highlighted in the image.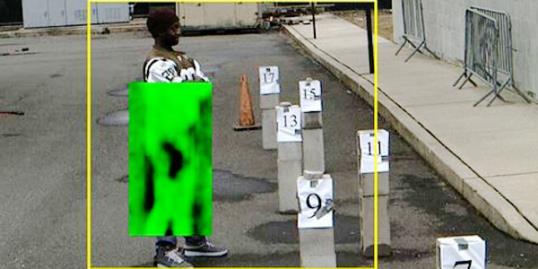 Given the 221 years since the Second Amendment was adopted, the gun debate has accelerated at a remarkable pace over the past six weeks. First came the demand to revisit laws, matched by a caution against overzealousness. Next came the proposed legislation and the fevered backlash against it.Here in phase three, a nation newly sensitized to gun issues is elevating secondary debates to the polarized top tier. Should a newspaper have identified the names and addresses of local permit holders? Was the NRA's attack ad referencing the Obama daughters fair game? Did anti-gun advocates misrepresent a congressman's position by selectively editing his TV ad?
More from the MSN Living: Your 2013 bargain calendar
The device the N.Y.P.D. is testing is big and bulky, shaped something like a television camera, but portable enough to be loaded into a police truck and stationed anywhere. Kelly cited a benefit in the police's being able to detect guns carried by criminals without resorting to pat-downs and stop-and-search procedures, but noted that the NYPD was still considering how best to deploy the technology, and would d be consulting with their legal team.
More from the MSN Living: 25 things that will keep you young
Despite the timing, the scanning device wasn't rolled out in response to the gun debate. Kelly said a year ago that his department was looking at the technology (and in the interim has been hoping to extend the device's workable range to about 80 feet). While New Yorkers at that time might have unilaterally cheered a measure to keep cops and citizens safer from illegally held arms, fervent debates over personal liberties, the Fourth Amendment (search and seizure), privacy, and gun owner rights seem inevitable to follow.
Bing: Get the latest on the gun debate.
More from Daily Dose:
Facebook can't get you fired
5 promises Obama might still keep
Infographic: A look at guns in America
Love content like this? Friend us on Facebook, follow us on Twitter and find us on Pinterest.
Photo: N.Y.P.D.
inspire: live a better life
How much do you really know about the Earth? In honor of Earth Day, April 22, we explore some interesting and fun facts about the fifth-largest planet of our solar system.

Happify shares their results of a recent study on how money affects our happiness.

A top exec reveals the company's secret code

Pro tips from the guy who's done it four times

Not all mistakes are as blatant as posting party pics when you're 'sick' at home.

Everyone struggles through weekday drudgery to reach their weekend fun. But what if you could reclaim every day of your life?

Zooming up the ladder is great, but questioning yourself 24/7 is no way to succeed. Manage your stressed self with these surefire tips.

Forget trying to control every little detail. Life is lots more fun (and less stressful) when you let go from the get-go.

So, what exactly is this thing we call "happiness" and how do we get it?

Mark Zuckerberg has an even bigger effect on your life than you thought.

Everyone makes mistakes, but some mistakes can be devastating. Here are 10 icons who fell from grace, and what they can do to redeem themselves.

Twitter turns eight years old today.