Street scanner to detect concealed guns
The NYPD is testing a device for virtual pat-downs.
Yesterday, the commissioner of the NYPD announced the department is now testing a device that can detect concealed handguns on a public street.
Commissioner Ray Kelly explained at a breakfast gathering that the device reads the radiation people naturally emit and generates an image of a body glowing green. A concealed weapon, or any object obstructing the flow of radiation, will be highlighted in the image.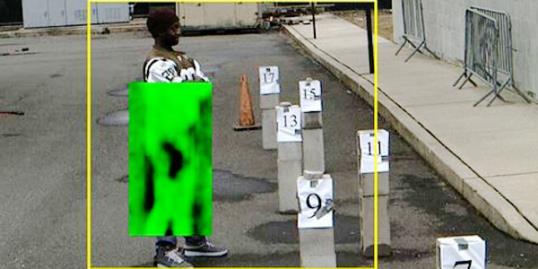 Given the 221 years since the Second Amendment was adopted, the gun debate has accelerated at a remarkable pace over the past six weeks. First came the demand to revisit laws, matched by a caution against overzealousness. Next came the proposed legislation and the fevered backlash against it.Here in phase three, a nation newly sensitized to gun issues is elevating secondary debates to the polarized top tier. Should a newspaper have identified the names and addresses of local permit holders? Was the NRA's attack ad referencing the Obama daughters fair game? Did anti-gun advocates misrepresent a congressman's position by selectively editing his TV ad?
More from the MSN Living: Your 2013 bargain calendar
The device the N.Y.P.D. is testing is big and bulky, shaped something like a television camera, but portable enough to be loaded into a police truck and stationed anywhere. Kelly cited a benefit in the police's being able to detect guns carried by criminals without resorting to pat-downs and stop-and-search procedures, but noted that the NYPD was still considering how best to deploy the technology, and would d be consulting with their legal team.
More from the MSN Living: 25 things that will keep you young
Despite the timing, the scanning device wasn't rolled out in response to the gun debate. Kelly said a year ago that his department was looking at the technology (and in the interim has been hoping to extend the device's workable range to about 80 feet). While New Yorkers at that time might have unilaterally cheered a measure to keep cops and citizens safer from illegally held arms, fervent debates over personal liberties, the Fourth Amendment (search and seizure), privacy, and gun owner rights seem inevitable to follow.
Bing: Get the latest on the gun debate.
More from Daily Dose:
Facebook can't get you fired
5 promises Obama might still keep
Infographic: A look at guns in America
Love content like this? Friend us on Facebook, follow us on Twitter and find us on Pinterest.
Photo: N.Y.P.D.
inspire: live a better life
Still pulling yourself out of holiday credit card debt? Ready to pool some funds for that beach vacation you've been dreaming about at your desk? We're with you 100 percent.

"FOMO, the fear of missing out, is a form of social anxiety," says psychiatrist Gail Saltz. "This type of fear tends to cause compulsive behaviors, like checking out other social situations even as you are in the middle of one currently."

When The Shriver Report was released in early January, we shared some of the more interesting statistics about income equality, the wage gap, and other issues confronting women.

Clay Aiken to run for public office.

Here's how to boost your joy — and put more cash in your pocket.

Our personal finance guru, Tanisha A. Sykes, shares how small investments can pay off big. Here's what you can do with the following:

You may have a corner office, a big paycheck, or a political following, but these flubs will plummet your appeal--and fast track you to the front door.

Influence anyone with these sneaky tricks.

An investment in gratitude pays valuable dividends, especially when times are tough.

Scoring big in your career means being off-target more times than you hit the bull's-eye. Learn how to make all those misses lead to success.

Raise your hand if you've been here: It's Monday morning, and you've been up all night wiping your runny nose, coughing, and feeling achy all over.

5 proven tips to maximize your productivity.