Street scanner to detect concealed guns
The NYPD is testing a device for virtual pat-downs.
Yesterday, the commissioner of the NYPD announced the department is now testing a device that can detect concealed handguns on a public street.
Commissioner Ray Kelly explained at a breakfast gathering that the device reads the radiation people naturally emit and generates an image of a body glowing green. A concealed weapon, or any object obstructing the flow of radiation, will be highlighted in the image.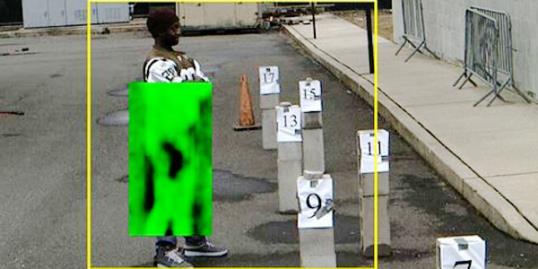 Given the 221 years since the Second Amendment was adopted, the gun debate has accelerated at a remarkable pace over the past six weeks. First came the demand to revisit laws, matched by a caution against overzealousness. Next came the proposed legislation and the fevered backlash against it.Here in phase three, a nation newly sensitized to gun issues is elevating secondary debates to the polarized top tier. Should a newspaper have identified the names and addresses of local permit holders? Was the NRA's attack ad referencing the Obama daughters fair game? Did anti-gun advocates misrepresent a congressman's position by selectively editing his TV ad?
More from the MSN Living: Your 2013 bargain calendar
The device the N.Y.P.D. is testing is big and bulky, shaped something like a television camera, but portable enough to be loaded into a police truck and stationed anywhere. Kelly cited a benefit in the police's being able to detect guns carried by criminals without resorting to pat-downs and stop-and-search procedures, but noted that the NYPD was still considering how best to deploy the technology, and would d be consulting with their legal team.
More from the MSN Living: 25 things that will keep you young
Despite the timing, the scanning device wasn't rolled out in response to the gun debate. Kelly said a year ago that his department was looking at the technology (and in the interim has been hoping to extend the device's workable range to about 80 feet). While New Yorkers at that time might have unilaterally cheered a measure to keep cops and citizens safer from illegally held arms, fervent debates over personal liberties, the Fourth Amendment (search and seizure), privacy, and gun owner rights seem inevitable to follow.
Bing: Get the latest on the gun debate.
More from Daily Dose:
Facebook can't get you fired
5 promises Obama might still keep
Infographic: A look at guns in America
Love content like this? Friend us on Facebook, follow us on Twitter and find us on Pinterest.
Photo: N.Y.P.D.
inspire: live a better life
With all those deals you snagged on Black Friday, Small Business Saturday, and Cyber Monday, today is your chance to give back to those in need with #GivingTuesday.

Miss Manners provides guidance on how to handle a request for party contributions

Miss Manners instructs on why tit-for-tat never works

Miss Manners offers thoughts on guests who disregard dinner party instructions

Make big bucks, from home, having fun? These women got creative and figured out a way to have it all. You can too.

Your boss. You might like her, you probably respect her, but do you know how to approach someone who seems so different from you? (Spoiler: She's actually not.)

Over the weekend, Oprah decluttered her Montecito mansion and three other properties in a Santa Barbara yard sale that brought in more than $600,000(!). (Proceeds will benefit her girls' leadership academy in South Africa, and not half of a Crate and Barrel chair, the traditional end goal of yard-sale proceeds.)

Exclusively for MSN, we bring you a six-part series from the new book: MISS MANNERS MINDS YOUR BUSINESS by Judith and Nicholas Ivor Martin.

Miss Manners weighs in on the financial burdens of remote weddings

How Miss Manners suggests dealing with out of town guest who want tour guide services

Exclusively for MSN, we bring you a six-part series from the new book: MISS MANNERS MINDS YOUR BUSINESS by Judith and Nicholas Ivor Martin.