Mansion made from trash: Poor man's Hearst Castle
Located on the outskirts of Cambria, Calif., Nit Wit Ridge is made entirely of trash and took 50 years to complete.
One man's trash is another man's treasure. Especially when it comes to Nitt Wit Ridge, a one-of-a-kind "castle" that was constructed using pieces of recycled trash including beer cans, toilets, abalone shells, car parts, and even some broken tiles thrown away by the Hearst building crew.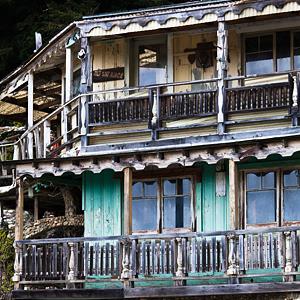 More on MSN Living: 50 worst celebrity hairstyles of all time
Built by Arthur Harold Beal, aka Captain Nitt Wit or Der Tinkerpaw, the 90-year-old two-and-a-half acre home on the outskirts of Cambria, California (just down the road from Hearst Castle) is a Historic Landmark in the area and a fine example of folk art, reports Oddity Central.
Beal, a local trash hauler, embarked on the project in 1928. A hoarder decades before obsessive collecting hit the reality TV circuit, the rubbish lover saved everything he could get his hands on. Over the course of nearly a lifetime, he taught himself basic construction skills, and, using trash, built and intricate network of terrace gardens, ornamental stone arches, buildings, fountains and walkways.
More on MSN Living: Worst celeb fashions of the year
When Beal passed away in 1992 at the age of 96, his ashes were spread around his favorite redwood on Nitt Wit Ridge. Since then, the property has been owned by Michael and Stacey O'Malley, who will arrange tours for people looking for a less (ahem) grandiose experience compared to their nearby neighbor.
Read more about this unique piece of architecture and how it was built here.
Bing: Strangest houses around the world
Photo: Danita Delimont/Alamy
More from The Daily Dose:
Unknown Hans Christian Andersen fairy tale found
Gun ownership among women rising
Gender gaps in pay: Worst and best states
inspire: live a better life
You'll stave off credit card debt by the end of the year if you account for these often-forgotten expenses.

Mark Zuckerberg has an even bigger effect on your life than you thought.

Take this advice to finally tackle that nagging to-do list.

The iconic storyteller would have been 110-years-old

Take the time to appreciate women's contributions to society. Here are some of the women who inspire us by their example.

Cast of the iconic TV show reunites for Florence Henderson's birthday

We couldn't be more excited to watch the best athletes in the world compete at the Winter Olympics in Sochi. This year, about 44 percent of the competitors are women according to the International Olympic Committee—which is awesome but wasn't always the case. Let's look back at some of the amazing women who paved the way with incredible, memorable feats of girl power.

Still pulling yourself out of holiday credit card debt? Ready to pool some funds for that beach vacation you've been dreaming about at your desk? We're with you 100 percent.

"FOMO, the fear of missing out, is a form of social anxiety," says psychiatrist Gail Saltz. "This type of fear tends to cause compulsive behaviors, like checking out other social situations even as you are in the middle of one currently."

When The Shriver Report was released in early January, we shared some of the more interesting statistics about income equality, the wage gap, and other issues confronting women.

Clay Aiken to run for public office.

Here's how to boost your joy — and put more cash in your pocket.