Mansion made from trash: Poor man's Hearst Castle
Located on the outskirts of Cambria, Calif., Nit Wit Ridge is made entirely of trash and took 50 years to complete.
One man's trash is another man's treasure. Especially when it comes to Nitt Wit Ridge, a one-of-a-kind "castle" that was constructed using pieces of recycled trash including beer cans, toilets, abalone shells, car parts, and even some broken tiles thrown away by the Hearst building crew.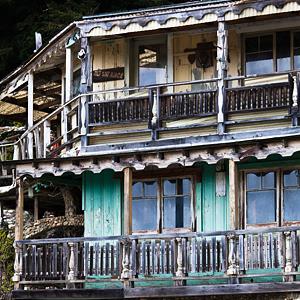 More on MSN Living: 50 worst celebrity hairstyles of all time
Built by Arthur Harold Beal, aka Captain Nitt Wit or Der Tinkerpaw, the 90-year-old two-and-a-half acre home on the outskirts of Cambria, California (just down the road from Hearst Castle) is a Historic Landmark in the area and a fine example of folk art, reports Oddity Central.
Beal, a local trash hauler, embarked on the project in 1928. A hoarder decades before obsessive collecting hit the reality TV circuit, the rubbish lover saved everything he could get his hands on. Over the course of nearly a lifetime, he taught himself basic construction skills, and, using trash, built and intricate network of terrace gardens, ornamental stone arches, buildings, fountains and walkways.
More on MSN Living: Worst celeb fashions of the year
When Beal passed away in 1992 at the age of 96, his ashes were spread around his favorite redwood on Nitt Wit Ridge. Since then, the property has been owned by Michael and Stacey O'Malley, who will arrange tours for people looking for a less (ahem) grandiose experience compared to their nearby neighbor.
Read more about this unique piece of architecture and how it was built here.
Bing: Strangest houses around the world
Photo: Danita Delimont/Alamy
More from The Daily Dose:
Unknown Hans Christian Andersen fairy tale found
Gun ownership among women rising
Gender gaps in pay: Worst and best states
inspire: live a better life
No one looks forward to washing windows or storing the ski gear or the other chores associated with spring-cleaning. But this annual ritual does not have to be a drag, if you approach it in a slightly different way. "You've been cooped up with this cave-like mentality all winter; now it's time to break free and play," says R.D. Chin, a feng shui architect and consultant in New York City. "It's time to follow the cycle of nature, get rid of the clutter, and free up your mind." Here's our idea of what a truly effective spring-cleaning can look like.

American presidents garner most votes over celebrities in a poll ranking the 100 most significant citizens.

Heading to a world-class beach town is always a safe bet for a great vacation, but if you want something that tests your limits, consider a more extreme spot. Here are 10 places around the world that require a winter coat year-round and offer spectacular glaciers, ice features, and the best snow anywhere.

From the Grand Canyon to the Statue of Liberty, the U.S. boasts world-famous national parks, historical sites and landmarks. Beyond the well-known locations, there's a wealth of undiscovered destinations stretching from coast to coast worth visiting. From scenic sand dunes to wild mountains, here's 51 places within America that you've probably never heard of.

How much do you really know about the Earth? In honor of Earth Day, April 22, we explore some interesting and fun facts about the fifth-largest planet of our solar system.

Most of the stuff we worry about never happens.

You've written an email, and need to wrap it up. You could end with a simple "Sincerely," tack on your name, and then shoot it out the door, proving definitively that you suck at communication.

Here are nine of the most extreme trips on the planet -- and the outfitters that take adventurers over the edge and back again.

A true challenge is within your reach. All it takes is a few months to get in shape and a few days off work.

Think you got what it takes to be included in the pages of the Guinness Book of World Records? We consult one of the judges to help you on your quest.

Just a few years ago, the term "home automation" meant a bunch of blinking lights and a headache. But thanks to simpler interfaces and the rise of smartphones, new tech can transform your house into a safer, more comfortable, less wasteful place.

If you're like most people, flying around in a big metal tube in the sky isn't your idea of a fun time. From the terrible food to the cramped space, flying can be a miserable experience. Don't make the flight even more soul-sucking by breaking airplane etiquette. We've compiled a list of the worst-inflight offenders. by Rebecca Pattee