Mansion made from trash: Poor man's Hearst Castle
Located on the outskirts of Cambria, Calif., Nit Wit Ridge is made entirely of trash and took 50 years to complete.
One man's trash is another man's treasure. Especially when it comes to Nitt Wit Ridge, a one-of-a-kind "castle" that was constructed using pieces of recycled trash including beer cans, toilets, abalone shells, car parts, and even some broken tiles thrown away by the Hearst building crew.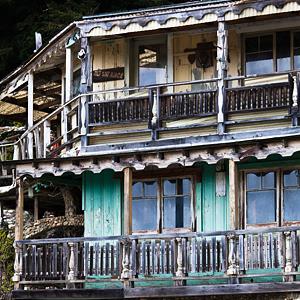 More on MSN Living: 50 worst celebrity hairstyles of all time
Built by Arthur Harold Beal, aka Captain Nitt Wit or Der Tinkerpaw, the 90-year-old two-and-a-half acre home on the outskirts of Cambria, California (just down the road from Hearst Castle) is a Historic Landmark in the area and a fine example of folk art, reports Oddity Central.
Beal, a local trash hauler, embarked on the project in 1928. A hoarder decades before obsessive collecting hit the reality TV circuit, the rubbish lover saved everything he could get his hands on. Over the course of nearly a lifetime, he taught himself basic construction skills, and, using trash, built and intricate network of terrace gardens, ornamental stone arches, buildings, fountains and walkways.
More on MSN Living: Worst celeb fashions of the year
When Beal passed away in 1992 at the age of 96, his ashes were spread around his favorite redwood on Nitt Wit Ridge. Since then, the property has been owned by Michael and Stacey O'Malley, who will arrange tours for people looking for a less (ahem) grandiose experience compared to their nearby neighbor.
Read more about this unique piece of architecture and how it was built here.
Bing: Strangest houses around the world
Photo: Danita Delimont/Alamy
More from The Daily Dose:
Unknown Hans Christian Andersen fairy tale found
Gun ownership among women rising
Gender gaps in pay: Worst and best states
inspire: live a better life
Our best health and fitness tips including the one move that tones all, berry news, and more.

Who just wants to stand around and watch the red and gold leaves slowly fall from their tree branches to the ground as we move from summer to fall? Instead, take in the changing seasons while you're on the move.

Here's some tips to get to happiness going forward in your life.

People 60 to 82 did best on cognitive tasks before 10:30am.

Lucille Ball was born in 1911, and though we lost her long ago, her legacy as America's favorite redhead lives on through the timeless classic, "I Love Lucy." People of all generations still enjoy Lucy's antics as much as they did over 60 years ago when the show first premiered.

Summer is coming to an end, and in a few weeks, kids will be forced to trade in their beach bags for backpacks. But just because the season is fading away doesn't mean the memories from the past few months have to disappear with it.

Confidence and perceived competence are key, study finds.

Features lead to assumptions about character, study says.

Great gear for an afternoon spent shoreside.

Read on for surefire strategies to boost your bliss.

Use these bucket-list ideas to enjoy the little time you have left.