Mansion made from trash: Poor man's Hearst Castle
Located on the outskirts of Cambria, Calif., Nit Wit Ridge is made entirely of trash and took 50 years to complete.
One man's trash is another man's treasure. Especially when it comes to Nitt Wit Ridge, a one-of-a-kind "castle" that was constructed using pieces of recycled trash including beer cans, toilets, abalone shells, car parts, and even some broken tiles thrown away by the Hearst building crew.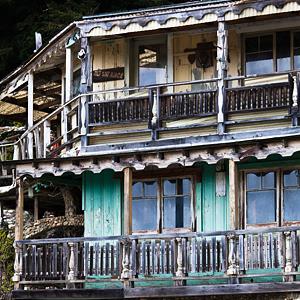 More on MSN Living: 50 worst celebrity hairstyles of all time
Built by Arthur Harold Beal, aka Captain Nitt Wit or Der Tinkerpaw, the 90-year-old two-and-a-half acre home on the outskirts of Cambria, California (just down the road from Hearst Castle) is a Historic Landmark in the area and a fine example of folk art, reports Oddity Central.
Beal, a local trash hauler, embarked on the project in 1928. A hoarder decades before obsessive collecting hit the reality TV circuit, the rubbish lover saved everything he could get his hands on. Over the course of nearly a lifetime, he taught himself basic construction skills, and, using trash, built and intricate network of terrace gardens, ornamental stone arches, buildings, fountains and walkways.
More on MSN Living: Worst celeb fashions of the year
When Beal passed away in 1992 at the age of 96, his ashes were spread around his favorite redwood on Nitt Wit Ridge. Since then, the property has been owned by Michael and Stacey O'Malley, who will arrange tours for people looking for a less (ahem) grandiose experience compared to their nearby neighbor.
Read more about this unique piece of architecture and how it was built here.
Bing: Strangest houses around the world
Photo: Danita Delimont/Alamy
More from The Daily Dose:
Unknown Hans Christian Andersen fairy tale found
Gun ownership among women rising
Gender gaps in pay: Worst and best states
inspire: live a better life
Use these bucket-list ideas to enjoy the little time you have left.

Study points to benefits of improved living conditions.

Don't leave home without these must-have items.

Handshakes spread 20 times more germs, study says.

Drowning in debt? Maybe there's a silver lining.

"But it's not real life, you know. It's a vacation."

Our list of must-dos before hitting the road.

Summer traditions can be great, but if you're on year six of packing the same people into the same car to go on the same vacation, it's time to switch things up. Surfing in Portugal, perhaps – or cycling through Northern Ireland. We've put together a list of 15 places well off the beaten path that you should go to when you're ready to try something new.

Grab a sleeping bag and head out to one of these amazing campsites.

A dozen adventures that are well worth the trip.

Paper downplays the significance of practice over raw talent.

Survey says American teens aren't great at complex or basic financial tasks.