Mansion made from trash: Poor man's Hearst Castle
Located on the outskirts of Cambria, Calif., Nit Wit Ridge is made entirely of trash and took 50 years to complete.
One man's trash is another man's treasure. Especially when it comes to Nitt Wit Ridge, a one-of-a-kind "castle" that was constructed using pieces of recycled trash including beer cans, toilets, abalone shells, car parts, and even some broken tiles thrown away by the Hearst building crew.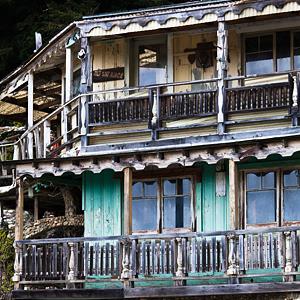 More on MSN Living: 50 worst celebrity hairstyles of all time
Built by Arthur Harold Beal, aka Captain Nitt Wit or Der Tinkerpaw, the 90-year-old two-and-a-half acre home on the outskirts of Cambria, California (just down the road from Hearst Castle) is a Historic Landmark in the area and a fine example of folk art, reports Oddity Central.
Beal, a local trash hauler, embarked on the project in 1928. A hoarder decades before obsessive collecting hit the reality TV circuit, the rubbish lover saved everything he could get his hands on. Over the course of nearly a lifetime, he taught himself basic construction skills, and, using trash, built and intricate network of terrace gardens, ornamental stone arches, buildings, fountains and walkways.
More on MSN Living: Worst celeb fashions of the year
When Beal passed away in 1992 at the age of 96, his ashes were spread around his favorite redwood on Nitt Wit Ridge. Since then, the property has been owned by Michael and Stacey O'Malley, who will arrange tours for people looking for a less (ahem) grandiose experience compared to their nearby neighbor.
Read more about this unique piece of architecture and how it was built here.
Bing: Strangest houses around the world
Photo: Danita Delimont/Alamy
More from The Daily Dose:
Unknown Hans Christian Andersen fairy tale found
Gun ownership among women rising
Gender gaps in pay: Worst and best states
inspire: live a better life
With all those deals you snagged on Black Friday, Small Business Saturday, and Cyber Monday, today is your chance to give back to those in need with #GivingTuesday.

Miss Manners provides guidance on how to handle a request for party contributions

Miss Manners instructs on why tit-for-tat never works

Miss Manners offers thoughts on guests who disregard dinner party instructions

Make big bucks, from home, having fun? These women got creative and figured out a way to have it all. You can too.

Your boss. You might like her, you probably respect her, but do you know how to approach someone who seems so different from you? (Spoiler: She's actually not.)

Over the weekend, Oprah decluttered her Montecito mansion and three other properties in a Santa Barbara yard sale that brought in more than $600,000(!). (Proceeds will benefit her girls' leadership academy in South Africa, and not half of a Crate and Barrel chair, the traditional end goal of yard-sale proceeds.)

Exclusively for MSN, we bring you a six-part series from the new book: MISS MANNERS MINDS YOUR BUSINESS by Judith and Nicholas Ivor Martin.

Miss Manners weighs in on the financial burdens of remote weddings

How Miss Manners suggests dealing with out of town guest who want tour guide services

Exclusively for MSN, we bring you a six-part series from the new book: MISS MANNERS MINDS YOUR BUSINESS by Judith and Nicholas Ivor Martin.