Where's the data on gun violence?
When it comes to objective data about gun violence, everybody's shooting in the dark.
As the gun debate is pushed further to the forefront of national discourse, advocates on both sides are pushing their own agendas via press releases, TV commercials, web ads and editorials.
But there's a hiccup in this media shoot-out: a scarcity of cold hard facts about the real toll of gun violence in the United States. Much of the information presented is anecdotal or relates to individual news events, be it the Atlanta mother who shot a burglar early this month when he discovered her hiding family, or the headline story this weekend about a woman in Chicago whose son was killed in a gunfight—her fourth child to die at the end of a barrel.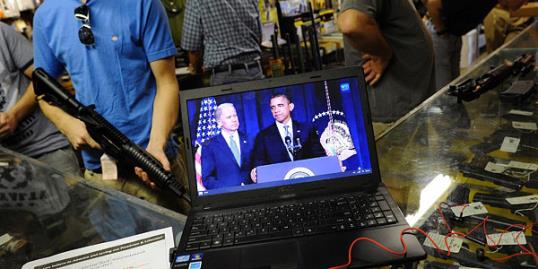 The U.S. government has done studies on health and public safety concerns about everything from cigarettes to seat belts, and they've proven beneficial. Reports on tobacco and auto safety over the past half century have led to significant decreases in deaths from smoking and driving. Yet, we've never seen a comprehensive government study on the effects of gun violence in America—which would seem to be a no-brainer in the public safety department. Strange, but true.
But there is a reason for it: Back in 1996, the NRA effectively lobbied Congress to make it impossible to put money into any efforts to study the issue.
Bing: Latest on the gun debate
There were several governmental studies in the 1990s, under the auspices of the Centers For Disease Control and other agencies, that highlighted the risks associated with gun ownership. The findings of these government entities ran counter to the NRA's stated positions and claims, and so began an intense full-court press on Congress to shut down gun studies.
The NRA was resoundingly successful. In 1996, Congress began inserting the following wording into appropriations bills: "None of the funds made available in this title may be used, in whole or in part, to advocate or promote gun control."
Almost immediately, more than $2 million earmarked for CDC studies into gun violence was diverted into studies on brain injury.
This Congressional constraint has since applied to budgets across the spectrum, including the CDC, Health And Human Services, and even Defense Department appropriations. In the past 17 years, no government study of any note has explored the effects of guns on our society.
Now, President Obama wants $10 million given to the CDC to explore both the causes and possible prevention of gun violence. History has not been in favor of such intentions, but the rhetoric for and against gun control has rarely been this intense.
More from Daily Dose:
Street scanner to detect concealed guns
Facebook can't get you fired
5 promises Obama might still keep
Love content like this? Friend us on Facebook, follow us on Twitter and find us on Pinterest.
Photo: Gun shop customers in Sarasota, Fla., shop for weapons as they listen to announcement about gun control by Obama, Jan. 16 2013 (Brian Blanco/Reuters)

inspire: live a better life
Summer and winter tend to hog all the glory when it comes to travel high seasons. Sure, you want to soak up all the time at the beach you can during the summer, and you just want to escape the cold during the last months of the year.

Who just wants to stand around and watch the red and gold leaves slowly fall from their tree branches to the ground as we move from summer to fall? Instead, take in the changing seasons while you're on the move.

In September, I'll turn 38. I'm at the age now where, when people ask how old I am, it takes me a minute to remember. I don't know if that's because I've already been 37 different ages and it's hard to keep straight which one I am now, or if it's because I'm in denial, or if it's because I am going senile. Maybe a combination of all of the above. Regardless, my 30s have flown by and soon they will be but a memory. So, in an effort to preserve the memory I have left (or at least keep a record of it), and to celebrate what has been an amazing decade so far, here are 30 things that have happened to me in my 30s (and will probably happen to you too):

Traveling doesn't have to be stressful. And what you can fit in your carry-on can make all the difference (and not just a fresh pair of socks), especially when you get that low battery signal.

Volunteering (and these other rituals) might be just as good as exercise when it comes to extending your life.

Use these tricks to set a better tone for the rest of the week.

Whether it involves a food fight, mermaids or a torch-lit procession, people the world over know how to have a good time. Here are some of the biggest, boldest, booziest celebrations around, along with some tips to get the full experience.

Research could mean more effective treatment for human disorders.

An entry a day might keep the doctor away (or at least the shrink).

One woman's shout-outs to daily moments of joy — and how to cultivate them.

Our best health and fitness tips including the one move that tones all, berry news, and more.