Rock Shows, Then & Now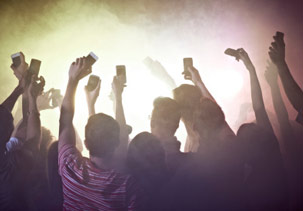 Summertime is rock concert season, when any act that can afford to be on the road rolls across the country to perform in theatres, clubs, parks and arenas. For music fans, even a bad rock show beats a good night of just about anything else. But every time I pass through a turnstile and have my $120 Ticketmaster ticket scanned by a uniformed guard, I can't help but wonder: Who scrubbed my rock show clean?
A night at a rock concert used to be a thrilling mixture of sound, depravity, and danger. After the opening act was booed off the stage, the house lights would come back up on a smokey, buzzed crowd. Frisbees would cut through the haze from across the arena, and if you didn't catch the one coming at your head, you were razzed by your entire seating section. The crowd would surge when the house went black again, and as the headliner took the stage you could start plotting your move down to better seats, a chance that felt like it involved the small but noteworthy risk of being shivved by a guy in a babushka. Down on the floor, you were helpless to move between the muscleheads in cut-off sleeves and their girlfriends in cut-off shorts. You'd catch a whiff of something skunky, then see a glowing ember being passed down the row in your direction. Hours later, you'd arrive home with Jack Daniels on your breath, ringing in your ears, and sweaty clothes reeking like an ashtray.
It was awesome.
Today, the big concerts are mother-daughter affairs — a potentially lively but antiseptic evening of orderly listening. There's no smoking (as Joe Jackson once bemoaned), the aisles are kept clear by security, and everybody's cleaned up nice like they're at a Broadway show. Some dingus with a corporate connection always seems to have bought up the two rows in front of you; he and his colleagues will leave before the encore to beat traffic. It was never easy to get a clear view of the stage from the floor seats, but now arms held high to capture video jut into your line of sight all night long. Audiences are alighted with mobile phones instead of lighters, and while the band pours its heart out onstage, someone next to you is busy texting. You will be safely on your way home no later than 11:00 pm.
It's more civilized, sure, but a rock and roll show was never supposed to be about civility. At the indoor/outdoor sheds, concertgoers set up picnic blankets on the lawn, where they can sip pink zinfandel and enjoy a nice brie. In the box seats at bigger venues, staff are available to serve sushi and mix drinks. Worst of the lot are the ginormous football-stadium tours. These places have the acoustics of an airplane hangar, and unless your dad's on the board at Verizon you sit a quarter mile away watching the entire performance on a Diamond Vision screen. It's like forty thousand people gathered to watch TV together. At the end of the night concertgoers take home overpriced souvenirs as if they just visited an acquarium.
Rock goes wrong when it plays to the same criteria as other types of entertainment. The whole rock and roll aesthetic gets put through the blender. If a single scrap of the original ethic can be still be salvaged, it should be the part that kicks up some dirt at social norms. But being social and being normal are at the core of big rock shows today. Footage from a recent Coldplay concert at a 60,000-seater shows a U.K. audience being lit up in sync like each person is a pixel on a giant screen. The fans were given wristbands called Xylobands — fitting for a band with an album called Mylo Xyloto — with colored LED diodes that are radio-controlled to blink in time with the music. The gimmick makes for a cool lighting trick; everyone becomes part of the spectacle.
It's a squeaky-clean good time, designed to be enjoyed the same way and to the same extent by everyone involved. That's characteristic of an age in which each experience has to be social and normal. It is to be shared communally in the concert hall as it is online. Being unilaterally appealing and playing within the margins of acceptability increases the social relevance and "likeability." Like a Wall post on Facebook, a rock show today is equally about the thing itself and its capability to be shared.
You can still dig up a genuine rock and roll experience if you catch the right band at the right venue. But at the shows by acts big enough to sell out ballparks and arenas, with only a few rare exceptions, rock has rolled over. The whole gig has been socialized and normalized.
inspire: live a better life
Summer and winter tend to hog all the glory when it comes to travel high seasons. Sure, you want to soak up all the time at the beach you can during the summer, and you just want to escape the cold during the last months of the year.

Who just wants to stand around and watch the red and gold leaves slowly fall from their tree branches to the ground as we move from summer to fall? Instead, take in the changing seasons while you're on the move.

In September, I'll turn 38. I'm at the age now where, when people ask how old I am, it takes me a minute to remember. I don't know if that's because I've already been 37 different ages and it's hard to keep straight which one I am now, or if it's because I'm in denial, or if it's because I am going senile. Maybe a combination of all of the above. Regardless, my 30s have flown by and soon they will be but a memory. So, in an effort to preserve the memory I have left (or at least keep a record of it), and to celebrate what has been an amazing decade so far, here are 30 things that have happened to me in my 30s (and will probably happen to you too):

Traveling doesn't have to be stressful. And what you can fit in your carry-on can make all the difference (and not just a fresh pair of socks), especially when you get that low battery signal.

Volunteering (and these other rituals) might be just as good as exercise when it comes to extending your life.

Use these tricks to set a better tone for the rest of the week.

Whether it involves a food fight, mermaids or a torch-lit procession, people the world over know how to have a good time. Here are some of the biggest, boldest, booziest celebrations around, along with some tips to get the full experience.

Research could mean more effective treatment for human disorders.

An entry a day might keep the doctor away (or at least the shrink).

One woman's shout-outs to daily moments of joy — and how to cultivate them.

Our best health and fitness tips including the one move that tones all, berry news, and more.