The day the world eats haggis
Most common in Scotland and Northern Ireland, on Jan. 25 people celebrate the life of the poet Robert Burns with Scottish food, whiskey and poetry, then toast—or roast—the opposite sex, at a Burns Supper that includes "piping of the haggis."
"But if ye wish her grateful prayer, give her a haggis!"
The concluding injunction to Robert Burns' poem Address to a Haggis will be echoed with whiskey breath around the world today, Jan. 25, during annual Burns Suppers, also called Burns Nights, held in private homes and clubs throughout the world. (The event is more widely celebrated in Scotland than St. Andrew's Day, the national holiday.)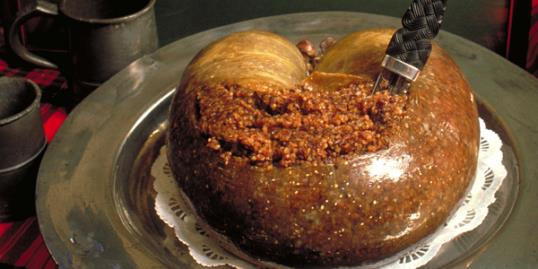 Scottish whiskey and poems will flow in celebration of the 18th century Scottish poet who penned the famous lyric poems Auld Lang Syne, A Red, Red Rose and Tom o' Shanter.
But honoring the "ploughman's poet," a man who shaped and saved the Scottish tongue--opinions vary on that legacy--won't be the only thing on the evening's itinerary. Traditional Burns Suppers abide by a strict and somewhat silly agenda.
After the host delivers a welcome address, all attendants say the Selkirk Grace, a traditional Scottish dinner prayer attributed to Burns.
The "piping of the haggis" follows; bagpipes wheeze and wail while diners recite poems from Burns' oeuvre. All poem readings are dramatic, incorporating real or feigned Scottish accents.
More from the MSN Living: Your 2013 bargain calendar
Then Address to a Haggis is read while the master of ceremonies carves the haggis. A toast is made to the haggis, acknowledging its contribution to the night's literary event.
Tartan clad feasters tuck into dishes of the savory pudding, tatties and neeps (mashed potatoes and turnips), birdies (meat pies) and cullen skink (fish stew).
After supping, an attendee gives a speech of "immortal memory" celebrating Burns' life (he was a ladies man from a poor farming family) and his work (he was a chronicler and major contributor to both the Scottish and Romantic traditions). A thanks is given to the speaker and a toast drank to Burns.
Bing: What is haggis?
The "toast to the lassies," a comic or serious homage paid to the ladies in attendance by the gents, follows. A drink to the health of the females concludes this portion of the program. But wait, the women must reply with a "toast to the lads," and another drink.
More from the MSN Living: 25 things that will keep you young
As the night becomes more booze-fueled, further toasts and readings of poetry, not limited to Burns' works, usually become more animated while the accents become less comprehensible.
Naturally the supper must include with the singing of Auld Lang Syne.
More from Daily Dose:
Facebook can't get you fired
5 promises Obama might still keep
Infographic: A look at guns in America
Love content like this? Friend us on Facebook, follow us on Twitter and find us on Pinterest.
Photo: VisitBritain/Britain​ on View/Getty Images
inspire: live a better life
Summer traditions can be great, but if you're on year six of packing the same people into the same car to go on the same vacation, it's time to switch things up. Surfing in Portugal, perhaps – or cycling through Northern Ireland. We've put together a list of 15 places well off the beaten path that you should go to when you're ready to try something new.

Grab a sleeping bag and head out to one of these amazing campsites.

A dozen adventures that are well worth the trip.

Paper downplays the significance of practice over raw talent.

Survey says American teens aren't great at complex or basic financial tasks.

Fear of Moving Away: How to conquer the latest cultural anxiety and embrace the unknown.

Adulthood has no eureka moment.

Just like your body, your brain needs a regular workout too.

Being a winner is a good feeling to have — especially in life. Winning doesn't solely relate to competitions or Charlie Sheen's coining of the term back in 2011. From achieving success to maintaining a work-life balance, find out what characteristics mean your life is going the way it should be. You may just even find an inspiration or two that you'll want to incorporate into your daily routine!

Sometimes it seems like you need a vacation from your vacation.

That'll get you and your 2 kids a house, SUV, and more, per a 'USA Today' analysis.

While most of us associate the Fourth of July with fireworks and barbecue (and taking a long weekend off from work), it's also an important day to give thanks to the people who help keep us safe.