Wallenda preps for Grand Canyon tightrope walk
Daredevil to make first-ever attempt.
"I have to respect it, but I would never do what I do if I was scared."
Respect, inner peace and guts of steel — that's what it will take for daredevil Nik Wallenda to succeed this Sunday in his attempt to walk across the Grand Canyon on a 2-inch steel wire.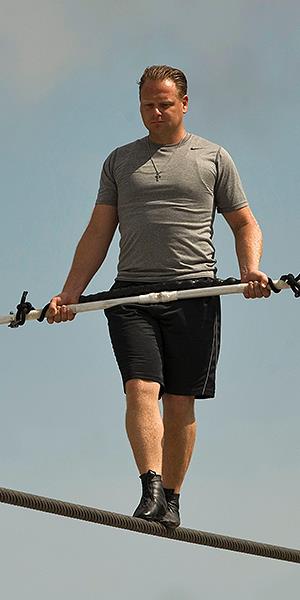 No one has walked across the Grand Canyon before, and the stunt will be Nik Wallenda's longest and highest tightrope attempt ever. His cable will stretch more than a quarter mile across the canyon. No tethers or safety nets will protect him from the 1,500-foot drop between the cable and the Little Colorado River below.
Gallery: 20 things everyone should do at least once
The height of Walllenda's wire exceeds the height of the Empire State Building (1,250 feet) and even Chicago's Sears Tower, now renamed the Willis Tower (1,451 feet). It will even be higher than Philippe Petit's 1,368-foot high-wire walk between the Twin Towers in 1974.
Bing: Most daring stunts ever performed
Wallenda has said his greatest concern is unpredictable wind. While training in Florida, Wallenda's team has had air boats whip up winds of more than 90 mph to simulate the gusts that can run up the Grand Canyon walls.
The walk will be broadcast live on the Discovery Channel (8 p.m.
ET/5 p.m. PT), with a 10-second delay. Wallenda will be miked up and talking with the show's hosts as he crosses the wire, and a mounted camera will capture his point of view.
Gallery: 20 things your friends wish you'd stop posting on Facebook
"My entire life has been spent training for this," Wallenda has said. Nik is a seventh-generation member of the legendary Flying Wallendas family, who were famed for fearless acrobatic feats including the seven-person pyramid — a signature stunt that killed two troupe members and crippled a third when the pyramid collapsed in 1962.
Nik is the great-grandson of Karl Wallenda, who met his end in 1978 on a high-wire walk in Puerto Rico. In 2011, Nik and his mother walked between the two towers of the Candado Plaza Hotel where Karl Wallenda died.
Nik Wallenda has already made his mark on daredevil history, and last June became the first person ever to walk across Niagra Falls on a 2-inch wire. That walk put him at a treacherous 200 feet above the falls — which was still 130 stories closer to the ground than Wallenda will be on Sunday.
More from Daily Dose:
Pay-what-you-weigh airline adds XL seats
Boston woman pays $560,000 for 2 parking spots
2,500-year-old mummy gets rare cleaning
Subscribe to the Daily Dose | Friend us on Facebook, follow us on Twitter and find us on Pinterest.
Photo: High wire walker Nik Wallenda//Steve Nesius/Reuters

inspire: live a better life
Use these bucket-list ideas to enjoy the little time you have left.

Study points to benefits of improved living conditions.

Don't leave home without these must-have items.

Handshakes spread 20 times more germs, study says.

Drowning in debt? Maybe there's a silver lining.

"But it's not real life, you know. It's a vacation."

Our list of must-dos before hitting the road.

Summer traditions can be great, but if you're on year six of packing the same people into the same car to go on the same vacation, it's time to switch things up. Surfing in Portugal, perhaps – or cycling through Northern Ireland. We've put together a list of 15 places well off the beaten path that you should go to when you're ready to try something new.

Grab a sleeping bag and head out to one of these amazing campsites.

A dozen adventures that are well worth the trip.

Paper downplays the significance of practice over raw talent.

Survey says American teens aren't great at complex or basic financial tasks.