Britain isn't so great, politicians propose
Ministers suggest a negative branding campaign to deter Bulgarian and Romanian immigrants.
The wet weather, the rent and the food: Britain leaves a lot to be desired.
That is what several British politicians want to promulgate, specifically in Bulgaria and Romania, in an effort to deter potential immigrants from those countries.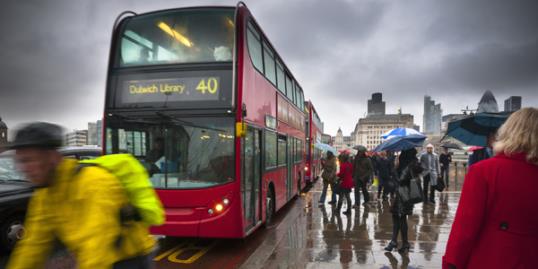 Next year a limit on the number of immigrants from the two EU nations will expire, which could cause an influx of Bulgarian and Romanian migrants to the UK. To prevent potential drain on the mending British economy, several ministers proposed that the country run a negative advertising campaign about itself. 
More from the MSN Living: Your 2013 bargain calendar
A Downing Street source confirmed that advertisements were discussed, saying to the Guardian, "It is true that options are being looked at but we are not commenting on the specific things mentioned ..."
Keith Vaz, Labour MP and chairman of the Commons Home Affairs Select Committee, said that "advertisements and propaganda trying to stop Romanian and Bulgarians coming to Britain borders on the farcical," according to the BBC.
More from the MSN Living: 25 things that will keep you young
Advertising isn't the UK's only recourse, however. The government is also looking at preventing access to public services for immigrants, requiring employment after three months of residence or maintaining the restriction on number against Bulgarians and Romanians who enter Britain, which would fly in the face of EU rights for foreign nationals.
Bing: Top 2013 vacation spots
Migration Watch approximated that 50,000 Romanians and Bulgarians will come to the UK each year over the next five years.
The Guardian asked readers to post their own anti-Britain propaganda (photos, slogans, complaints). As a result, the comment section now bristles with posts about the country's austerity measures, unemployment, racism and journalism.
More from Daily Dose:
Street scanner to detect concealed guns
Facebook can't get you fired
5 promises Obama might still keep
Love content like this? Friend us on Facebook, follow us on Twitter and find us on Pinterest.
Photo: Alan Copson/Getty Images
inspire: live a better life
Summer traditions can be great, but if you're on year six of packing the same people into the same car to go on the same vacation, it's time to switch things up. Surfing in Portugal, perhaps – or cycling through Northern Ireland. We've put together a list of 15 places well off the beaten path that you should go to when you're ready to try something new.

Grab a sleeping bag and head out to one of these amazing campsites.

A dozen adventures that are well worth the trip.

Paper downplays the significance of practice over raw talent.

Survey says American teens aren't great at complex or basic financial tasks.

Fear of Moving Away: How to conquer the latest cultural anxiety and embrace the unknown.

Adulthood has no eureka moment.

Just like your body, your brain needs a regular workout too.

Being a winner is a good feeling to have — especially in life. Winning doesn't solely relate to competitions or Charlie Sheen's coining of the term back in 2011. From achieving success to maintaining a work-life balance, find out what characteristics mean your life is going the way it should be. You may just even find an inspiration or two that you'll want to incorporate into your daily routine!

Sometimes it seems like you need a vacation from your vacation.

That'll get you and your 2 kids a house, SUV, and more, per a 'USA Today' analysis.

While most of us associate the Fourth of July with fireworks and barbecue (and taking a long weekend off from work), it's also an important day to give thanks to the people who help keep us safe.