Britain isn't so great, politicians propose
Ministers suggest a negative branding campaign to deter Bulgarian and Romanian immigrants.
The wet weather, the rent and the food: Britain leaves a lot to be desired.
That is what several British politicians want to promulgate, specifically in Bulgaria and Romania, in an effort to deter potential immigrants from those countries.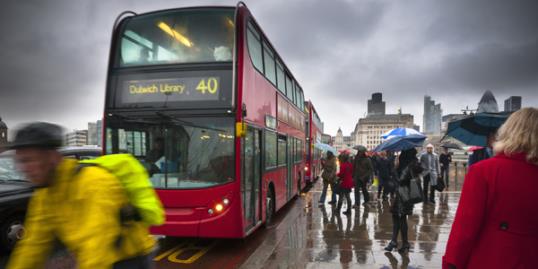 Next year a limit on the number of immigrants from the two EU nations will expire, which could cause an influx of Bulgarian and Romanian migrants to the UK. To prevent potential drain on the mending British economy, several ministers proposed that the country run a negative advertising campaign about itself. 
More from the MSN Living: Your 2013 bargain calendar
A Downing Street source confirmed that advertisements were discussed, saying to the Guardian, "It is true that options are being looked at but we are not commenting on the specific things mentioned ..."
Keith Vaz, Labour MP and chairman of the Commons Home Affairs Select Committee, said that "advertisements and propaganda trying to stop Romanian and Bulgarians coming to Britain borders on the farcical," according to the BBC.
More from the MSN Living: 25 things that will keep you young
Advertising isn't the UK's only recourse, however. The government is also looking at preventing access to public services for immigrants, requiring employment after three months of residence or maintaining the restriction on number against Bulgarians and Romanians who enter Britain, which would fly in the face of EU rights for foreign nationals.
Bing: Top 2013 vacation spots
Migration Watch approximated that 50,000 Romanians and Bulgarians will come to the UK each year over the next five years.
The Guardian asked readers to post their own anti-Britain propaganda (photos, slogans, complaints). As a result, the comment section now bristles with posts about the country's austerity measures, unemployment, racism and journalism.
More from Daily Dose:
Street scanner to detect concealed guns
Facebook can't get you fired
5 promises Obama might still keep
Love content like this? Friend us on Facebook, follow us on Twitter and find us on Pinterest.
Photo: Alan Copson/Getty Images
inspire: live a better life
Where in the world do you want to go? Somewhere unique? Any of the places described here are sure to make your next world-travel adventure truly memorable.

It's easy to lead, but it takes courage and conviction to be a truly great leader. Here are 10 inspiring leaders and what we can learn from them.

Some say it's a small world. We beg to differ. Earth has so many wondrous places worth exploring, and most of us are lucky to see a handful of them. Here are 30 of the top trips of a lifetime.

You'll stave off credit card debt by the end of the year if you account for these often-forgotten expenses.

Mark Zuckerberg has an even bigger effect on your life than you thought.

Take this advice to finally tackle that nagging to-do list.

The iconic storyteller would have been 110-years-old

Take the time to appreciate women's contributions to society. Here are some of the women who inspire us by their example.

Cast of the iconic TV show reunites for Florence Henderson's birthday

We couldn't be more excited to watch the best athletes in the world compete at the Winter Olympics in Sochi. This year, about 44 percent of the competitors are women according to the International Olympic Committee—which is awesome but wasn't always the case. Let's look back at some of the amazing women who paved the way with incredible, memorable feats of girl power.

Still pulling yourself out of holiday credit card debt? Ready to pool some funds for that beach vacation you've been dreaming about at your desk? We're with you 100 percent.

"FOMO, the fear of missing out, is a form of social anxiety," says psychiatrist Gail Saltz. "This type of fear tends to cause compulsive behaviors, like checking out other social situations even as you are in the middle of one currently."