Didn't win Powerball? Count your blessings
The odds of winning are almost as bad as the odds of surviving.
Lottery officials are expected today to name the two Powerball winners who will share this week's record $587 million jackpot. By now, you know it's not you. So you'll have to wait a little longer on that gilded in-ground pool next to the helipad — though it was nice to daydream, for a while, of how generous and crazy rich you were going to be.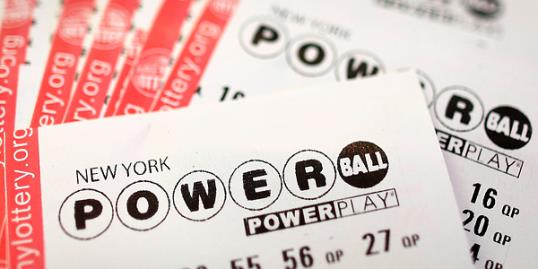 While the winner from Dearborn, Mo., reportedly posted a message on Facebook reading, "Thank you God, we won the lottery," a look back over some winners past makes you wonder whether it's the big man above or the guy down below pulling the strings on the lives of lottery winners.
The Daily Dose rounded up some tragic stories of mega-loss when Mega-Millions hit $640 million earlier this year. As the Powerball fortune rolls over two new multimillionaires, we share three more cautionary tales.
More on MSN Living: 50 things everyone should know about marriage
• Michael Carroll was a 19-year-old garbage collector and ex-con when he won a £9.7M (nearly $15 million USD) in a 2002 Scottish lottery. The fortune didn't change him much: According to the Daily Mail, Carroll was jailed in 2004 after failing to comply with a drug treatment order and returned to the big house again after threatening teenagers with a baseball bat in 2006. Having squandered his money on parties, drugs, prostitutes, cars and jewelry, he later found work as a part-time painter. In August 2011, depressed and some 250 pounds overweight, Carroll made two unsuccessful attempts to take his own life.
More on MSN Living: The top 10 traits women want in a man
• A $16.9 million jackpot in 2009 changed the life of Lucien Nault, then a 77-year-old cab driver from Montreal. Nault shared a large portion of the winnings with his son Daniel and daughter-in-law Therese. Earlier this year, Therese was found dead at the bottom of a luxurious pool the couple had built. Three weeks later, Daniel was struck and killed by a Jeep as he chased his dog into the street.
• Having been on food assistance, 24-year-old Amanda Clayton was in need of a break when she won $1 million in a Michigan lottery on the 10th anniversary of 9/11. But Clayton came under legal fire and media scrutiny when it was discovered she was still collecting welfare after her payday. A year later, Clayton was found dead of an apparent drug overdose. "She was a nice, pleasant girl who never got in trouble, until she won the lottery," said her lawyer.
Photo: Carlo Allegri/Newscom/Reut​ers
Bing: Get the latest on the Powerball frenzy.
Subscribe to the Daily Dose
More from MSN Living:
25 things she finds sexiest about you
8 words that give away a liar
The trends men love ... and the ones they hate
inspire: live a better life
Summer and winter tend to hog all the glory when it comes to travel high seasons. Sure, you want to soak up all the time at the beach you can during the summer, and you just want to escape the cold during the last months of the year.

Who just wants to stand around and watch the red and gold leaves slowly fall from their tree branches to the ground as we move from summer to fall? Instead, take in the changing seasons while you're on the move.

In September, I'll turn 38. I'm at the age now where, when people ask how old I am, it takes me a minute to remember. I don't know if that's because I've already been 37 different ages and it's hard to keep straight which one I am now, or if it's because I'm in denial, or if it's because I am going senile. Maybe a combination of all of the above. Regardless, my 30s have flown by and soon they will be but a memory. So, in an effort to preserve the memory I have left (or at least keep a record of it), and to celebrate what has been an amazing decade so far, here are 30 things that have happened to me in my 30s (and will probably happen to you too):

Traveling doesn't have to be stressful. And what you can fit in your carry-on can make all the difference (and not just a fresh pair of socks), especially when you get that low battery signal.

Volunteering (and these other rituals) might be just as good as exercise when it comes to extending your life.

Use these tricks to set a better tone for the rest of the week.

Whether it involves a food fight, mermaids or a torch-lit procession, people the world over know how to have a good time. Here are some of the biggest, boldest, booziest celebrations around, along with some tips to get the full experience.

Research could mean more effective treatment for human disorders.

An entry a day might keep the doctor away (or at least the shrink).

One woman's shout-outs to daily moments of joy — and how to cultivate them.

Our best health and fitness tips including the one move that tones all, berry news, and more.