Didn't win Powerball? Count your blessings
The odds of winning are almost as bad as the odds of surviving.
Lottery officials are expected today to name the two Powerball winners who will share this week's record $587 million jackpot. By now, you know it's not you. So you'll have to wait a little longer on that gilded in-ground pool next to the helipad — though it was nice to daydream, for a while, of how generous and crazy rich you were going to be.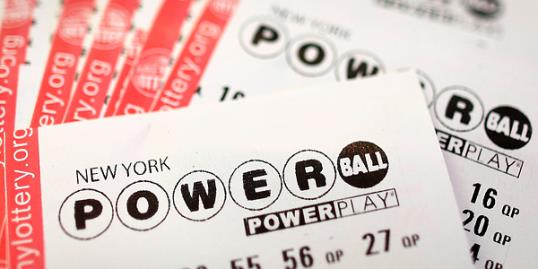 While the winner from Dearborn, Mo., reportedly posted a message on Facebook reading, "Thank you God, we won the lottery," a look back over some winners past makes you wonder whether it's the big man above or the guy down below pulling the strings on the lives of lottery winners.
The Daily Dose rounded up some tragic stories of mega-loss when Mega-Millions hit $640 million earlier this year. As the Powerball fortune rolls over two new multimillionaires, we share three more cautionary tales.
More on MSN Living: 50 things everyone should know about marriage
• Michael Carroll was a 19-year-old garbage collector and ex-con when he won a £9.7M (nearly $15 million USD) in a 2002 Scottish lottery. The fortune didn't change him much: According to the Daily Mail, Carroll was jailed in 2004 after failing to comply with a drug treatment order and returned to the big house again after threatening teenagers with a baseball bat in 2006. Having squandered his money on parties, drugs, prostitutes, cars and jewelry, he later found work as a part-time painter. In August 2011, depressed and some 250 pounds overweight, Carroll made two unsuccessful attempts to take his own life.
More on MSN Living: The top 10 traits women want in a man
• A $16.9 million jackpot in 2009 changed the life of Lucien Nault, then a 77-year-old cab driver from Montreal. Nault shared a large portion of the winnings with his son Daniel and daughter-in-law Therese. Earlier this year, Therese was found dead at the bottom of a luxurious pool the couple had built. Three weeks later, Daniel was struck and killed by a Jeep as he chased his dog into the street.
• Having been on food assistance, 24-year-old Amanda Clayton was in need of a break when she won $1 million in a Michigan lottery on the 10th anniversary of 9/11. But Clayton came under legal fire and media scrutiny when it was discovered she was still collecting welfare after her payday. A year later, Clayton was found dead of an apparent drug overdose. "She was a nice, pleasant girl who never got in trouble, until she won the lottery," said her lawyer.
Photo: Carlo Allegri/Newscom/Reut​ers
Bing: Get the latest on the Powerball frenzy.
Subscribe to the Daily Dose
More from MSN Living:
25 things she finds sexiest about you
8 words that give away a liar
The trends men love ... and the ones they hate
inspire: live a better life
From international roaming fees to skipping travel insurance, these mistakes can put a damper on your next vacation.

Where in the world do you want to go? Somewhere unique? Any of the places described here are sure to make your next world-travel adventure truly memorable.

It's easy to lead, but it takes courage and conviction to be a truly great leader. Here are 10 inspiring leaders and what we can learn from them.

Some say it's a small world. We beg to differ. Earth has so many wondrous places worth exploring, and most of us are lucky to see a handful of them. Here are 30 of the top trips of a lifetime.

The semi-annual glitch in your daily routine is back this weekend.

You'll stave off credit card debt by the end of the year if you account for these often-forgotten expenses.

Mark Zuckerberg has an even bigger effect on your life than you thought.

Take this advice to finally tackle that nagging to-do list.

The iconic storyteller would have been 110-years-old

Take the time to appreciate women's contributions to society. Here are some of the women who inspire us by their example.

Cast of the iconic TV show reunites for Florence Henderson's birthday

We couldn't be more excited to watch the best athletes in the world compete at the Winter Olympics in Sochi. This year, about 44 percent of the competitors are women according to the International Olympic Committee—which is awesome but wasn't always the case. Let's look back at some of the amazing women who paved the way with incredible, memorable feats of girl power.