Man Kicked Off Flight for Sagging Pants
...And other unusual tales of being deplaned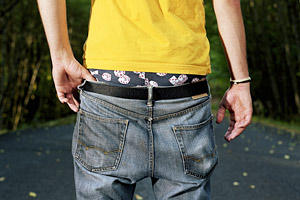 Saggers, beware. Though the rest of the world really is thrilled to learn the color of your underwear, the staff at Spirit Airlines is clinging to the conservative notion that pants should be worn around the waist. The Chicago Tribune reported this week on a man who was asked by flight attendants to pull up his saggies. Apparently the passenger was willing to raise his voice but not his pants. After he became verbally abusive and threatened the attendants, he was booted in his thinly attired bottom and forced to deplane with his traveling companion.
This particular low-rider was more likely kicked off the flight for his threatening rant than for his low-riders, but it's not the first time and won't be the last that fashion trashing has pitted people against corporations and institutions. Every school season, some kid is suspended for an offending skirt or a shirt. The last time such a story made big news was when Katy Perry was cut from Sesame Street after showing too much cleavage to Elmo (and it's only fair to note here that Elmo (a) is naked and (b) has a hand up his rear).
Schools and muppets get to make up their own rules, but the guidelines for passenger fashion and conduct are seldom well defined by airlines. Earlier this year, a woman with a healthy disdain for authority was prevented from boarding an American Airlines flight while wearing a T-shirt that read, If I wanted the government in my womb, I'd f*** a senator (the asterisks are ours, by the way). And this week's Spirit sagger has some celebrity company: Billie Joe Armstrong from the band Green Day was removed from a Southwest Airlines flight last year in another sagging scene.
If your travel clothes don't get you in trouble, something else will. Here are a few other ways you can be booted from a flight without rushing the cockpit, yelling "Bomb!" or being Alec Baldwin.
• Cry, and be 3 years old. Suggestion to parents: Buy a drink and a set of movie headphones for nearby passengers, and then for yourself.
• Appear devout. Two American men, both Muslim, were ejected from an Atlantic Southeast Airlines flight for wearing traditional clothing that made other passengers uncomfortable. The men were headed to a conference on Islamaphobia.
• Appear sexy. When Kyla Ebbert wore a skimpy skirt and offended Southwest in 2007, it was the best publicity stunt she didn't know she could pull: Ebbert later received an offer to pose for Playboy. Other passengers, like Malinda Knowles, turn out to be victimized by flight-crew perverts.
• Quadriplegic? How dare you. Frontier Airlines was fined $50,000 for forcing John Morris off a flight when the pilot didn't like how Morris had been strapped into his seat.
• Dance erotically. Last year, a 39-year-old woman flying from Moscow apparently had a little too much to drink and started removing the eyeglasses of select fellow passengers and dancing for them evocatively.
• Be too big. If you can't fit your behind into a single seat, you may have to buy one ticket for each cheek. With any luck, the seats are next to each other.
• Smell bad. You know what? They're right, get off the plane.
Photo: Dirk Anschutz/Getty Images
inspire: live a better life
With all those deals you snagged on Black Friday, Small Business Saturday, and Cyber Monday, today is your chance to give back to those in need with #GivingTuesday.

Miss Manners provides guidance on how to handle a request for party contributions

Miss Manners instructs on why tit-for-tat never works

Miss Manners offers thoughts on guests who disregard dinner party instructions

Make big bucks, from home, having fun? These women got creative and figured out a way to have it all. You can too.

Your boss. You might like her, you probably respect her, but do you know how to approach someone who seems so different from you? (Spoiler: She's actually not.)

Over the weekend, Oprah decluttered her Montecito mansion and three other properties in a Santa Barbara yard sale that brought in more than $600,000(!). (Proceeds will benefit her girls' leadership academy in South Africa, and not half of a Crate and Barrel chair, the traditional end goal of yard-sale proceeds.)

Exclusively for MSN, we bring you a six-part series from the new book: MISS MANNERS MINDS YOUR BUSINESS by Judith and Nicholas Ivor Martin.

Miss Manners weighs in on the financial burdens of remote weddings

How Miss Manners suggests dealing with out of town guest who want tour guide services

Exclusively for MSN, we bring you a six-part series from the new book: MISS MANNERS MINDS YOUR BUSINESS by Judith and Nicholas Ivor Martin.