Ohio man who threatened police holds 'idiot' sign
A Cleveland judge sentenced Richard Dameron to a public shaming.
CLEVELAND (AP) — A man who threatened officers in Cleveland is making a court-ordered public apology by standing near a police station with a sign describing himself as an idiot.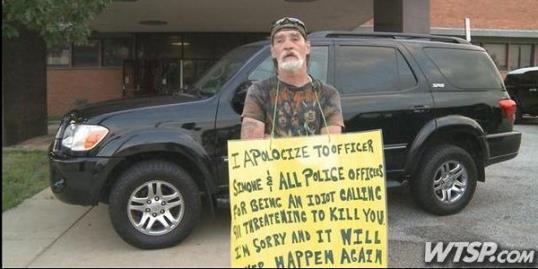 A judge had ordered 58-year-old Richard Dameron to stand outside a local police station with a sign bearing an apology. He began the vigil Monday and must stand outside for three hours each day for the rest of the week.
Bing: Dumb things criminals do
Dameron was convicted of threatening officers in 911 calls.
His public shaming isn't the first of its kind in the city. The Cleveland judge who sentenced Dameron previously made a woman wear an "idiot" sign in public for driving around a school bus.
More from Daily Dose:
New cat token hits the Monopoly board
Stats show Americans not that into driving anymore
98% cite rudeness at work
Subscribe to the Daily Dose | Friend us on Facebook, follow us on Twitter and find us on Pinterest.
Photo: Richard Dameron hold court-ordered sign / WTSP.com
inspire: live a better life
Here's some tips to get to happiness going forward in your life.

People 60 to 82 did best on cognitive tasks before 10:30am.

Lucille Ball was born in 1911, and though we lost her long ago, her legacy as America's favorite redhead lives on through the timeless classic, "I Love Lucy." People of all generations still enjoy Lucy's antics as much as they did over 60 years ago when the show first premiered.

Summer is coming to an end, and in a few weeks, kids will be forced to trade in their beach bags for backpacks. But just because the season is fading away doesn't mean the memories from the past few months have to disappear with it.

Confidence and perceived competence are key, study finds.

Features lead to assumptions about character, study says.

Great gear for an afternoon spent shoreside.

Use these bucket-list ideas to enjoy the little time you have left.

Study points to benefits of improved living conditions.

Don't leave home without these must-have items.

Handshakes spread 20 times more germs, study says.

Drowning in debt? Maybe there's a silver lining.